3 DAYS EXTREME GORILLA SAFARI
3 DAYS EXTREME GORILLA SAFARI
Over-view
3 Days Extreme Gorilla Safari takes you to Bwindi impenetrable national park found in south western Uganda next to the border of Uganda and Congo, where you will encounter with the beasts of the East. Bwindi impenetrable national park is small in size but it's one of the most visited national parks due to the endangered species that are located and protected so much in the park. Uganda alone is recorded to have almost half of the world's remaining mountain gorillas and Bwindi impenetrable is a UNESCO heritage site with an exceptional biodiversity, and one of Africa's oldest forests. These endangered mountain gorillas are found in only 3 countries, Uganda, Rwanda and D.R.Congo.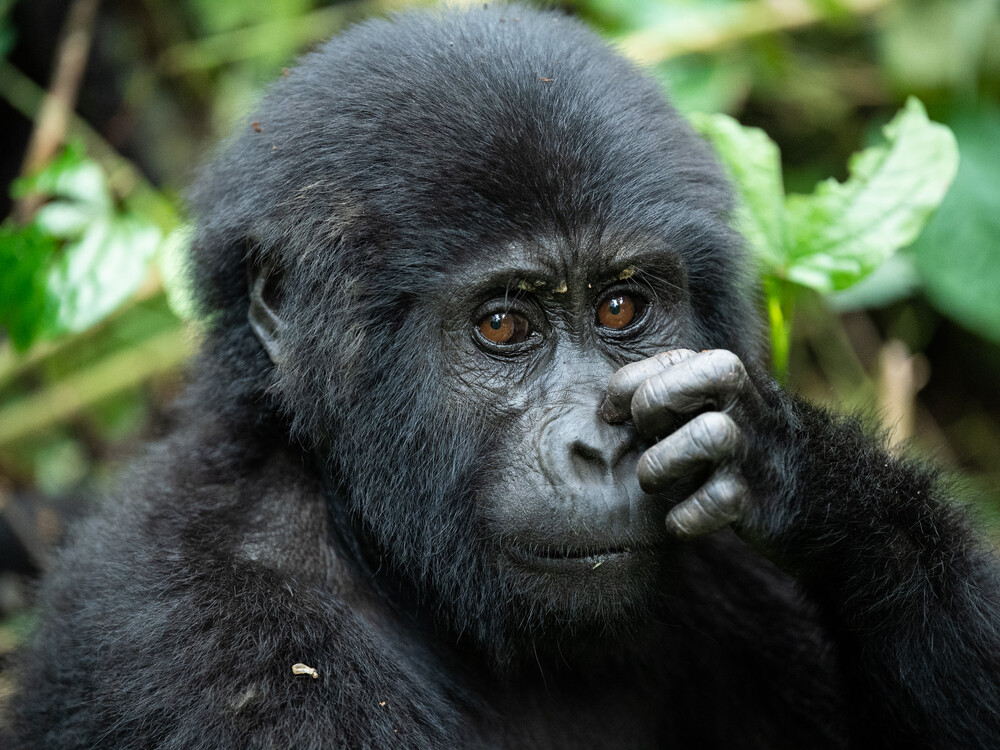 Day 1: Transfer to Bwindi Impenetrable national park
On this day, you will be picked up by our professional driver guide from Kampala or Enteebe
and start on your journey to Bwindi Impenetrable National Park located in south western Uganda. You will go through some major towns like Masaka and Mbarara as you get to Bwindi Impenetrable National Park. On arrival, you will check in at the lodge and relax as you enjoy the beautiful views of the forest and environment depending on your location.
Later, you will head out in the community and visit the Batwa group that are the first people to live in the Bwindi forest and still reside there regardless of them many years of civilization. You will be amazed by their traditional dance, homes, dress-code and way of life. You will then return back to the lodge for dinner and relaxation as you prepare for the Gorilla trekking experience the next day.
Accommodation:
luxury : Mahogany Springs lodge
Mid-range : Gorilla Mist Camp
Budget : Gorilla closeup lodge
Meal plan: Lunch and dinner with Drinking water
3 DAYS EXTREME GORILLA SAFARI
Day 2: Gorilla tracking and transfer to lake Bunyonyi.
After an early morning breakfast at around 6am, you will head to the starting point and have a briefing from the ranger guides, after there after you will begin your adventure as you get into the forest to trekking. The beauty of this rain-forest is spectacular and it offers a dramatic steeply forested landscape which is incredibly dense, but crisscrossed by numerous animal trails allowing access to tourists. You will look for these endangered species and finding them will depending on the last nesting location of the previous night. Once you locate a gorilla group, you will be allowed only one hour in their presence. The thrill of spending time observing these gentle and endangered giants is an awesome, exciting and one in a life experience to be long savored.
You will have parked lunch and have it at a resting point after your gorilla trekking experience. Later return to your lodge, check out and transfer to Lake Bunyonyi in Kabale for relaxation. On arrival at Lake Bunyonyi, you may have a short nature walk or hike before relaxing at your lodge for dinner and overnight stay.
Accommodation:
Luxury : Hawk's Eye Lodge Bunyonyi
Mid-range : Bunyonyi Rock Resort
Budget : Arcadia Lodges Lake Bunyonyi
Meal plan: All meals and mineral drinking water
3 DAYS EXTREME GORILLA SAFARI
Day 3. Morning boat cruise and transfer back to Kampala or Enteebe.
On this day, you will have a relaxed breakfast then go for a boat cruise on Lake Bunyonyi. Lake Bunyonyi is framed by lush, green-terraced hills that reach a height of (2,200 – 2,478m). Lake Bunyonyi is located in south-western Uganda and it's known to be the deepest lake in Uganda and second deepest in Africa. It's called Bunyonyi because of the many little birds that reside there and visitors can't miss out on the whispers of these birds every early morning. Its beauty attracts millions to come have a boat cruise through the 29 islands found on the lake, with the famous punishment island. It is also free from crocodiles, hippos and bilharzia, making it suitable and safe for swimming lovers.
While on the boat cruise, expect to see various bird species such as herons, Grey crowned cranes and others in addition to the beautiful islands. Thereafter, you will check out of your lodge and then set off for kampala.
You will drive through the hills of Kabale and will have a stopover in Mbarara city for lunch. You will have another stopover at the Equator and then drive to Kampala reaching in the evening and be dropped at your hotel or Entebbe international airport for your flight back home.
END OF YOUR 3 DAYS EXTREME GORILLA SAFARI
Includes
Park fees
Gorilla tracking permit
All accommodation (for 2 nights)
A professional driver/guide
All transportation (for 3 days)
All Taxes/VAT
Meals (As specified in the day-by-day section)
Drinking water (On all 3 days)
Excludes
International flights (From/to home)
Additional accommodation before and at the end of the tour
Tips (Tipping guideline US$10.00 pp. per day)
Personal items (Souvenirs, travel insurance, visa fees, etc.)
Government imposed increase of taxes and/or park fees
Why you should travel with Pamoja tours and travel Uganda Limited?
5% of the profits go to Pamoja health initiative. Pamoja gives back to the community through its 5% share of profits which goes Pamoja health initiative a project of Pamoja tours and travel aimed at providing free health services to Venerable communities in Uganda.
Affordable quality services. Pamoja exists to offer pocket friendly services which are of a good quality to suite your taste and preference.
Hospitable employees/ guides with a broader knowledge about Uganda. Meet our hospitable employees/ guides all determined to make it to your travel destination. The employees are fluent English speakers.
Comfortable safe mileage. Pamoja aims at providing the most comfortable safe mileage to its clients so as to meet their satisfaction.
Reliability and trustworthy. Pamoja is credited with trustworthy and reliable employees who are determined to work together with you to deliver quality services.
Thank you for choosing Pamoja Tours and Travel