5 Days Bird watching Safari in Kenya
5 Days Bird Watching Safari in Kenya
Overview
Nature enthusiasts will love this 5-days bird watching safari in Kenya that visits different Kenyan lakes known for birds and wildlife. A private driver will first take you to Lake Naivasha for an island walk where you'll get up close to a range of bird species, as well as zebras and giraffes. Next is Lake Nakuru where you'll join a safari in a vast wildlife preserve. Finish the trip at Masai Mara National Park for more bird watching and wildlife viewing.
Day 1: Transfer from Nairobi to Lake Naivasha.
After your breakfast, a Pamoja tours and travel guide will pick you from your hotel and drive you through the great North road to Lake Naivasha. You will stop en route at the view points of the Great Rift Valley for stunning views arriving at mid-morning for bird walk before time for lunch at Lake Naivasha lodge.
Lake Naivasha being close to Lake Nakuru and 65miles from Nairobi is a freshwater lake. It was declared a bird sanctuary in 1967 and also supports pastoral industries of wine and flowers.
During our full day trip to Lake Naivasha, we study the birds of the region such as herons, fish eagles, ospreys, black rakes, and lily trotters. Dominated by the shadow of Mt. Longonot, few lakes in the world have a more commanding and spectacular setting than Naivasha. We may also have an excursion to the Elsa mere center. Activities include reliving the experience of Joy Adamson and Elsa while viewing "Born Free." Lake Naivasha being on the Rift floor is home to an incredible variety of species. Over 450 species have been recorded here.
Accommodation: Lake Naivasha Lodge
Meal plan: Dinner
Day 2: Transfer from Lake Naivasha to Lake Nakuru
This morning after breakfast, we bird all way to  Lake Nakuru National Park (Ramsar Site) where you will view up to 450 species bird checklist and it has a 1,496,000 waterbirds record. Five globally threatened species have been recorded here, namely Madagascar Pond-Heron, Lesser Flamingo, Pallid Harrier, Greater Spotted Eagle, Grey-crested Helmet-shrike along with large congregations of Greater Flamingo, Black-necked Grebe, Little Grebe, Great White Pelican, Yellow-billed Stork, African Spoonbill, Black-winged Stilt, Grey-headed Gull and Gull-billed Tern.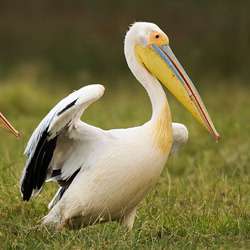 The lake is internationally famous for its healthy populations of the globally threatened Lesser Flamingo, numbers can reach 1.5 million at times, though drastic and unpredictable fluctuations occur. Undoubtedly Nakuru is an essential feeding site for this species.
Accommodation: Ziwa bush lodge/Lake Nakuru Lodge/Flamingo Hill tented camp
Meal plan: All meals and drinking water
Day 3: Transfer from Lake Nakuru to Masai Mara
After breakfast, drive across the floor of the Great Rift Valley to Masai Mara Game Reserve the unspoiled Savannah. Masai Mara is actually the Northern portion of the Great Plains ecosystem in the neighboring Tanzania bordering Serengeti NP. It is a home to the big five such as lions, buffalo, rhinos, leopard and elephant, cheetah, zebra, giraffe and vast herds of plain antelope and numerous and other wildlife. Upon arrival, have lunch then connect for an afternoon game drive in search of the big five. As sun starts to edge dip into the horizon, it will be the perfect time to photograph the beautiful Mara rolling plains. Don't forget that this is the right time to spot the shy leopard and other animals.
Accommodation: AA Mara Lodge/Mara Sopa Lodge/Sentrim Mara Lodge
Meal plan: All meals and drinking water
Day 4: Masai Mara full day bird watching and more game viewing
The extensive grasslands are a strong hold to the threatened, migratory comcrake and the near threatened Jackson's widowbird. The bush and woodlands around the reserve also hold some unique bird species. More than 450 bird species have been recorded in the Mara, including 12 species of cisticola and birds of prey.
Large numbers of Palearctic migrants winter in the area including Caspian plovers and white storks. Other local and unusual birds in the Mara include Rock Cisticola, Rufous Bellied Heron, Denham's Bustard, Black Coucal, Red Tailed chat, Pale wren warbler, Tabora Cisticola, Yellow Bellied Hyliota, Green-capped Eremometa and Magpie shrike.
Accommodation: AA Mara Lodge/Mara Sopa Lodge/Sentrim Mara Lodge
Meal plan: All meals and drinking water
Day 5: Masai Mara to Nairobi
After your breakfast on this day, we shall enjoy an early morning game drive in the Mara; seeking more bird species for our birding safari. You will have lunch enroute.
We shall then head to Nairobi, cruising across the Rift Valley.
Later, we head to the airport; marking the end to our lovely 5 day bird watching safari in Kenya.
INCLUDES
Park fees (For non-residents)
All activities (Unless labelled as optional)
All accommodation (Unless listed as upgrade)
A professional driver/guide
All transportation (Unless labelled as optional)
All Taxes/VAT
Round-trip airport transfer
Meals (As specified in the day-by-day section)
Drinking water (On all days)
EXCLUDES
International flights (From/to home)
Additional accommodation before and at the end of the tour
Tips (Tipping guideline US$10.00 pp. per day)
Personal items (Souvenirs, travel insurance, visa fees, etc.)
Government imposed increase of taxes and/or park fees