The 9 Days Tanzania & Kenya wilderness safari brings you face to face with these countries' hidden treasures.
The millions of flamingos at Lake Nakuru, the rift valley view, thousands and thousands of wild beasts commonly known for their big migration in Masai Mara and Serengeti cant but make you have 2 nights of stay. Tarangire National Park and Ngorongoro crater are also known to be the largest intact inactive volcanic caldera on the planet earth.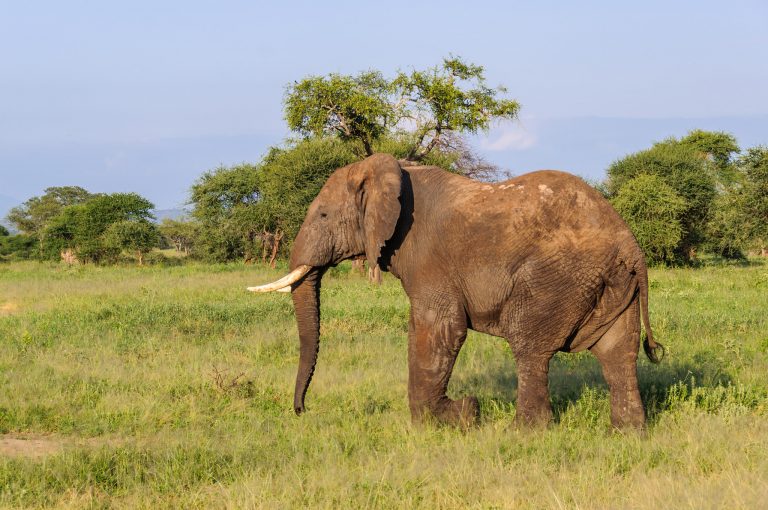 Day 1: Transfer to Tarangire National Park
This 9-days safari starts with pick up from the Hotel or Arusha Airport in Tanzania at 9.00am. You will start your journey by driving to Tarangire National park. The journey is about 3hrs.10minutes. You will enjoy a beautiful landscape scenery, different types of settlements and diverse cultures of people represented in the way of dressing and appearance.
In Tarangire National Park we'll do a game drive before lunch. After lunch at the picnic site we'll do a game drive all afternoon. Tarangire is located 115 km south of Arusha, and is a long and narrow park that covers 2850 km2 and runs along the Tarangire River
Tarangire national park claims to hold the fame of many elephants in Tanazania. During the dry season, herds of up to 300 elephants can be seen digging in the apparently dry riverbed of the Tarangire River
looking for underground streams.
Accommodation: Tarangire Kirurumu Camp
Accommodation status: Mid-range
Meal plan: Full board
Day 2. Game drive and Transfer to Ngorongoro crater.
Today, we will wake up early in the morning and after a few minutes' drive we will arrive to the Ngorongoro Conservation Area. The Ngorongoro crater has a diameter of about 20 kilometers and a 600 -meter-high crater wall. The Ngorongoro Crater is the largest intact crater in the world. The crater life estimated 30,000 larger mammals. In the center of the crater is a Salt Lake. This is one of the most densely populated wildlife areas in the world. From the edge of the crater you look out over the impressive crater and its wonderful inhabitants.
Accommodation: Rhotia Valley tented Lodge
Accommodation status: Mid-range
Meal plan: Full board
Day 3. Transfer to Serengeti national park
After breakfast you will drive through the Ngorongoro Conservation Area to Serengeti National Park, enjoying game viewing and a packed lunch en-route. The Serengeti covers over 6,000 square miles of sprawling, unspoiled landscape. Add to that an extraordinary population of resident and migratory animals in a constant bid for survival, and you will begin to understand why this place is often called "the world as it was in the beginning". As soon as you enter the park the wildlife viewing will begin! Search for leopards and lions and watch in awe as zebra, wildebeest appear from amidst the woodlands and plains.
Accommodation: Serengeti Kati kati Camp
Accommodation status: Mid-range
Meal plan: Full board
Day 4. Full day experience of Serengeti.
Spend the full day exploring Serengeti National Park on a game drive. You can opt to have a hot lunch at the camp or eat a picnic in the park. We strongly recommend you wake early for a game drive in order to enjoy the sunrise in the middle of the bush while spotting wild animals in the park.
Accommodation: Serengeti Kati kati Camp
Accommodation status: Mid-range
Meal plan: Full board
Day 5. Transfer to Masai mara National park
You will wake up early and have breakfast. You will also carry your lunch box as you drive to the Kenya/Tanzania border called Isebania. Here, you will clear your travel documents with the immigration departs and thereafter, you will also change safari vehicles to start a safari in Masai-mara. You will also be ushered in by a game drive as you head to your lodge.
Accommodation: Keekorok Game Lodge
Accommodation status: Mid-range
Meal plan: Full board
Day 6. Full day experience at Masai mara National Park
Full day in Maasai Mara. Morning and afternoon game drive. Meals and overnight at campsite. An extension to any Masai Mara safari. You soar high in the sky over the plains of the Mara while watching wildlife roam below you as they have done over the centuries. The burst of propane burners as controlled by your experienced pilot and the click of cameras are the only noises that will interrupt the tranquil African morning.
Accommodation: Keekorok Game Lodge
Accommodation status: Mid-range
Meal plan: Full board
Day 7. Transfer to Lake Nakuru.
Early morning pre-breakfast game drive. After breakfast, depart the Mara region for Nakuru, lunch enroute, with scenic views of Mt. Longmont, Lake Naivasha, and Lake Elementaita from afar on the main highway. You will arrive in Nakuru town in the evening. Dinner and overnight are at hotel.
Accommodation: Lake Nakuru Lodge
Accommodation status: Mid-range
Meal plan: Full board
Day 8. Lake Nakuru to Lake Naivasha
Early breakfast, then proceed to Lake Nakuru National Park. Game drive until 11.00 PM. Drive south along this scenic valley to Lake Naivasha. This is one of the Rift Valley's fresh water Lakes with different ecology from that of the Soda Lakes. It is also home to a large variety of bird species about 400. Lake Naivasha is the deepest Rift valley lake.
You will have a stopover to be explained on how the great rift valley was formed at the view point. Named in honor of a Scottish explorer John Walter Gregory, who was the first European to see and research about it, it divides Kenya neatly down the length of the country essentially separating east from West.
You will proceed to Sawela Lodge for Lunch.
Optional activities at lake Naivasha are boat ride to view hippo and also a wealth of bird life can be paid direct to the boat company.
Day 9. Transfer to Airport and end of safari
Today, wake up at a relaxed time to enjoy the last sights of the rift valley lake. A refreshing breakfast will prepare you for a simple walk full of sightseeing and thereafter you will embark on the drive to Nairobi.
Here you have option stopovers to buy souvenirs that will a live time memory.
INCLUDED;
Park fees (For non-residents),  All activities (Unless labeled as optional), Accommodation (Unless listed as upgrade).
A professional driver/guide, All transportation (Unless labeled as optional),  Taxes/VAT • Round-trip airport transfer.
Meals (As specified in the day-by-day section), also Drinking water (On all days)
EXCLUDED
International flights (From/to home), Additional accommodation before and at the end of the tour.
Tips (Tipping guideline US$10.00 pp. per day), Personal items (Souvenirs, travel insurance, visa fees, etc.).
Government imposed increase of taxes and also park fees.