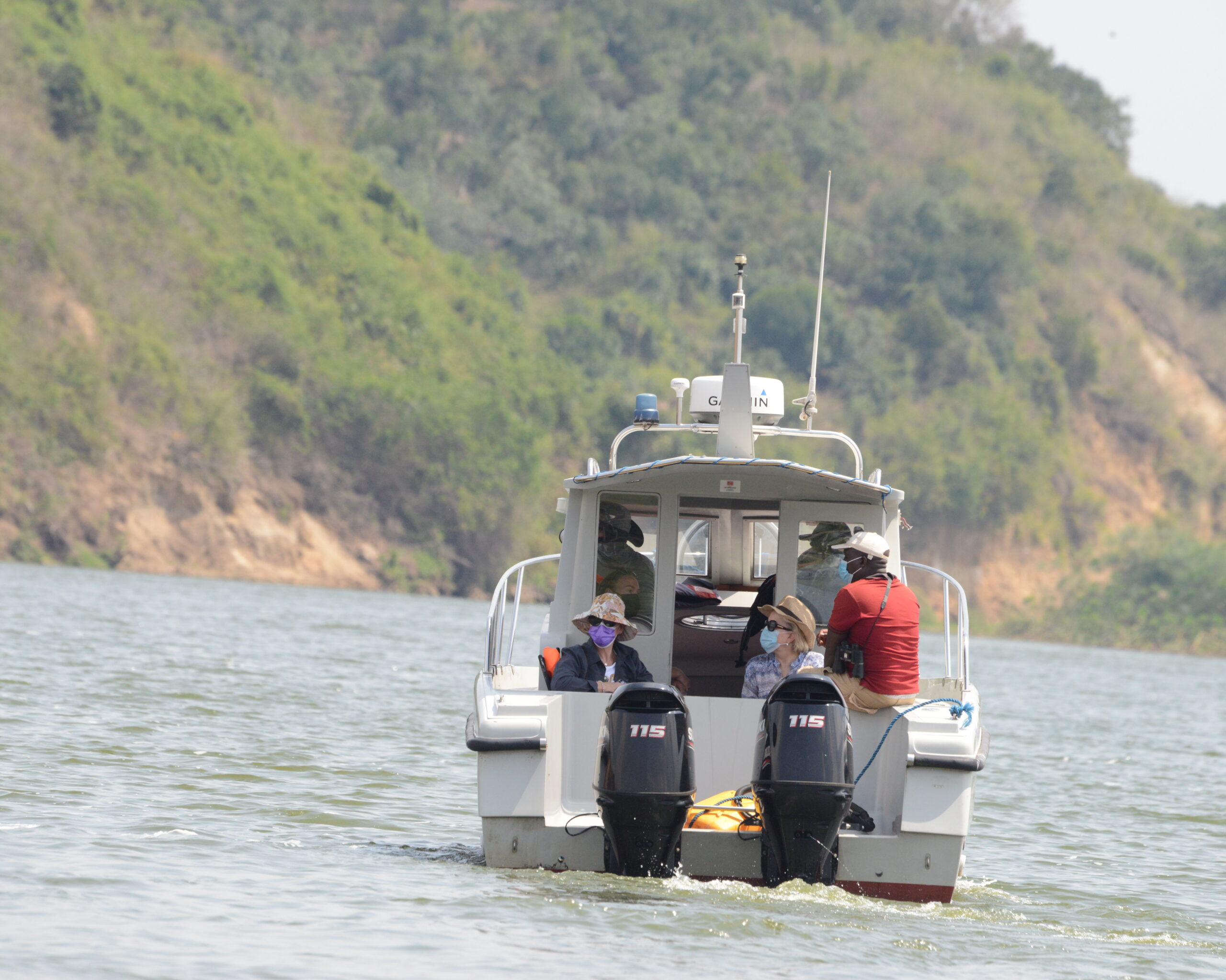 Boat cruise safaris
Boat cruise safaris are recreational and adventurous safaris that take place on fresh water bodies of Uganda (the pearl of Africa). This activity offers a golden opportunity to travelers to enjoy the scenic views of the wildlife and the stunning vegetation.
Additionally, boat cruises offer refreshment and relaxation as well as lasting memories for tourists visiting Uganda.
Where can one enjoy a boat cruise safari in Uganda?
Boat cruise tours can be done in several parts of Uganda such as Lake Mburo National park, Lake Victoria (the second largest lake in the world), Lake Bunyonyi (the deepest lake in Africa), Kazinga channel in Queen Elizabeth National park, at the source of the Nile, the Albertine Nile in Murchison fall National park and many others.
Attractions to see while on a boat cruise
While on a a boat cruise safari, tourists get a chance to enjoy the spectacular scenic beauty of the wildlife for instance, crocodiles, hippos, elephants, bird species among others. Also, they can be able to view the nearby communities and villages.
Other activities that can be combined with a boat cruise
The boat cruise safari can be organized together with other Uganda safari activities such as:
Wildlife game viewing,
Chimpanzee trekking in Kyambura Gorge, Budongo forest, Kalinzo forest, etc.
Tree climbing lion experience (Ishasha)
Gorilla trekking experience
Bird watching safaris
Nature walks among others.
Boat cruise destinations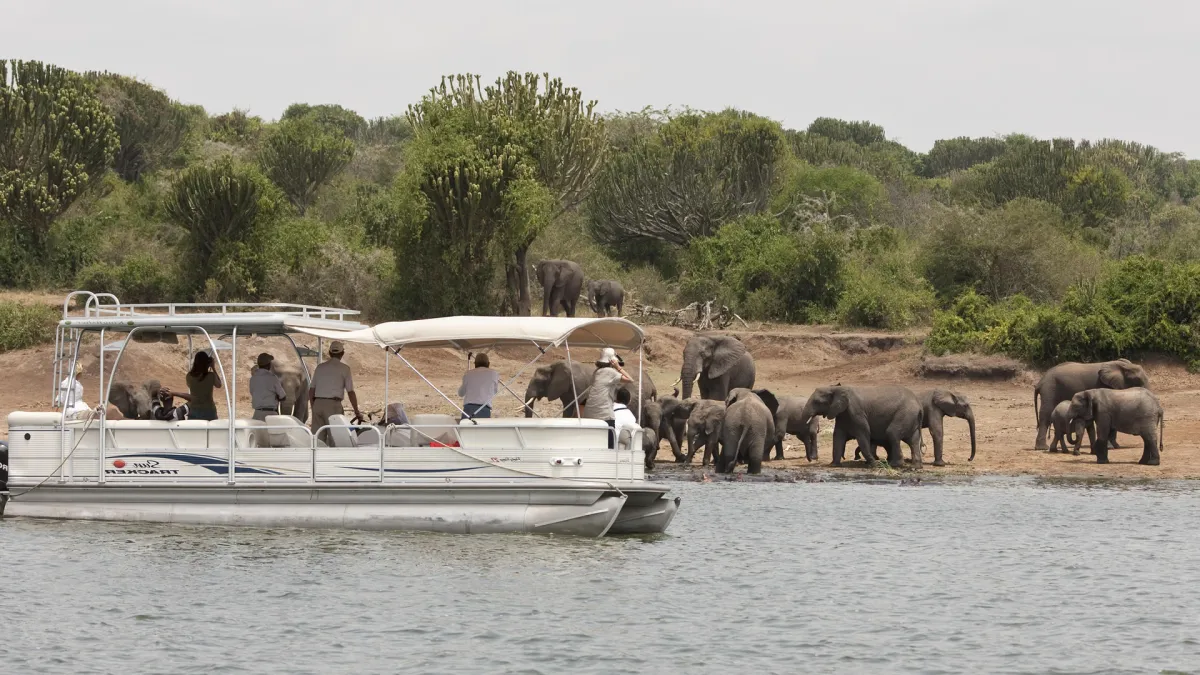 Kazinga Channel
To begin with, Kazinga channel is a 40km natural channel that connects Lake George and Lake Edward. This spectacular channel also divides Queen Elizabeth national Park into two. This small channel of water has the highest population of hippos in Africa.
Going for a boat cruise on the Kazinga Channel offers tourists an amazing boat adventure experience since they get a chance to view various wildlife such as elephants, buffaloes, crocodiles, hippos, antelopes, monitor lizards and bird species such as King fishers, African skimmers, martial eagles, pelicans, papyrus gonolek, cormorants, shoebill stork and fish eagles.
Also, predators as well as nocturnal animals normally come to the shores in the late afternoons for a drink.
Additionally, while on the boat cruise, you can be able to see the surrounding fishing villages and the people's day to day activities.
Murchison falls
The falls were named by Sir Samuel Baker whose boat was overturned by a hippo on a boating ride. The place is rich with history, and very scenic, the views from a boat on the Nile River are simply magnificent.
During your visit to Murchison falls national park, one of the activities that you cannot afford to miss out on is the boat cruise. This boat ride will take you to the top of the Murchison falls and the Nile delta of the Albertine Lake. More to that, expect to be astonished by the views of the beautiful waterfalls and various wildlife such as Rothschild giraffes, antelopes, elephants, herds of buffaloes, Uganda kobs, hippos and a number of bird species.
It is important to note that, Murchison falls has two boats: the delta boat and Nile boat which you can board both in the morning and in the evening hours.
Unique features
There is a lot of history to learn and discover on these boat cruise safaris. You can get off the boat at the bottom of the falls and hike up the trail that was taken by Winston Churchill. The spot where Earnest Hemmingway had his first airplane crash is nearby there too.
Lake Mburo
Located in Lake Mburo National Park, this lake offers a breathtaking boat safari. The boat rides here take you along the shores of Lake Mburo. You can catch sight of wildlife such as zebras, antelope, and buffalo as they move to the water. Lake Mburo is also home to the large eland antelopes which you may see while on a boat cruise. Additionally, there are 3 different species of otters in Lake Mburo as well as hippos and crocodiles.
There is also a variety of bird life such as Pelicans, African Fin-foot, Heron, Cormorant, Fish Eagle, and the elusive Shoe bill Stork.
Cost of a boat cruise in Uganda
In all the national parks where boat cruises take place, the Uganda Wildlife Authority prepares daily cruise for guests. They usually charge 30 dollars per person on a scheduled safari.
such as Murchison falls National park, Queen Elizabeth National park and Lake Mburo National, . However, at Lake Bunyonyi, the fee 150,000 Uganda shillings per person.
The fees in other boat cruise destinations vary according to different factors.
When is the best time for the Uganda boat cruise safari?
The boat cruise safari can be done throughout the year however it is better during the dry season that is June to mid-October, December to February.
Safety precautions required for a boat cruise
First of all, Tourists have to wear a life jacket to prevent them from drowning in case of an accident.
Secondly, it is advisable to have some swimming skills just incase of any acci.
On addition to that, they should avoid leaning on the sides of the boat to properly balance the boat
The boat should not be overcrowded thus it should carry the maximum capacity.
It is also important to note that the boats go through a check up process regularly to ensure safety of the tourists. This is accompanied by the presence of professional tour guides who provide guidance, protection and the necessary information.
 Conclusion
If you are interested in going for a boat cruise safari in Uganda, contact Pamoja Tours and Travel for a life changing memorable experience. We also handle safaris in Tanzania, Kenya, Rwanda, Democratic Republic of Congo and Zanzibar.