Bwindi Impenetrable National Park
Bwindi Impenetrable National Park is a home to over 51% of the world's remaining endangered mountain Gorillas and is a UNESCO's heritage site. It was established in 1991, and in 1994 it was listed among the UNESCO's heritage sites.
The park covers 124 square miles/ 321 sq. km/ 32,092 ha, and is one of the largest areas in East Africa which still has Afromontane lowland forests.
The park is best known for its gorilla trekking activities of the endangered mountain gorilla species. This is one of the few national parks in Africa to have flourished through the last ice age.  It is also a home to half of the world's remaining mountain gorillas.
Biodiversity
The variant biodiversity is supported by the fact that Bwindi is extremely old and estimated dating back to about 25000 years ago. The forest is in a mountainous environment with slopes extended over a broad altitudinal range of 1447m – 2607m above sea level. Park is a home of 400 mountain gorilla species, 120 mammals. These include elephants, chimpanzee, monkeys, small antelope, 202 butterfly species. Also there are 400 plant species, 200 tree and 100 fern species, and 384 bird species.
Gorilla trekking in Bwindi Impenetrable National Park
Location
Bwindi impenetrable national park is located in the southwestern part of Uganda. This is on the edge of the western arm of the great east African rift valley. It is also about 530km from Uganda, bordered by democratic republic of Congo in the west and Kabale in the southeast. This is one of the reason why the park is divided into four gorilla tracking sectors. These are Buhoma, Ruhija, Nkuringo and Rushaga sector.
Buhoma sector
This is the most popular and developed sector of all sectors which was the first developed for gorilla tracking safaris in Uganda with Rushegura, Mubare and Habinyanja gorilla families available for trekking.
Nkuringo sector
The sector lies closely to Buhoma sector in the southern part of Bwindi impenetrable national park. It also is a home to three gorilla families; Nkuringo gorilla family, bikingi gorilla family and bushaho gorilla family.
Ruhija sector
This is the most remote sector and famous for its abundant birdlife on top of the gorillas. Ruhija sector has oruzongo, bitukura and kyaguriro A and B gorilla families.
Rushaga sector
This is one of the most famous sectors following Buhoma with the highest number of gorilla families. These are mishaya, Nshongi, bweza, Kahungye and Busingye gorilla families. The sector lies between Kabale and Nkuringo while coming from Ruhija or Kampala.
Activities in Bwindi impenetrable national park.
Gorilla trekking and habituation experience.
The main activity in Bwindi is gorilla trekking and habituation experience where you have 99% chance to see the gorillas. The activity is famous because the park is a habitat for half of the gorillas in the world. Gorilla trekking is limited to only 8 visitors to visit each gorilla group per day. This implies that there are limited gorilla permits. Permits should be booked prior to your date of trekking the gorillas. They are on a very high demand all year around. The price of the permits vary depending on the nationality and residential status. USD 700 for foreign non-residents, USD 600 for foreign residents and 250000 shillings for east African residents.
Birding in mgahinga national park.
Bwindi impenetrable national park offers some of the finest montane forest birding in Africa and is a key destination to the birders. Sighting 150 bird species in day here is very common which makes this park a birdwatcher's paradise.
Bird species
The park has recorded over 300 bird species available for bird lovers to watch. Among these is the numerous possibilities of seeing the 23 albertine rift endemic species. Also there are species like Shelley's crimson wing and the African green broadbill. Other species include Doherty's bush shrike, African citril, Jameson's antpecker.
Also there is pink-footed puff back, Waller's starling, crested guinea fowl, and barred long-tailed cuckoo. There is grey crowned crane, white headed saw-wing, yellow-runmped tinklebird. African olive-pigeon, buff-spotted wood, pecker, Pettit's cuckoo-shrike, Cassin's flycatcher are also available. Ruwenzori batis, ansorge's greenbuls, snowy-crowned robin chat,
Others
African paradise fly catcher, cape wagtail, mountain wagtail, yellow-fronted canary, archer's robin-chat, dusky twin spot, brown capped weaver, blue spotted wood dove, tambourine dove, handsome francolin, helmeted guinea fowl, African pygmy-kinfisher and many other including the four globaly threatened; African green broadbill- pseudocalyptomena graueri-vulnerable, grauer's rush warbler- bradypterus graueri endangered, chapin's flycatcher-muscicapa lendu; vulnerable and shelley's crimson-wing –crypospiza shelley vulnerable.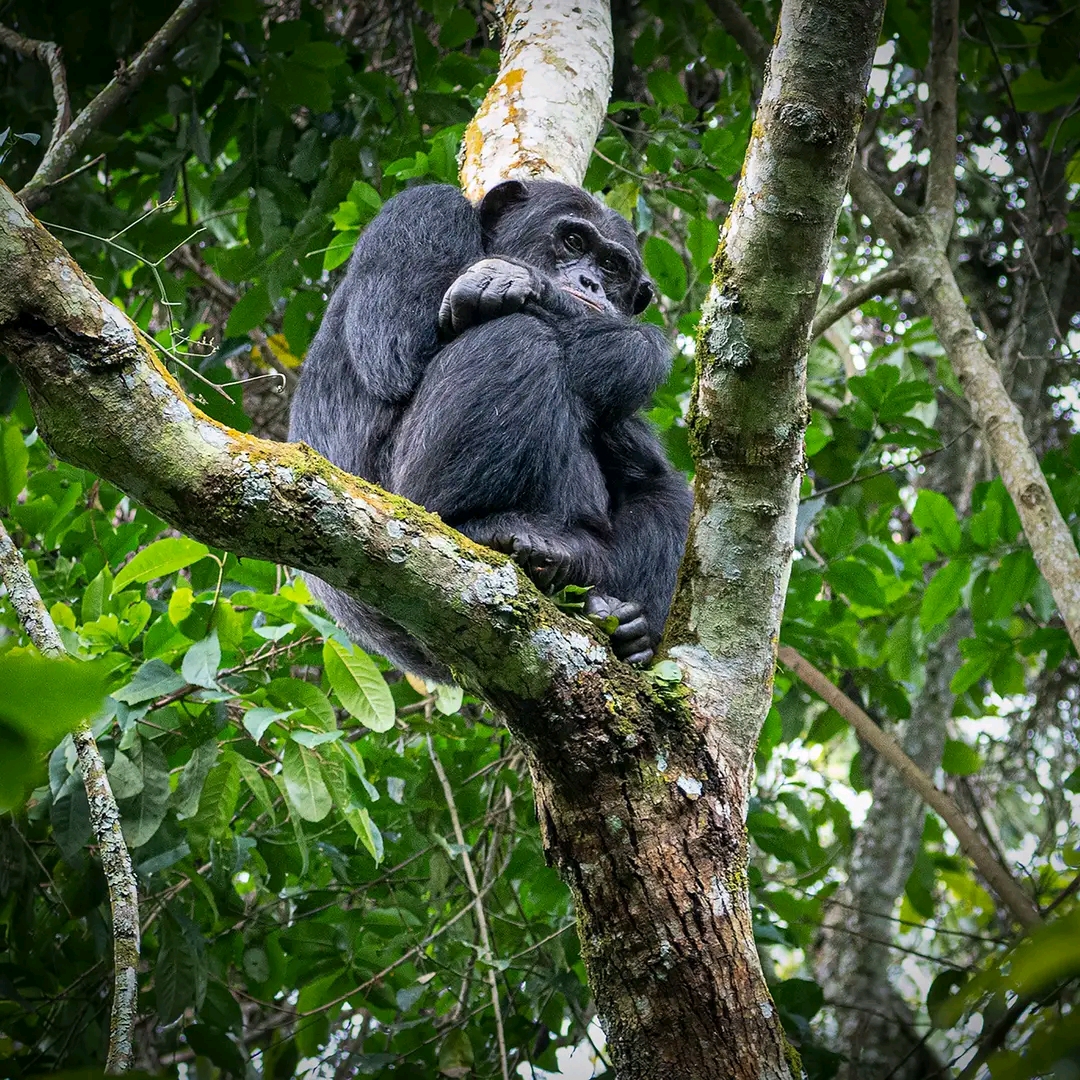 Other wildlife viewing.
Primates and mammal viewing in Bwindi impenetrable national park. The park has amazing numbers of primates in the deep forest. These include elephants, giant forest hogs, antelopes, side stripped jackal, African civet and many more. Some of the primates in Bwindi include; black and white colobus monkeys, chimpanzees, red tailed monkey, galago species and nocturnal potto.
Batwa cultural experience.
Batwa cultural experience. These are the ancient people who inhabit Bwindi forest before it was gazette. The Batwa are keepers of the forest who are hunters and food gatherers. They majorly depend on hunting wild animals and gathering fruits. Even today, they still practice these ancient life styles. Your visit to the Batwa villages will give you a chance to hear their stories. Also, you will watch them gather wild honey, make fire with sticks and stones. They will also entertain you with their songs and dance. You will encounter these amazing people as they continue to go on with their day to day lives.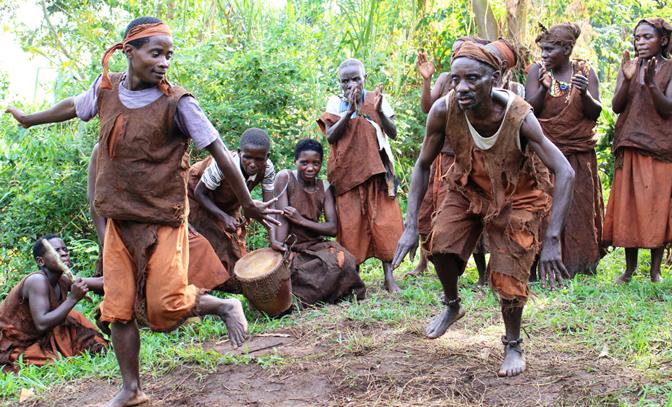 When to visit Bwindi impenetrable national park.
Uganda is suitable for travel any time of the year; the country has two seasons a year, the dry and rainy season. It is not advisable for you to travel during the rainy season which is from March till May and October till November and early December. The best time to travel to Uganda is during the dry season and especially from mid-December to late February and from June till September. However, the country is mostly sunny with an average annual temperature of 26 degree Celsius.
Getting there
You can access the park by road or air from Kampala.
While using the road, you can access the park through Kampala – Kabale route. This connects you to Nkuringo sector, Buhoma and Ruhija sector. It also takes about 8-9 hour's drive from Entebbe/Kampala.
You can also connect through Kabale- Ntungamo – Rukungiri -kihihi- Buhoma about 390 km followed by murram roads to Buhoma. There is another route through Queen Elizabeth national park. This goes via kihihi and Buhoma passing through Ishasha sector of Queen Elizabeth national park.
Other ways to get there
Alternatively, you can use air from Entebbe airport through the scheduled flights to kihihi. This is close to the northern sector of Bwindi with flights in the morning and afternoon. There are also flights to kisoro which is close to the southern sectors of Bwindi impenetrable national park with flights that only leave in the morning. You can also take charter flights from kajjansi to either kisoro or kihihi however, the charter flights are a bit expensive.
Accommodation options in Bwindi Impenetrable National Park
There are different accommodation facilities in Bwindi Impenetrable National Park which vary from luxurious, midrange and budget accommodation facilities. There is plenty of accommodation depending on the sector you are planning to trek. The prices of accommodation facilities tend to rise in the months of June, July, August and September. This is because it's during this time that a number of tourists flock east Africa because of the dry season.
However, these prices vary depending on the Likes and preferences.
Season
In case of drier seasons of the year, hotels are at their full capacity. The prices are high yet in the wet season, a few tourists are visiting east Africa. Therefore, hotels are not so busy and the price are low.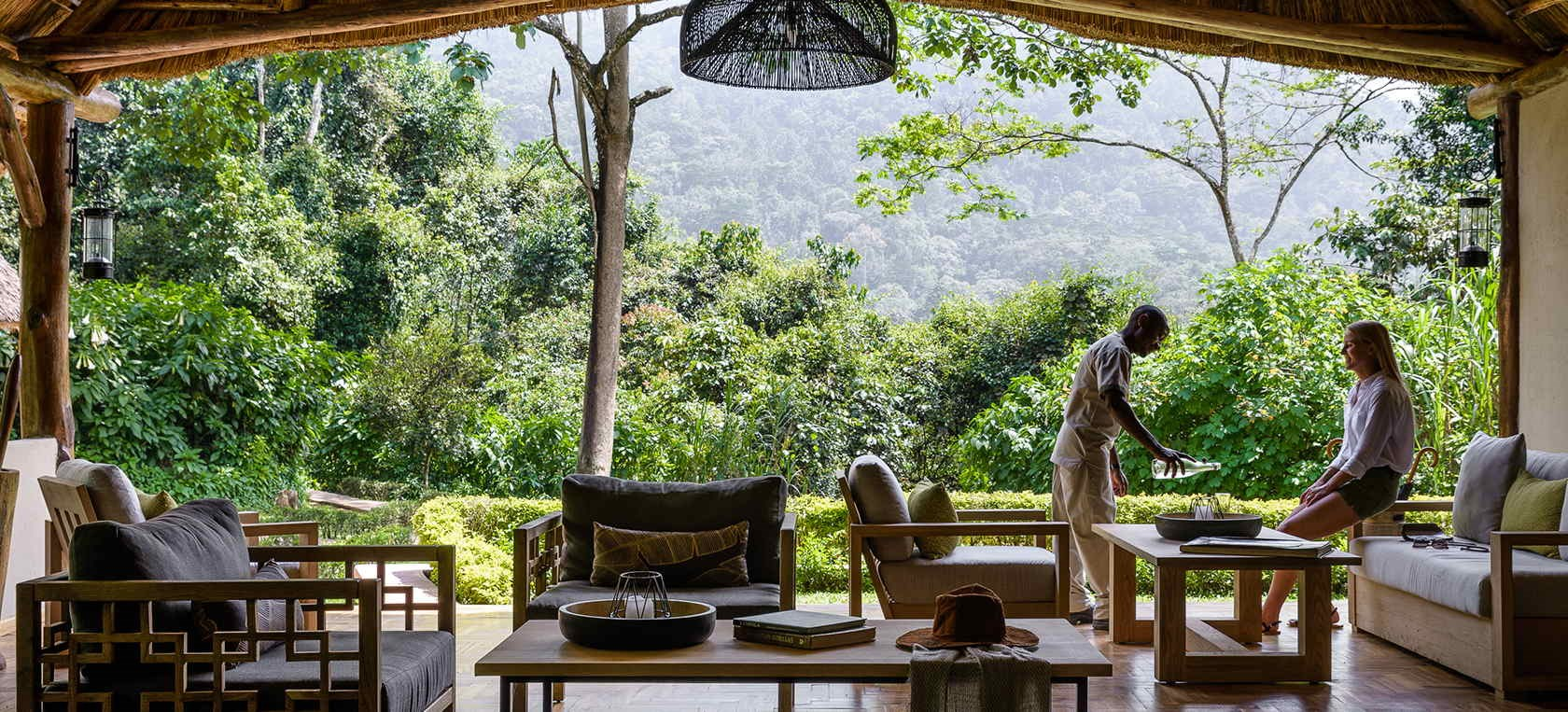 Buhoma sector: Buhoma community rest camp, sanctuary gorilla forest camp, Buhoma lodge, Mahogany Springs.
Nkuringo sector: Nkuringo Bwindi gorilla Lodge, Clouds mountain gorilla lodge, Nshongi camp
Ruhija sector: Ruhija Gorilla Safari Lodge, Ruhija Gorilla Mist Camp, Ruhija Gorilla Resort
Rushaga sector: Gorilla Safari Lodge, Chameleon Hill Lodge
You can also get a lodge around Lake Bunyonyi lodges in Kabale. For example, Bunyonyi overland resort, Lake Bunyonyi rock resort, Arcadia lodge Lake Bunyonyi among others.
In conclusion
Contact Pamoja Tours and Travel Company for an exclusive experience. Our team has acquired knowledge and experience to help you plan a trip that matches your description, budget and dreams.