Gorilla Trekking in Rwanda. Rwanda tours
Gorilla Trekking in Rwanda. Rwanda tours. Rwanda is renowned for its exceptional gorilla trekking experiences, attracting visitors from around the world. Here's some information about gorilla trekking in Rwanda and the available tours: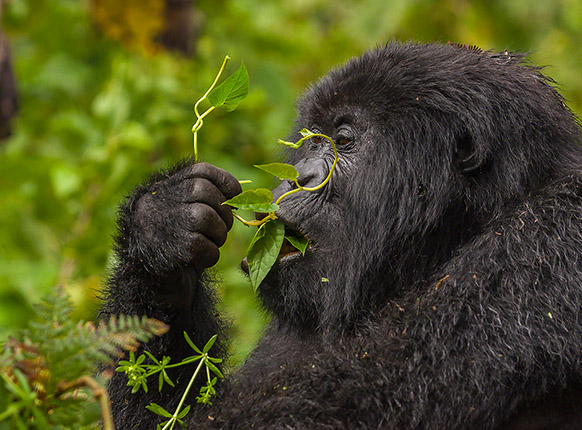 Volcanoes National Park:
– Gorilla trekking in Rwanda takes place in Volcanoes National Park, located in the Virunga Mountains.
– The park is home to several habituated gorilla groups, which have become accustomed to human presence.
– Trekking in Volcanoes National Park offers a chance to explore the stunning volcanic landscapes and encounter the majestic mountain gorillas.
Gorilla Trekking Experience:
– Gorilla trekking in Rwanda typically involves hiking through dense rainforests and steep terrain to locate the gorilla groups.
– Trained guides and trackers accompany trekkers to ensure a safe and informative experience.
– The trek duration can vary, ranging from 1 to 4 hours, depending on the gorilla group's location.
– Once the gorillas are found, visitors spend a valuable hour observing and photographing them from a safe distance.
Rwanda Tours:
In addition to gorilla trekking, Rwanda offers a wealth of other attractions and tours. Here are some popular options:
Kigali City Tour:
– Explore Rwanda's vibrant capital city, Kigali, which is known for its cleanliness and beautiful landscapes.
– Visit historical sites, such as the Kigali Genocide Memorial, to gain insight into Rwanda's tragic past and remarkable recovery.
Nyungwe Forest National Park:
– Nyungwe Forest is a biodiverse rainforest, home to numerous primate species, including chimpanzees and colobus monkeys.
– Take guided hikes to discover the forest's rich flora and fauna, walk across canopy walkways, and enjoy birdwatching.
Akagera National Park:
– Akagera National Park offers a classic African safari experience, with its savannah plains, lakes, and diverse wildlife.
– Embark on game drives to spot animals like elephants, giraffes, zebras, lions, and a variety of bird species.
Lake Kivu:
– Lake Kivu, one of Africa's Great Lakes, provides a picturesque setting for relaxation and water-based activities.
– Enjoy boat trips, swimming, fishing, and visiting lakeside towns to experience the local culture and hospitality.
Conclusion:
Rwanda's gorilla trekking and tours provide a remarkable opportunity to explore the country's natural beauty and wildlife. The chance to witness mountain gorillas up close, combined with other attractions like Kigali, Nyungwe Forest, Akagera National Park, and Lake Kivu, make Rwanda a diverse and captivating destination. When planning a trip to Rwanda, consider reaching out to reputable tour operators who can help tailor an itinerary to suit your preferences and ensure a memorable experience.
Top popular Rwanda safaris:
3 day gorilla safari in Rwanda
5 days primate adventure in Rwanda