How to keep your children safe on a Family Safari
How to keep your children safe on a Family Safari. Africa remains an exciting place to travel and a safari is one of the most memorable experiences families can share. But for those yet to experience it and maybe considering a trip for the first time, you will no doubt have several questions about child safety.
These may include: How safe are safaris in Africa? Where in Africa is safe to travel? What are the age restrictions for taking children on safari?
To answer these and many other questions we have compiled a list of child safety tips for families.
Age Suitability
Before even contemplating a safari trip you need to consider if your children are old enough. In simple terms, there are two options when it comes to family safaris – lodge-based or tented camps. For safety reasons, many camps and lodges won't take children under 8 years old. However, there are a number of properties that are child friendly and extremely well-equipped to have even very young children.
These are often owner-run bush homes or private lodges where they have their own children and love having others to stay. But it's a very personal decision since every family is different. Parents must consider not only what to do with young children on a trip, but also how they will cope with flights, long drives, and very early morning rises. Our advice here is to keep the safari short and sharp – four to five days being ideal to keep everyone's attention and combine it with a few days on the beach so that everyone can let their hair down.
Vaccinate and immunize
Each country in Africa has its own inoculation demands and safety record, and while only your doctor can advise on specifics, we will inform you on what to expect and what precautions are necessarily. Malaria, sleeping sickness, and dysentery are just a few of the diseases you can pick up in some parts of Africa, although the chances of contracting anything serious like this are vanishingly small.
Make sure you and your children's vaccinations are up to date and consult with your GP well in advance of any trip. If you prefer not to make your children take malaria tablets, there are a few game reserves in South Africa that are malaria-free.
Mosquito protection
While most safari destinations have relatively low malarial risks (cities and areas with large human populations are the worst) the most dangerous creature in Africa is the mosquito, and the younger the child, the more important it is to reduce the risk of malarial infection. The safari accommodation we use will always include mosquito nets over the beds and/or mosquito-proofed tents.
Camp or lodge staff will also spray tents or rooms in the evenings if necessary. The key time to protect yourself against mosquitos is between 10 at night and 6 in the morning when mosquitos are at their most prevalent, but it is best to extend this to evenings and early mornings to be safe. Make sure your kids wear clothing that protects areas typically vulnerable to bites – ankles, calves, wrists, and neck.
For extra protection, you can also spray your children's clothes with insect repellent, which you can buy at home and for use on the skin, something like Skin So Soft is a simple and effective protection against biting insects. Another good tip is to wear very light colors when you're sleeping – mosquitos are attracting to dark colors.
Protect your kids from the sun.
The sunshine is very strong in many parts of Africa and since your family will be spending a lot of time outdoors on safari, you need to protect your children by sunscreen or sunblock. Pack the highest factor creams and sprays for younger children. Remember to re-apply after a few hours or especially after doing any swimming.
Make sure you take hats, ideally wide brim and tight with perhaps a chin tie so you don't lose them from vehicles or boats. Children's eyes can be sensitive to sunlight and on safari, they will be exposed to a lot more sunshine than they're used to. Good quality sunglasses offer some protection.
Dehydration is also a risk in hot countries so drinking plenty of water is absolutely essential. Make sure kids are constantly drinking.
Be careful walking around camp barefoot
As anyone who grew up in Africa will tell you, one of the joys of being a child in Africa is being able to go barefoot. However, this clearly needs to be temper with an awareness of the many thorny or stinging things they could encounter. Hence suitable footwear is a good idea when they are outdoors – Africa has many snakes, and scorpions (although these tend to keep well clear of humans if they can) as well as ants and wasps. Your children won't need heavy-duty boots on a safari and for anything other than serious walks, trainers/sneakers are ideal.
Stay in the vehicle while on game drives
Always stay in the safari vehicle when driving in or traveling through a game park. Africa is not a zoo, the wildlife is free to attack you (or even eat you!) if given any encouragement. Only get out at designated spots and follow the advice of your guide to the letter. If the children are desperate for the toilet, never let them out of the vehicle without asking your guide if it is safe to do so. No matter how tempting it may be to take that perfect photo, don't get out of the vehicle to do it without getting the go-ahead from your guide.
You'd be amazed how easy it is to miss a lion or leopard lurking in the grass at very close range. (These are animals that evolved to be experts at concealing themselves). Many safari vehicles are open-topped and open-sided. The wildlife is generally relaxed around them. But when in the company of big game – particularly the large cats, don't allow children to stand up. Ensure they first check with a Pamoja Tours and Travel guide. Animals are used to the shapes of vehicles. However, they can react unpredictably if a human outline suddenly appears at close range.
Always be on the lookout for animals in the bush
While the closest encounters with wildlife tend to be in vehicles, there can be times when you'll come across wildlife up close on a walking safari or occasionally around camp. Bull elephants in particular are often drawn to the same shady trees that make ideal spots to locate tents. They often walk close to rooms or tents with no sign of fear, but under no circumstances should they be approached. When walking around in a camp or lodge you should always be on the lookout for wild animals. Children should always be accompanied. If you do encounter a wild animal, keep calm, don't turn your back or run and quietly move back in the direction you came from, ideally getting into a room, tent or vehicle.
Walking safaris
Walking safaris are not suitable for children under the age of 12. Many guides operating in areas where there are populations of dangerous wildlife won't take children under the age of 16. This is until they have seen if they are suitably behaved.
Any time you are walking in the bush you need to tune all your senses to the environment (this is one of the things that makes walking safaris so exciting).
If you are walking with (older) children, keep them close at all times. On a walking safari, your walking guide and /or ranger will be armed and will brief you clearly before the walk starts on how to react in the event you encounter a game at close range.
Top of the list are keeping quiet, don't make sudden moves, don't run or turn your back, but above all, listen carefully to your guide and follow his instructions.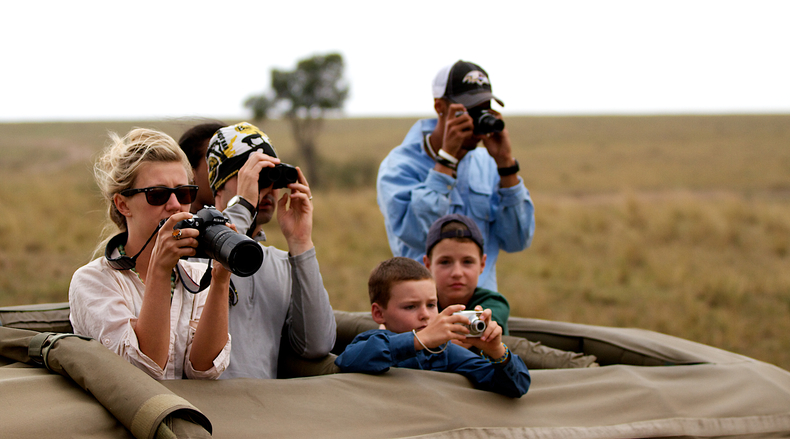 Be careful near rivers or lakes.
Be careful not to allow children to swim or play near rivers or lakes. There's a reason why you won't see the locals swimming in many places as lakes and rivers can be teeming with crocodiles. In addition, the peaceful-looking hippos are arguably the most dangerous of all the big animals. If they sense danger hippos will charge and attack whatever lies in their path. This is in order to get back to the safety of the water.
In some parts of Africa, there are also parasitic infections that can transmit to humans through contact with fresh water. With this, there are many places where you can swim safely, but this should only be with the clear go-ahead of your guide or hosts. If swimming is a priority for your family holiday then consider spending some time on one of the wonderful beaches on the Indian Ocean (Uganda, Kenya, Tanzania, and the islands of Zanzibar and Pemba are the best) or book one of the many safari camps or lodges with a swimming pool.
Night time supervision
This one is as simple as it is important. Don't allow your children to walk or run around at night in areas where you know there is wildlife present that can be potentially harmful.
This includes your safari camp or lodge. Children mustn't play away from the main lighted areas of camp. You should also keep them close to you at all times. It's not uncommon for leopards to frequent safari camps.
Finally, you should always ensure that your room is close at night or your tent is properly zipping up. Don't allow children to come out after dark, most safari camps will have a system – radio, whistle, air horn. This is to allow you to alert your guide or ranger in the event of an emergency.
You can book one of these safaris for your family:
Also, read about our fleet to see the family vehicles you can use during your safari: