Kazinga Channel
Kazinga Channel
Kazinga Channel is a wide and a long natural channel found in western Uganda in Queen Elizabeth National Park. The channel stretches over 32-kilometers long, 8m deep linking Lake Edward and Lake George that are found in the park. Kazinga Channel falls under one of the sectors and it's one of the must visit attractions to the park. Rwenzori mountains pours in Lake George which then outflows to Lake Edward through the Kazinga Channel.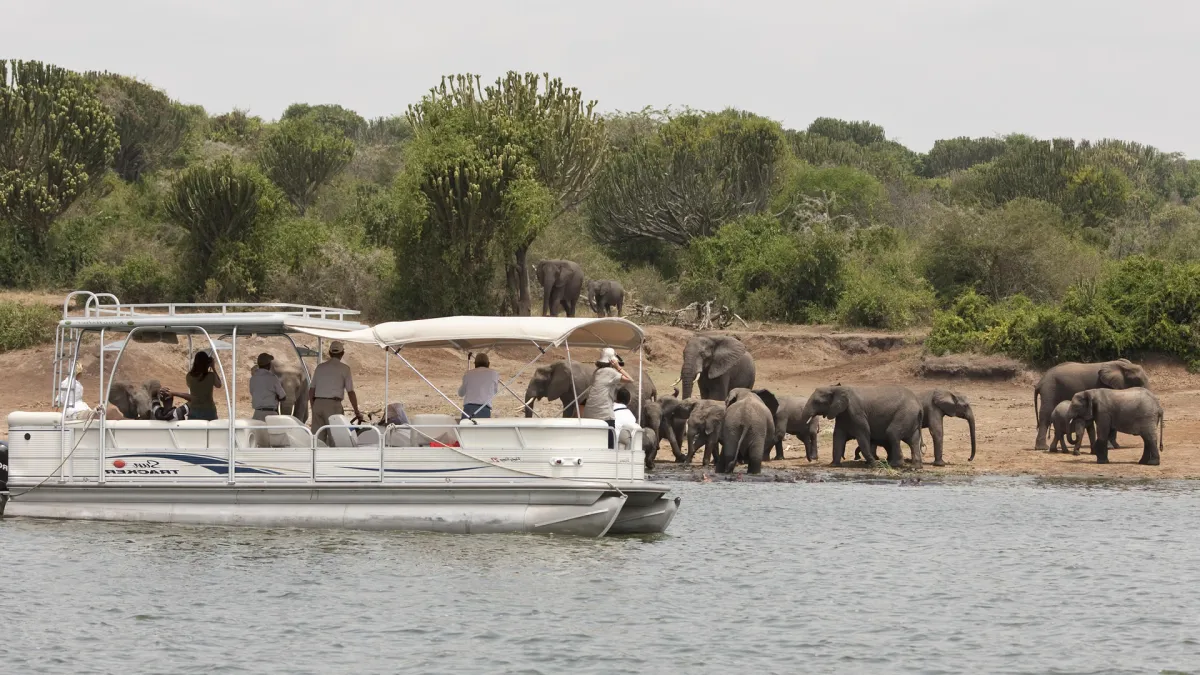 Kazinga channel lies within the Mweya peninsular with two parts that include, the north kazinga together with the kasenyi plains. Kazinga channel being famous for wildlife viewing on a boat safari, the kasenyi plains are also famous for wildlife viewing during the game drive. The plains are also remarkably famous for an experiential game drive for lion and leopard tracking in the kasenyi sector.
The channel is famously known to host the boat cruise while in the park due to the wide variaty of animals and birds. The shores of Kasinga Channel draw a large number of wildlife that includes reptiles, birds and a lot of mammal species. The channel is also a home to one of the world's largest concentration of hippos and numerous Nile crocodiles.
The boat cruise on the channel is extremely rewarding as you can't compare it to any other boat safari in Uganda. This is so true because this boat-safari offers you great views of wildlife than any other boat-safari in Uganda. These animals can be seen well on a boat cruise down the course of the channel or towards the entrance of the spectacular Lake Edward.
What to see while at Kazinga Channel.
Kazinga Channel is gifted with abundant wildlife species that attract thousands of guests all over the world to come see it.
While on a boat cruise on the channel, you get to see anumber of elephants, Buffalo, crocodiles, , lions, antelopes and the giant Nile Monitor Lizards which is the biggest in Africa among many other animals. The channel is also a great spot for bird species such as the Black bee eater, Great White and Pink-Backed Pelicans, African Shoebill, Yellow-billed stork, African Skimmer, Falcons, pied kingfisher, black bee eater, fish Eagle, Jacana, Open-Billed Stork, Saddle Bill Stork, Great and Long Tailed Cormorants, Black-rumped buttonquail among many others.
Unfortunately in 2005, there was a huge loss of hippos at the channel as a result of an anthrax outbreak. All this happens when animals (hippos) eat remnants of vegetation in the driest months, hence absorbing bacterial spores that affects them. can live for decades in dry soil. Records say, hippos are leading among all other animals to kill as more humans in African than any other large mammal.
However, despite the loss, the channel has one of the world's largest concentration of hippos and numerous Nile crocodiles.
Best places to Visit in Queen Elizabeth National Park
 Other eye-catching spots in Queen Elizabeth National Park include,
Kyambura Gorge
Kasenyi plains
Ishasha sector
Maramagambo forest
Kalinzu Forest
Katwe salt lake
Crater lakes among many others.
Best time to cruise
What is the best time to do a boat cruise on Kazinga Channel?
Boat safaris on the channel are provided by both Uganda wildlife authority together with private companies or individuals. The boat-trip on Kazinga Channel takes an average of 3 hours as you have breathtaking views of the wildlife. Boat safaris are best done in the afternoon when animals like elephants, buffaloes and hippos come through during the sunny day to cool off in the waters. The period is spectacular as it gives you wounderful and scenic views that are mind blowing and can also only be visible here.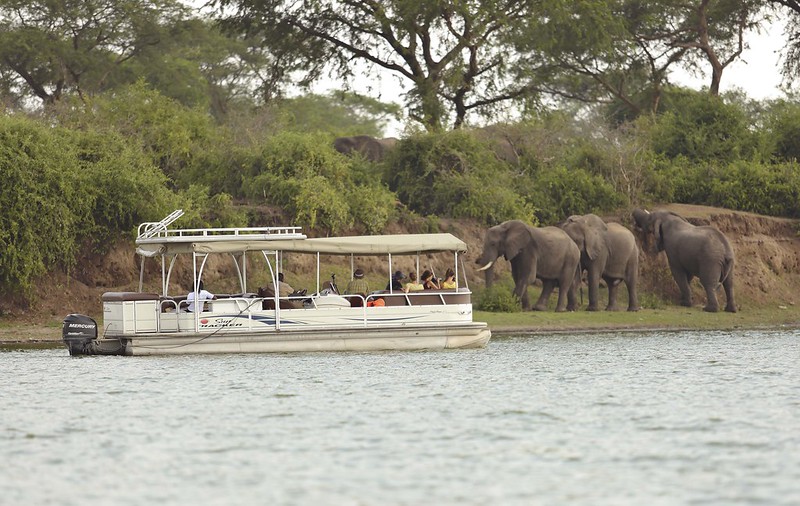 Uganda Wildlife Authority schedules boat cruises that run everyday using group boat safaris setting off at Mweya. However, there are other companies offering boat safaris for example M.V Kazinga, Mweya safari lodge boats and other boat operators, as well as local boat operators.
In conclusion, Kazinga channel is a must visit place while on a wildlife safari in Uganda.
Where to stay/ sleep!
There are a number of accommodation facilities that you can use while in Queen Elizabeth National Park  visiting the Kazinga Channel. These include, Mweya safari lodge, twin lakes safari lodge, Irungu safari lodge among many others.
Getting to Kazinga Channel.
You drive from Kampala heading to the western direction of Uganda and enter Queen Elizabeth National Park. You can use the closest gates to the park for example, Katunguru gate or Kabatoro gate.
There are two routes you can use to reach the park including via Masaka – Mbarara highway and fort portal – Kasese.
By road,
It takes you about 7-8 hours to Reach Queen Elizabeth national park and get to Kazinga Channel. And from Bwindi via kihihi-Buhoma sector to Mweya peninsular, it's about 3-4 hours on road using a 4×4 vehicle.
By air,
You can fly from Enteebe international airport or kajansi airfield to kasese airfield and then connect to the park.
In conclusion, it's always advisable to book with a tour company to save time and avoid disorganization on your safari. Book with Pamoja Tours and Travel