Kibale National Park also known as the Primate Capital of The world, is located in western Uganda. It's primarily known to be the home of chimpanzees in Uganda, together with other 13 primate species. It's one of the last expanses of land in Uganda to contain both lowland and montane forest and with the highest diversity and concentration of primates on the entire continent. The forest has 229 species of trees found within the moist tropical forests of the park, 1450 wild chimpanzees, the park is linked to the queen Elizabeth national park by a wildlife corridor where large herds of African elephants roam freely between both sanctuaries with a tropical rain forest and an evergreen rain forest in Uganda.
History
The park was gazette in 1932 and formally established in 1993 to protect a large area of the forest previously managed as a logged forest reserve. Kibale National Park covers an area of 795 kilometers over varied altitudes covering the central and the northern part of fort portal plateau which therefore stands the highest with an elevation of 1110 – 1590m above sea level.
Animals
Kibale National Park has some of the highest abundance of primates in the area. There are 13 primate species with the highest number of them being the human's closest relative, the chimpanzee, and a very delightful ape. Primates like; Uganda mangabey, Ugandan red colobus, l'hoest's monkey, black and white colobus, blue monkey among others.
The park also has different mammals like red and blue duikers, bushbucks, sitatungas, bush pigs, giant forest hogs, common warthogs, African buffalo, and elephants. The carnivores that are present include leopards, African golden cats, serval, mongooses, two otter species and lions which visit occasionally.
The park also boasts of 325 species of birds like the olive long-tailed cuckoo, western tinker bird, two species of pittas (African and green-breasted) and the grey parrot. The ground thrust is endemic to Kibale National Park.
When to visit the park?
The park can be visited anytime throughout the year. However, the best time to visit the park is during the dry season of the year when the ark is accessible, easy to hike the chimp trails and dry and hence the vegetation will be thin which gives you an opportunity to see the chimps clearly.
The peak/ dry seasons of the year are in the months of June to September and December to February. The park can also be visited during the wet season in the months of March to May and November to early December. This time of the year is when the birders will be able to see majority of bird species since they are usually escaping from the harsh winters in Europe.
Activities to do in Kibale National Park.
Chimpanzee tracking.
Kibale National Park is most popular for its population of chimpanzees and is considered the best place to track wild chimpanzees on earth. Chimpanzee tracking is the ultimate highlight for visitors to this park. Over several years of conservation and habituation, the chance of seeing them has risen to over 95%. Tourists can choose from either a morning or afternoon trek both beginning with a necessary briefing and led by an expert ranger guide. Treks can typically last anywhere from 2 to 5 hours depending on where the animals are on a particular day. A maximum of 6 tourists per group is permitted to spend a full hour with a community of chimpanzees. All tourists on chimpanzee tracking safaris to Bwindi will need a chimpanzee permit.
A visitor has a full hour when you see the chimpanzees and for chimpanzee habituation experience, you have half or a full day to observe the chimps. There are about 5000 chimpanzees remaining in Uganda that is why they are considered extremely endangered. You will have an opportunity to enjoy the chimpanzees as well as other different primates in their natural habitat.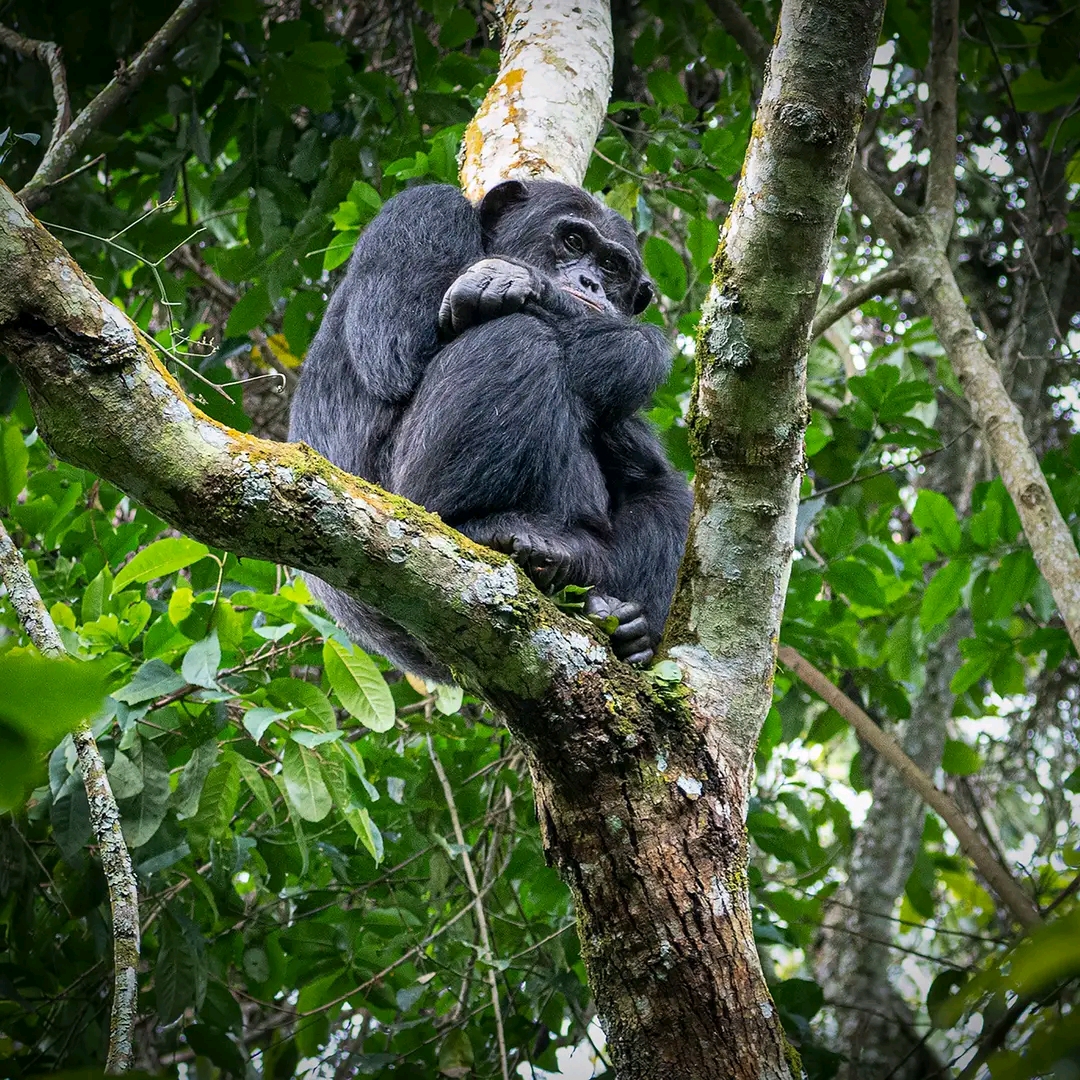 The habituation involves joining our habituation research team as they carry out their daily assignment of making a community of chimpanzees accustomed to human visits. This is a great experience for researchers as well as photographers who would love to spend a bit more time with the chimps. For half-a-day tourists participating in the CHEX activity will need to secure a chimpanzee habituation permit. Like chimpanzee tracking, this activity starts with a briefing at the park headquarters, however, this is much earlier at around 6:30 AM. Read more about our booking guidelines and chimpanzee habituation rules.
Birding.
For the interested birders, Bigodi wetland sanctuary and Kanyanchu are the best places to go bird watching. The park has a registered total number of 350 bird species with some albertine rift endemic species. Interestingly, you will be able to spot at least 200 bird species when you visit the area. Some of the bird species include; cape wagtail, crowned eagle, mountain wagtail, yellow-fronted canary and also archer's robin-chat. There is African pitta, Abyssinian ground thrush, dusky twin spot, brown capped weaver, blue spotted wood dove. Also black bee- eater, brown chested alethe, tambourine dove, handsome francolin are also there. Blue breasted kingfisher, helmeted guinea fowl, yellow spotted nicator, African pygmy-kingfisher and many others. Bird watching tours at Kanyanchu start at 7am and you are advised to book for them in advance.
Bigodi swamp walk.
The bigodi swamp walk is another amazing nature walk in the southern part of the park. Bigodi Wetlands Sanctuary is rich in biodiversity and scenic beauty worth a visit to anyone visiting Kibale National Park. The 4,5km long walk will take you through this important wildlife corridor of Kibale Forest and will take up to 3h.
The sanctuary is a home to over 200 species of birds including the Great Blue Turaco, Hornbills, Turacos, Parrots, Cranes, Kingfishers and many more swamp endemics. This makes it a real bird watcher's paradise for any bird lovers.
On addition to this, the sanctuary is the home to 8 species of primates, including the Olive Baboons, Black and White Colobus, Red Colobus, Red Tailed Monkey, Grey Cheeked Mangabey,  L'hoest Monkey, Vervet Monkey and the Blue Monkey.
The swamp is also a haven for other mammals such as sitatungas, bushbucks and otters. Local and knowledgeable guides will take you on an interpretive tour as they escort you through the lush vegetation. This is the perfect opportunity to view the wildlife from the forest pathways, boardwalks and atop a tree house tucked high in the canopy.
Tourists to visit the wetlands, they have to be accompanied by a trained Sanctuary guide. The walk takes up-to about 3 hours, from 7:30 to 9 AM or 3 PM.
Cultural encounters
Kibale National Park is located in one of the most culturally unique spots in Uganda, western Uganda. Tourists can easily combine a chimpanzee tracking experience with a visit to the Bigodi community. A cycling adventure or community walk through one of the tree plantations, coffee tours, a visit to the mysterious caves at Amabere Ga Nyinamwiru as well as exploring some of Toro kingdom's other cultural sites including the king's own palace. You will also get to visit their village primary schools, church and traditional healers. During your walk, get entertained by the local dance and music and hear different stories of those communities. The income from this activity is invested in education, health, improving the livelihood of local residents and sanitation.
Nature walks.
Nature walks are also another interesting activity to explore the park and the forest at large in order to get closer to nature. Apart from chimpanzees trekking, tourists can pick some interest in the park's nature walks to discover some of its residents including mammals like the duikers, forest hogs, butterflies, and the rich vegetation. There are also several amphibian and reptile species as well. The park has a resident population of African forest elephants as well, although these can be aggressive and is partly why a ranger guide must accompany tourists at all times. Night nature walks will offer chances to see some of the nocturnal animals like bushbabies, tree hyraxes, and civets.
Best time to visit
The park is open through out the year and tourists can visit the park any time. For activities like chimpanzee tracking, it's always better to do it in dry seasons in order not to find challenges in the trekking.
Where to stay
There are many accommodation establishments available for tourists and they range from luxury, mid-range and budget.
Among the luxury, there's Primate lodge, Chimpundu Lodge, Kyanginga Lodge, Papaya Lake Lodge, Ndali Lodge, Turaco Treetops among others.
Among the mid-range, there's Kibale Forest Camp, Isunga Lodge, Kibale safari lodge, Kibale Forest Lodge, Jungle lodge Kibale, Lodge Bella Visit, Lake Myamirima Cottages, Mwamba Kelele Lodge among others
In Budget, there's Kibale River Camp, Lake Nyantonde Eco campsite, Kluges Guest Farm, Lake Kifuruka Eco lodge campsite among many others.
How to get to Kibale National Park.
Kibale National Park can be accessed easily through the road and air. The park is located in the west of Uganda. Therefore, through Kampala – Mubende road or Mbarara – Kamwenge road to the park headquarters which will take you 5-6 hour's drive. The northern route to Kibale through fort portal is the shortest route. You can also access Kibale from Kasese from Entebbe using Bar aviation. Then hire a special taxi to Kanyanchu in Kibale. But if you book your tour with Pamoja tours and Travel, your driver will be on standby at the airstrip to transport you to the park.
Pamoja tours and Travel Company to arrange for you a package, book permits and your accommodation. We will advise you accordingly and book everything, you don't have to even lift a finger. We can help you book accommodation. Also, secure your trekking permits, and arrange different activities after trekking. Also, we can transport you to your destination.
Here are some of the best chimpanzee tracking packages available.
https://www.pamojatoursandtravel.com/5-days-gorillas-and-chimpanzees-trekking-adventure-safari/