Lake Mburo National Park
Lake Mburo National Park is located in Kiruhura District in the Western Region of Uganda, about 30 km (19 mi) east of Mbarara and about 240 km (150 mi) by road west of Kampala.
History
Lake Mburo was originally gazetted in 1933 as a controlled hunting area and upgraded to a game reserve in 1963.The region was settled by Banyankole Bahima pastoralists who traditionally herd Ankole cattle, and still do. The residents continued to graze their cattle in the reserve, a situation decried by western conservationists, who termed them "invaders" in 1981, but were expelled from their lands after it was upgraded to national park status in 1983, as hoped for by some in the West.
The Obote government's upgrade decision was to weaken the Banyankole, who support anti-Obote rebels. It came at the time of the Operation Bonanza massacre of 300,000 people during the Ugandan Bush War. As the evicted pastoralists were not compensated for lost grazing land or assisted with resettling, many remained hostile to the upgrade. The rangeland outside the park was subsequently subdivided into small ranges and subsistence farming plots.
In 1985, the second Obote regime fell and the previous residents of Lake Mburo re-occupied the park's land, expelling park staff, destroying infrastructure, and killing wildlife. Less than half of the park's original land area was eventually re-gazetted by the National Resistance Movement government in 1986.
Within the park there are still culturally significant locations, such as Rubanga, where sacrifices were once made to the gods, Ruroko is where the semi-mythical Bachwezi lived, and Kigarama was where the pages (servants) of the king used to stay
Wildlife
The park has a good variety of wildlife. There are also several antelope species including topi, duiker, oribi, bohor reedbuck and also klipspringer. Elephant are absent, but herds of buffalo are quite common, and Rothschild's giraffe. A healthy population of leopard is present, although mostly seen at night. Hippo and crocodile are also in the lake.
Birds
More than 310 bird species are in Lake Mburo National Park. This park is the best place in Uganda for acacia-dwelling birds. Forest species are also present in Rubanga Forest. A bonus for birders is the swamps, in which six papyrus specials are resident, including the spectacular papyrus gonolek and the blue-headed coucal. Southern species at the northern limit of their range include the black-collared barbet and bare-faced go-away bird. Migratory birds are present from November to April.
Weather and climate
Lake Mburo National Park experiences a mild climate. Daily temperatures are around 27°C/81°F, with nightly temperatures of 14°C/57°F on average. Rain occurs throughout the year – although June and July get the least amount of rain. December through February also tends to be a period of lesser rainfall. There are two Wet seasons, from March to May and from September to November.
Activities done in Lake Mburo National Park
Game drives "Day"
Lake Mburo National Park has a number of game drive trails that offer you great views of wildlife while on a game drive. While on a game drive, tourists can spot various species of animals such as impalas, giraffes, zebras, elands, Topi, buffalo, hyenas, mongooses antelopes, bush rat, slender mongoose, duiker, Oribis, Bogor reedbuck, hippos, crocodiles and Klipspringers to mention a few. During the game drives, you will be able to enjoy the park's various landscapes and vegetation cover.
Lake Mburo National Park is one of the few national parks in Uganda where night game drives are active to guests. When going for a night game drive, your are accompanied by ranger guides, and they start at 7:00 pm, lasting up to 3 hours. Some of the wildlife to expect to see include nocturnal celebrities like "the rare leopard" as well as the spotted hyenas, genets, bushbabies, porcupines, and more. The ranger guide will use spotlights to assist you in identifying some of the "hard-to-see" wildlife.
Nature walks
Point to note, Lake Mburo National Park offers the best walk safaris unlike any other nature walks. Guests are led by one of the UWA's expert ranger guides bringing them a lot closer to the wonders of the wild. A safari on foot presents a whole new perspective and appreciation of the wild. It is an opportunity to see the calmness of the wildlife away from the conventional safari jeep.
Nature walks begin early morning at 6:30 am and 7:00 am, and last for about 2 hours or more depending on your interests.The most popular nature walks lead you to the Eland track where you can expect to see large herds of eland. More to this is meeting a tower of Giraffes and plenty of other wildlife. Other walks are towards the salt lick at Rwonyo, Rubanga forest, and along the shores of the lake.
Boat cruise
Another exciting way to explore the park, is through boat safaris that take place on Lake Mburo with both scheduled and private Launch trips. The UWA boat departs with a ranger guide and expert to explain to you all you need to know while having your bot trip. Some of the wildlife to expect includes hippos, crocodiles, as well as plenty of water birds like the African fish eagle, several types of kingfishers, and the only place to see the African finfoot.
Cycling
Cycling safaris are customized to the interests and abilities of various tourists who come to the park. Trips can range from 1 hour to as long as you can ride although the cooler hours of the day, especially in the early mornings. Abundant wildlife is often found in flat valleys which not only makes visibility easier but cycling less difficult. You always cycle with an armed ranger guide as you get to enjoy this adventure in the park.
Horseback safaris
Horseback safaris in Lake Mburo National Park are an incredible way to experience the African wilderness in a more adventurous way. Riding one of the well-trained horses close to herds of buffalo, zebras, antelopes, giraffes and other wildlife is as unique as it sounds. You will have two armed ranger guides to ride with you as you get to see the wildlife.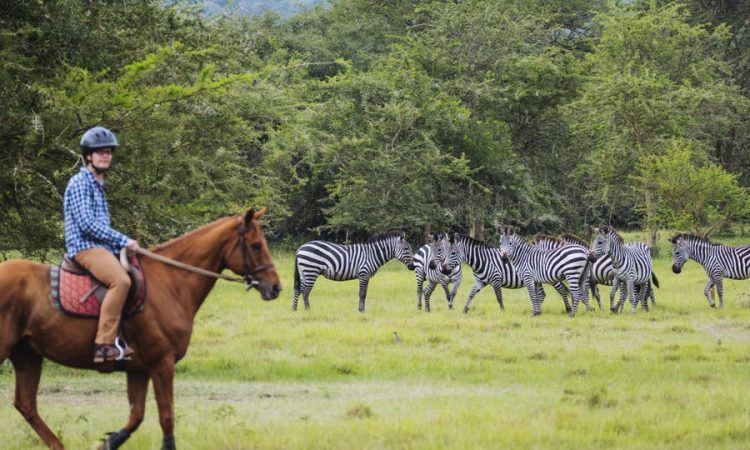 Community visits/ tours
While in Lake Mburo National Park, your in the heart of the Ankole region and expect to see herds of cattle. Cultural tours to the communities are a fantastic addition to the contemporary wildlife safari when visiting the park. Tourists can partake in an Ankole farm experience for a walk in the life of the Banyankole including traditional hand milking of the famous Ankole long-horned cows.
Birding safaris
The Park is one of the best birding destination and famous bird lovers, with over 350 bird species in this rather small protected area. Birding adventures can take while in the car, on a boat, or even more exciting on foot during a walking safari. Birds are not hard to find and some of the species that top the list include the White-winged Warbler, Papyrus gonolek, Red-faced Barbet, Abyssinian ground hornbill, Verreaux's eagle, Saddle-billed stork, and the only place to spot the African finfoot. Birding safaris in Lake Mburo National Park are very rewarding as you will be able to see a lot of bird species.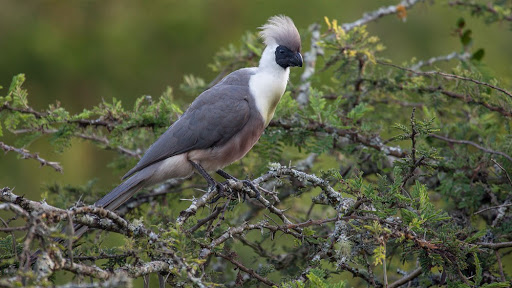 Sport fishing
This is yet another amazing activity done by a few who love fishing as a game. The park has five lakes offering excellent opportunities for sport fishing adventures. Tilapia fish is the most common fish species although there are other fish species to catch. Tourists are also advised to carry their own fishing equipment if they plan on doing the activity.
Best time to visit
The park is open year-round, but the Dry seasons from June to August and December to February are the best months for general wildlife viewing. This is when animals gather around the lake and other water sources to feed or relax during the day. Still wildlife viewing happens during the wet seasons from March to May and from September to November.
Getting there
Tourists usually visit Lake Mburo National Park on a tour, possibly as an overnight break when driving between Kampala and Bwindi Impenetrable National Park. The park is in western Uganda, 228km/142mi from Kampala and 250km to 300km/155mi to 180mi from Bwindi. This depends on which gorilla trekking base you are going to. The drive from Kampala takes about 5 hours and the drive on to Bwindi about 6 to 7 hours.
Entebbe International Airport (EBB) is about 46km/29mi from the country's capital, Kampala. This will be your entry point into Uganda. Your local tour operator will usually arrange for your pick-up from the airport or hotel and all further transportation as part of your safari package
Where to stay
There are safari lodges in all levels that can fit into your budget, beginning with luxury lodges, mid-range lodges and budget lodges.
Among the luxury lodges available include ;
Arcadia lodge Lake Mburo
Kigambira Safari lodge
Lake Mburo Safari lodge
Mihingo Lodge among others.
Among the mid-range lodges, we have Rwakobo Rock, Hyena Hill lodge, Leopard rest camp etc.
And in the budget sections, we have Eagle's Nest, UWA Hostel, UWA student center etc.
In conclusion,
Lake Mburo National Park is one of the best safari destinations in Uganda with amazing wildlife count. It's also the only National Park that offers horse riding to view wildlife while on riding a horse. On top of this, it's one of the best birding destinations and favorable for walking safaris in Uganda.