Lemala Wildwaters Lodge
Lemala Wildwaters Lodge. It is located on roughly six hectares on Kalagala Island. Wildwaters Lodge lies on a unique private island mid-stream within the mighty River Nile in Uganda. It is around 25km downstream from Jinja in eastern Uganda. It's in a sublime location and also only reached by boat which makes it a very adventurous place to stay. It is uniquely on granite rocks with dramatic and also exciting rapids roaring all around.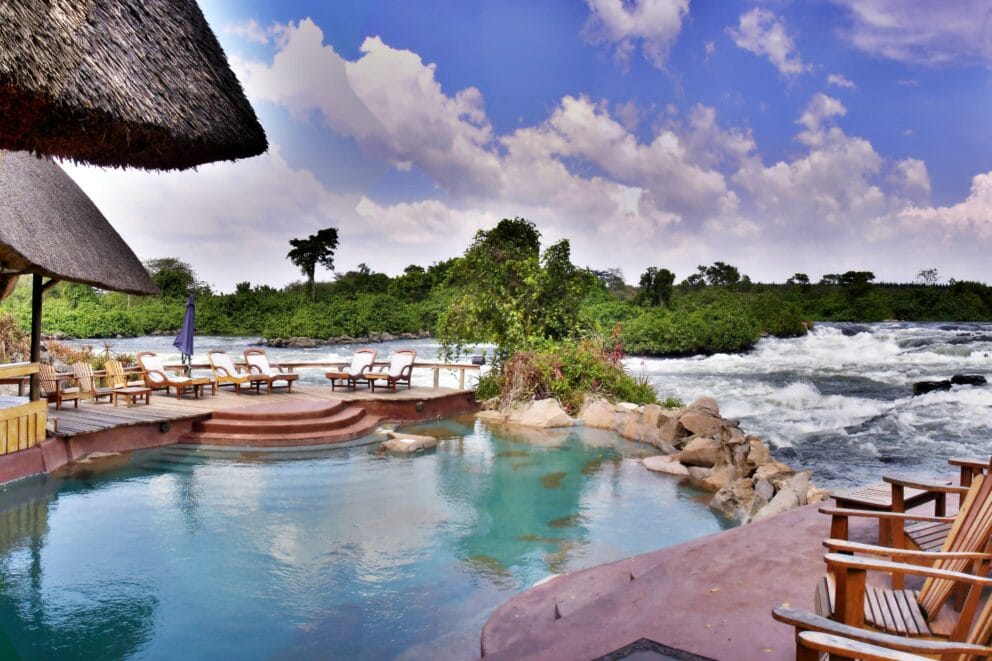 Activities at the Lodge
Activities on the river for guests in the nearby adventure hub of the Jinja area include heart-pounding white-water rafting or bungee jumping and gentler horse riding or fishing. Additionally, Wild waters is a perfect platform for viewing some of the more than 1000 bird species that Uganda is so famous for – from turacos and also cuckoos to hawks and eagles – and also you might also spot giant otters and also monitor lizards in the water.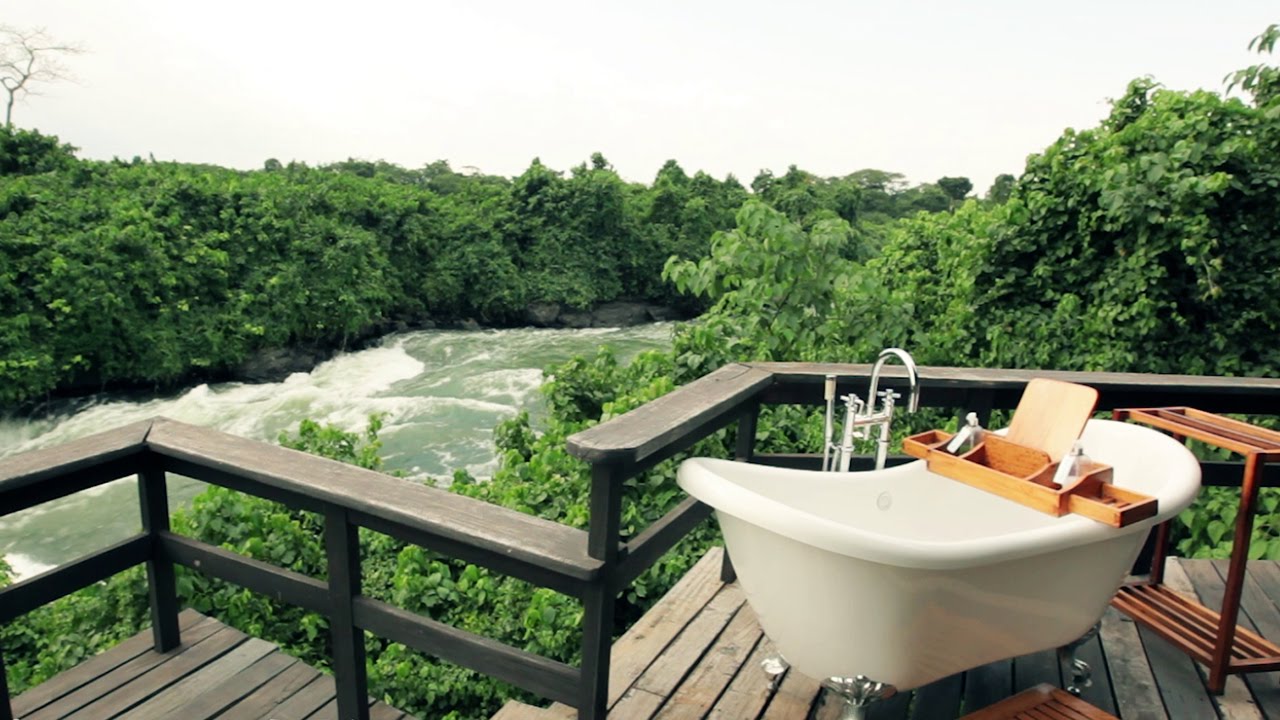 Suitable for honeymooners
After an adventurous day Wildwaters Lodge also offers a relaxing and intimate location for honeymooners and couples looking for some quiet time. Especially for those taking advantage of the spa nestled over this ancient river.
The sounds on the mighty Nile are quite hypnotic and calming so Wildwaters offers an experience for all the senses. And also, for posting on Facebook or Instagram, nothing beats these views.
Wildwaters Lodge is open year-round affording guests the opportunity to enjoy this piece of paradise during all seasons.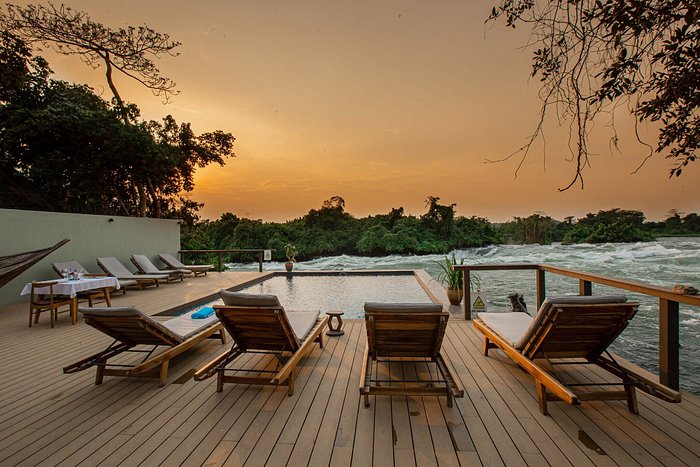 Details and Amenities
The ten stand-alone elevated timber floor and super-spacious luxury suites are nestled in the rainforest with amazing river views. Each is linked by raised wooden walkways to the restaurant, bar and library, and feature glass-fronted windows, locally handmade furniture, stylish bathrooms with rain showers, and secluded wooden decks with daybeds and romantic free-standing open-air bathtubs. There are also delicious sunrise breakfasts and candle-lit three-course dinners and a lovely swimming pool cantilevered above the river in the attractive main communal lodge area.
8 standard suites, 1 private plunge pool suite and 1 two bedded suites make up the total compliment of accommodation on the island.
All suites are private and exclusive and can be made into a double or triple or twin configuration.
A day bed is also standard in all suites.
The suites enjoy private balconies with freestanding baths and also mosquito nets.
Additionally, a room safe, en-suite private bathroom with great rain showers and complimentary toiletries are available.
Meals
All meals are in your stay. Have your meals in the main area by the poolside with magnificent views of the River Nile. Private dinners can be in your room or at the poolside on request.
The Dishes
They make their dishes from the freshest ingredients and we are able to accommodate most dietary requirements including vegetarian, vegan and gluten-free amongst others. All dietary preferences must be at the time of booking.
Power availability
The lodge power is in supply 24hrs by the national grid, with a generator back up. Power is 220v and the plugs are 3-pin square UK standard. Adapters are also available from the reception on request.
Please note that due to the nature of the river crossing to the island guests must arrive  before 4pm in order to arrive safely. All crossings are strictly and at the sole discretion of the acting general manager at Lemala Wildwaters Lodge.
Whilst children over the age of 12 are most welcome, parents must understand that Wildwaters Lodge is on an island surround by grade 5 plus rapids. They must supervise children at all times and also will not allow them to roam free on the island without a parent. They must also remain under adult supervision at all times.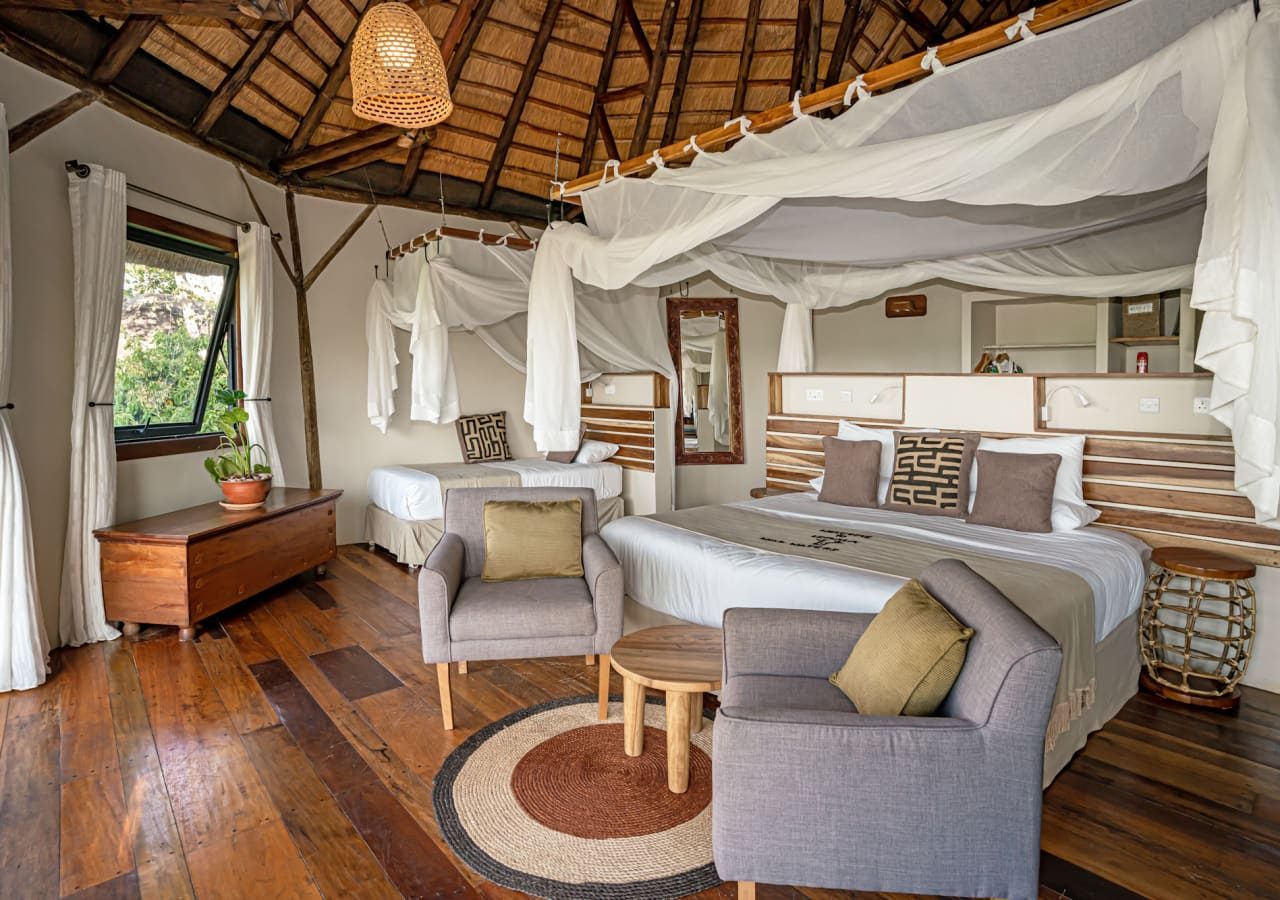 Discover Wildwaters Lodge
What to See and Do at Wildwaters Lodge
Horse riding
Rafting
Kayaking
Fishing
Also, read about these: