Luxury Accommodation in Serengeti National Park
1. Four seasons Safari Lodge Serengeti
This is a Luxury Accommodation in Serengeti National Park nestled in the heart of Central Serengeti amid wide-open plains.
Additionally, the Lodge is just a 45mins drive from Seronera Airstrip (SEU), accessible by connecting flights from three main airports within Tanzania.
Arusha Airport (ARK) for domestic flights only
Julius Nyerere International in Dar es Salaam (DAR)
Kilimanjaro International (JRO).
This luxury hotel is set within the Serengeti National Park.
Also, it consists of 4 guest rooms, 2 suites and 3 villas.
Services and Amenities
Featuring plush, safari-style décor and local artwork, the modern rooms come with free Wi-Fi, flat-screen TVs, tea, coffee making facilities too, and also minibars, as well as 4-poster beds with mosquito nets.
Upgraded rooms have views of the park's watering hole or the Serengeti Plains, while suites add separate living rooms. The 1- and 2-bedroom villas have outdoor showers and private infinity pools.
Amenities include a spa and an outdoor pool, as well as 3 restaurants, 2 bars and a wine cellar.
Melia Serengeti Lodge
Location:
Overlooking the valley of the Mbalageti River, this luxurious hotel in the Serengeti National Park is 31 km from Seronera Airstrip.
Amenities
Airy rooms have Masai- and Colonial-inspired décor, and 4-poster beds with mosquito nets. Additionally, all come with tea and coffeemaking facilities, minifridges and ceiling fans, as well as terraces and free Wi-Fi.
Upgraded rooms feature additional bedrooms and separate sitting rooms.
Also, meals are complimentary. Other amenities include an outdoor pool, a children's club and a spa, as well as a restaurant and a bar.
Mbali Mbali Soroi Serengeti Lodge
Location:
One of the luxury lodges in Serengeti Set within the National Park on a plateau overlooking the Musabi Plains, this luxury all-inclusive safari lodge is 23 km from the Seronera Airstrip and 130 km from the Ngorongoro Conservation Area.
Furthermore, high-end rooms in dark wood lodges with thatch roofs feature furnished balconies with telescopes, outdoor rainfall showers, and views of the plains, plus canopy beds with mosquito netting.
Number of Rooms: 20 Safari Tents (7 Doubles, 7 Twins, 5 Family tents, 1 Luxury Safari Tent)
Children: All ages are welcome
Stay Includes: Accommodation, daily meals, selection of house beverages, soft drinks and water, and also laundry.
Mbalageti Serengeti
Mbalageti is a beautiful safari lodge on the Serengeti plains that offer incredible sights over some of the most majestic areas of Africa. Additionally, you can head out onto the plains towards Mbalageti River and witness magical moments of nature before heading back to comfort and serenity at the lodge.
Serengeti Serena Safari Lodge
Set in a complex of stone structures with thatched roofs, this upscale hotel in Serengeti National Park is 14 km from the B144 highway.
Featuring bright fabrics and carved wooden furniture, the warmly decorated cottages have free Wi-Fi, and tea and coffee making facilities, plus patios with park and also wildlife views. Suites have living rooms and minibars. Also, room service is available 24/7.
Meals are included and served in a grand, woodsy-chic restaurant with a BBQ area and a poolside terrace. Bush dinners are also offered for a surcharge. Other amenities include an outdoor infinity pool.
Singita Faru Faru Lodge
Location:
To begin with, it is located within Grumeti Reserves Serengeti National Park, Tanzania. Secondly, it has a good location overall for sightseeing, recreation, dining and getting around.
Additionally, its relaxed approach to luxury forms a golden thread throughout the contemporary African lodges and allows guests to experience the deeply restorative power of nature.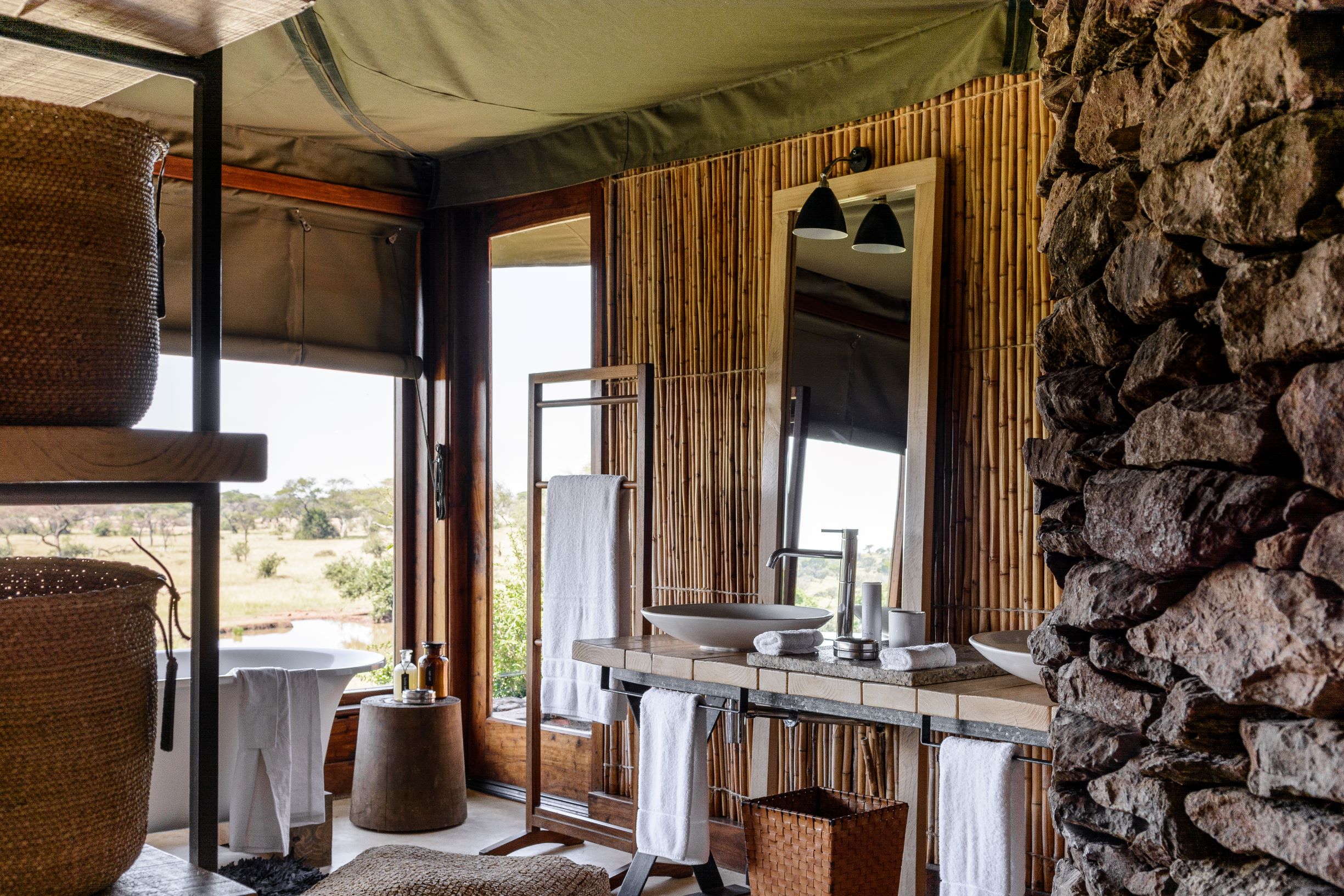 Décor & design includes airy bedroom suites, where every creature comfort is catered for with intuitive ease and oversized windows welcome the wilderness inside.
Amenities:
The hotel has a spa, pool, air conditioning, WIFI. It has a restaurant, bar, boutique for shopping and a fitness center.
It is also child friendly.
Serengeti Bushtops Luxury Camp
Location:
Firstly, it is located 2hrs and 14mins from Seronera airstrip. 4 hrs and 45mins from Grumeti Airstrip.
Furthermore, it combines the most magnificent wildlife viewing with sumptuous facilities and personal service creating havens of peace, reflection and excitement.
Wonderfully situated for glorious wildlife viewing all year-round, including the annual wildebeest migration.
Also, Bushtops camp is a magical place for reconnecting with what really matters, through unforgettable experiences.
Its amenities include: spa, free Wi-Fi, hot tub, restaurant, full service laundry, bar and it also has a pool.
And Beyond Grumeti Serengeti River Lodge
To begin with, this is a luxury lodge in Western Serengeti.
Farmed for its vast tree-less grasslands and excellent wildlife sightings. The endless open plains of the magnificent Serengeti National Park boast 35 species of plains-dwelling game and prolific birdlife.
Additionally, Grumeti Serengeti River Lodge is set in the remote western reaches of the Park, on a by water of Grumeti River, known for its wildebeest crossings and enormous Nile crocodiles.
Amenities:
In-room massage, Fitness center, Sparkling lodge pool, Signature shop, WI-FI, Swarovski Binoculars.
Singita Sasakwa Lodge
It should be noted that it is possible to drive to Singita Sasakwa Lodge, however, we strongly recommend flying for a more efficient and enjoyable travel experience.
By Air
Kilimanjaro – Singita: approximately 1 hr 15 minutes (if direct)
Arusha – Singita: approximately 1 hr (if direct)
By Road
From Arusha: approximately 7 hours (+/- 300km).
From Kilimanjaro: 8 hours (+/- 350km).
Accommodation:
Cottages
6 x 1-bedroom cottages, each with a private plunge pool
2 x 2-bedroom cottages, each with a private plunge pool
1 x 3-bedroom cottage with a private plunge pool
1 x 4-bedroom cottage with a private plunge pool
Hillside Suite
1 x 1-bedroom dual-level Suite with a private swimming pool (Includes dedicated butler and private game drive vehicle and Field Guide).
Amenities
There is a swimming pool in the main lodge area.
A fitness center with state-of-the-art fitness equipment.
Pamper treatments available at the spa or in your room.
Singita Boutique & Gallery store.
Television in the main area of the lodge.
Dependent upon area coverage, there is mobile phone signal available.
There is complimentary internet (Wi-Fi) access; however, due to the remote location of the lodge, the wireless connection too can be slow and intermittent.
10. Migration Camp by Elewana

To begin with, it is located 1 hr and 50mins from Seronera Airstrip and 4hrs and 11mins from Grumeti Airstrip.
It is also known for its unique accommodations in iconic locations across Kenya and Tanzania providing the highest quality of luxury and comfort.
Additionally, there is warm and genuine East African hospitality. Guests are indulged with a luxurious as well as personalized stay since it is one of the Luxury Accommodation in Serengeti National Park