Mahogany Springs

OVERVIEW:
Mahogany Springs has the feel of a classic safari lodge, with one of the finest locations of all the properties in the Bwindi area. The property provides a peaceful base from which to enjoy gorilla tracking and many other exciting activities.
ACCESS & LOCATION:
The property may be accessed by flying direct to Kihihi airstrip from Entebbe International Airport (1 hour), then transferring by road to Mahogany Springs courtesy of a member of staff (1½ hours). It is possible to drive from Entebbe too, but this journey is quite long (12–15 hours) and you might like to allow two days for it. However, you travel to the lodge, a warm welcome awaits!
ACCOMMODATION & FACILITIES AT MAHOGANY SPRINGS:
The communal building is a classic timber, stone, and thatch structure, containing an open-plan lounge, restaurant, and bar. The lounge features plenty of comfortable seating around coffee tables, as well as a super-cosy double-sided fireplace. In the restaurant, separate tables are flanked by smart upright chairs and pleasantly decorated with local fabrics and flowers.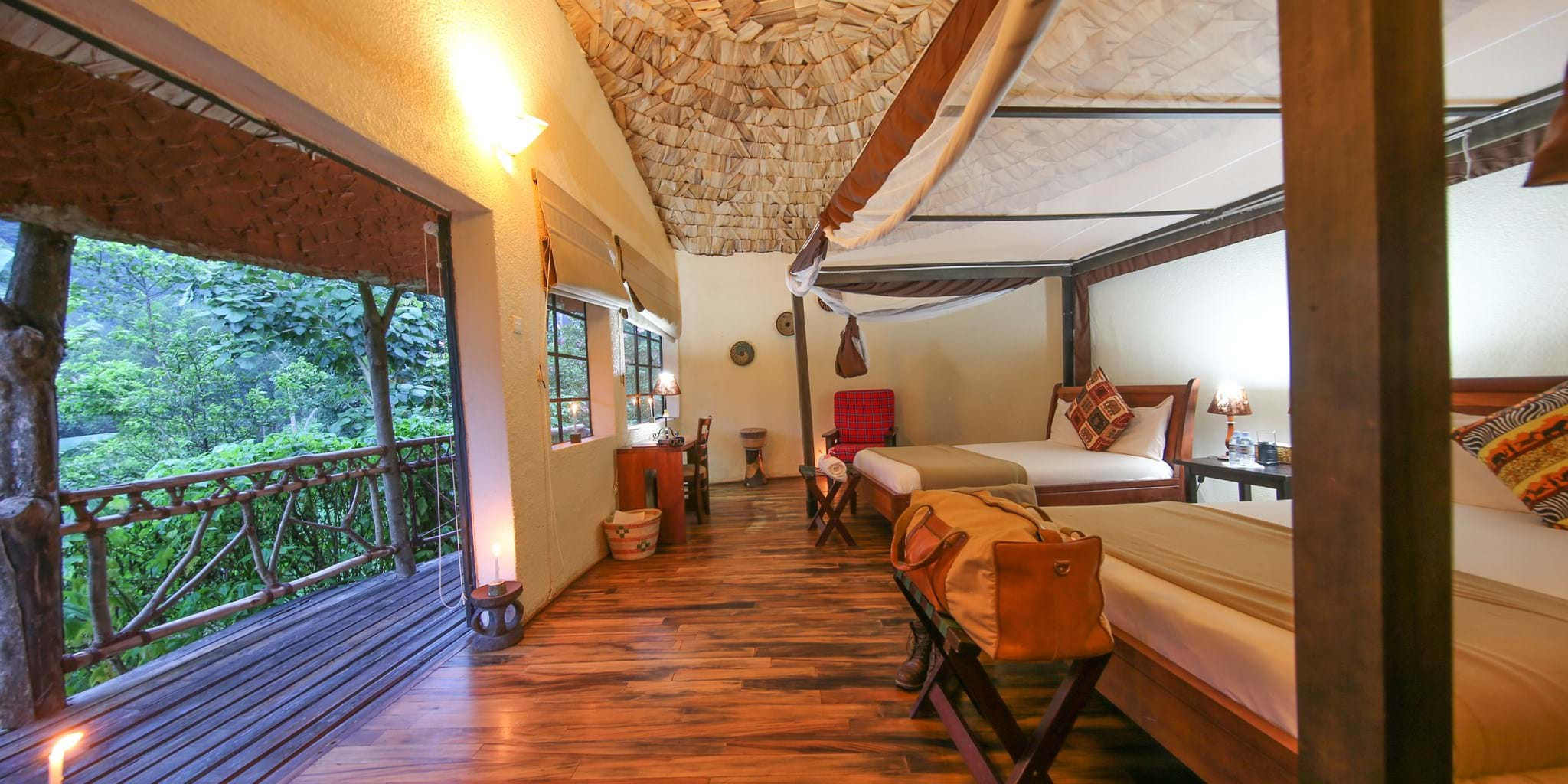 The Bar
The bar is well stocked, and all areas flow out on to a terrace for al fresco dining and marvelling at the spectacular scenery! Mahogany Springs has a shop too, where you can purchase craft items, clothing, and souvenirs. And the gorgeous gardens include a fire-pit area, perfect for morning and evening gatherings when guests tuck in to a few drinks and also share stories of the day's activities!
ROOMS
The guest accommodation at Mahogany Springs comes in three categories. Superior Suite, Honeymoon Suite, and Family Suite (also known as Presidential Suite!). All benefit from mosquito nets, power sockets, a dressing table or desk, well-appointed en-suite facilities, and a private terrace. The Superior Suite option can be a twin, a double, or a triple. All options are spacious, and a highlight is the open terracotta shower! The Honeymoon Suite is similar in style to the Superior Suite, but newlyweds enjoy use of a bigger bed and a bathtub as well as the shower. And the Family or Presidential Suite is large enough to sleep a maximum of four persons, boasting two bedrooms, two en-suite bathrooms, a separate lounge area, and a terrace with breathtaking river and also forest views
ACTIVITIES AT MAHOGANY SPRINGS:
All sorts of activities are available from Mahogany Springs.
Guests can also enjoy gorilla tracking traveling the short distance to the meeting point.This is within Bwindi Impenetrable Forest and tracking the magnificent mammals with the help of an expert guide! The time taken to find the gorillas may vary from two to as many as eight hours, and the trek might be tricky at times. However, you will always have a full hour in which to observe a gorilla family in its beautiful natural habitat – a very memorable experience!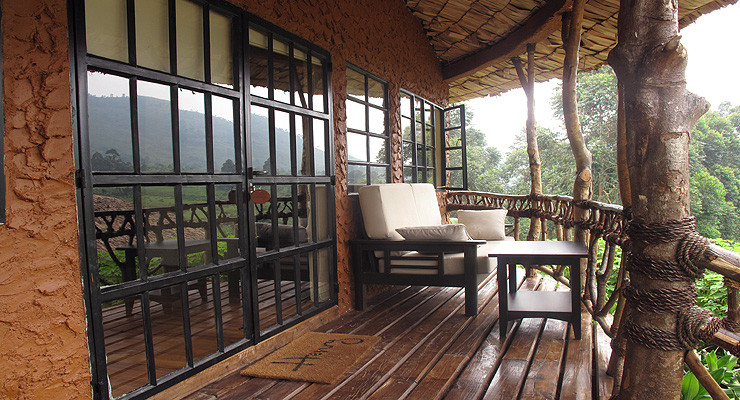 Fans of hiking will also love the nature walks on offer from the lodge. If you are a keen birder you can be on the lookout for a very colourful variety of feathery friends. The area is home to hundreds of species, such as warblers, flycatchers, and honeyguides.
Those who like a little culture on holiday will appreciate opportunities to meet the local Batwa tribe. They will also love to visit a local healer. Also find out how they brew beer from banana leaves.
You can involve in running of the lodge too. Planting a shrub or a tree within the grounds and checking out the vegetable garden!
Book a gorilla trekking safari with Pamoja Tours and Travel and get a chance to stay at this property:
https://www.pamojatoursandtravel.com/5-day-uganda-gorillas-and-queen-elizabeth/
https://www.pamojatoursandtravel.com/8-days-uganda-gorillas-chimps-and-wildlife-safari/
https://www.pamojatoursandtravel.com/10-days-uganda-wildlife-with-gorillas-and-chimps/
https://www.pamojatoursandtravel.com/14-days-uganda-big-5-safari/