Mgahinga Gorilla National Park renown for Golden Monkeys and Silverback Gorillas, is the smallest national park in Uganda covering 33.7 sq km. It was declared a game sanctuary in 1930 and gazetted as a national park in 1991 under the management of Uganda Wildlife Authority. The name mgahinga comes from a local word Gahinga which means piles of volcanic stones. Mgahinga national park sits high in the clouds at an altitude between 2227m and 4127m. The park was created to protect the rare mountain gorilla species that inhabit the dense forests and also an important habitat for the endangered golden monkeys. It also has two habituated gorilla families namely, Hirwa and Nyakagezi gorilla families harboring 100 gorilla families. The park is small in size making trekking easier since it's very easy to spot the gorillas compared to other parks
Features
The most striking features are its three conical extinct volcanoes; Gahinga, Muhabura and Sabinyo which are part of the Virunga range lying in the boarders of Congo, Uganda and Rwanda. The tree extinct volcanoes slopes contain various eco systems and are biologically diverse, their peaks provide a striking backdrop to this gorgeous scenery. Mount Gahinga is as high as 3,474m, mount Muhabura is 4,127m and mount Sabinyo which is the tallest of all, and it is 3,669m. All natural walks in this park go hand in hand with hiking since mgahinga national park is a very hilly area and hiking is something that you can hardly avoid.
Vegetation
The park has a beautiful thick rain forest with wide variety of tree species, since gorillas are known to be vegetarians, many gorillas are known to migrate from Congo and Rwanda to mgahinga gorilla national park. There are several animals that have been recorded within the park although gorilla trekking is the most popular activity. There are animal viewing activities that you can take within the park like golden monkey tracking, buffalo viewing, wild elephants, bird watching among others. The park is also a culture significance in particular for the Batwa pygmies.
When to visit mgahinga gorilla national park?
The best time to visit the park for tracking is during the two dry seasons; mid-December to February and from June to October when the park is easily accessible, dry and easy to trek through the thick forest. It's during this time that the forest is easily penetrated and the paths are not as muddy as it is in the rainy season however, all gorilla trekking activities and golden monkey activities go on throughout the year. The park experiences two rainy seasons from March to May and September to November. During the wet months of the year, there is green everywhere, food is in abundance in the forests which improves the chances of seeing the gorillas in a short time. There are also discounts on the accommodation facilities around the park during the rainy season.
Activities.
Gorilla trekking in mgahinga gorilla national park.
Like Bwindi Impenetrable National Park, Gorilla trekking is done in the welcoming atmosphere where you will get a chance to see these gorilla species in this park. A day trek through mgahinga forest under the guidance of a well-trained guide who will explain all gorilla behaviors, answer all the questions you have and guide you through the forest. Gorilla trekking in mgahinga gorilla national park requires you to have a trekking permit for gorillas which is USD700 for foreign non-residents, USD600 for foreign residents and 250.000 shillings for all east African residents. You can book the permits prior since they are on a high demand. Trekking starts at Ntebeko entrance gate at around 8:00AM which takes 2-4 hours giving you a chance to spend a full hour watching the gorillas.
Mgahinga is where gold meets silver and this is indeed seen in how silverbacks and golden monkeys share a close range of habitat. Golden monkeys are a unique species that is endemic to this part of the world. Endemic to the albertine rift, the golden monkeys have a bright orange-gold body, cheeks and tail. The golden monkeys are estimated to be about 3000-4000 in Mgahinga Gorilla National Park.
They share the home with the gorillas as well as some other mammals like buffalo, forest elephants and others including some reptiles, amphibians and birds. A community has been habituated to tourist visits and is joyous for tourists to see as they sing between the bamboo reeds while feeding, playing and nursing their young. Their restless nature can be quite challenging for the photographer newbie but after a few minutes of settling in, you should be able to capture some images to show family back home. Tourists on golden monkey tracking adventures also get a full hour with the animals.
https://africasafaritravellers.com/4-day-mgahinga-gorilla-and-golden-monkey-experience-safari/
Batwa cultural experience.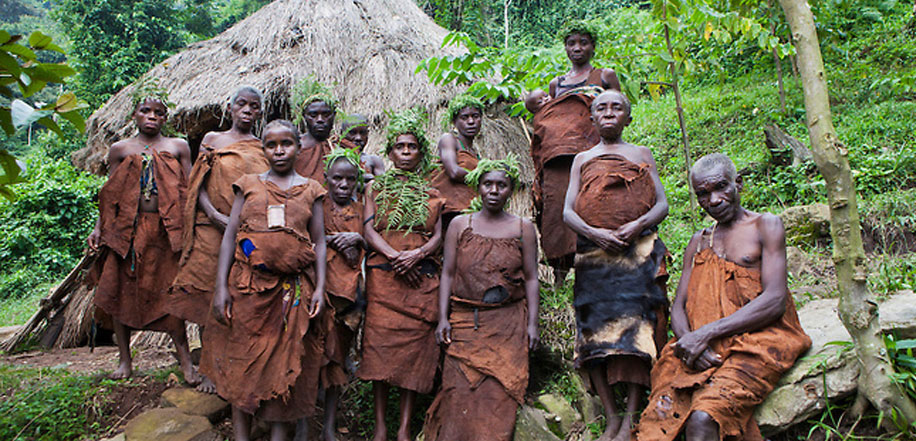 Visiting mgahinga gorilla national park will give you a chance to visit the Batwa. These were the original inhabitants of the forests before Bwindi and mgahinga were gazette into national parks. You will clearly see the forest in their eyes and their day to day life styles. There is a cultural trail in mgahinga which leads you to their local villages. This allows you to experience the ancient way of the Batwa. This activity is always with gorilla trekking in mgahinga hence giving you a memorable safari.
Mountain climbing.
The Virunga Mountains give a renowned beauty of the southwest Uganda. This is as you make your journey into the valley towards kisoro. Mgahinga is also one of the places with three of these volcanoes ie: Mount Gahinga, Mount Sabinyo and Mount Muhabura. All the three are accessible when you visit the park and hiking is possible throught out the year. The choice is yours depending on your fitness and the amount of time you are planning to spend in mgahinga Gorilla Park. There is a trail leading to mount Gahinga, two trails to mount Sabinyo and also mount Muhabura. You are to pay park fees for those planning to go for hiking in mgahinga.
Accommodation facilities in the park.
There is a number of accommodation facilities where you can have comfortable stay at Mgahinga gorilla national park. Most of the lodges here are at the forest edge giving you clear views of forests and volcanoes. There are some common lodges which offer the best services. The restaurants and bars, entertainments, fresh prepare local and foreign food. For example Lake Mulehe lodge, Gahinga lodge, and Lake Chahafi lodge among others. You can as well stay in Kisoro town which is about 30 minutes' drive from Mgahinga headquarters. For any inquiries and information needed, please contact Pamoja tours and travel company. This is for bookings and advice needed on booking permits, accommodation or planning for a safari to mgahinga.

How to get to mgahinga gorilla national park.
Mgahinga gorilla National Park is in the south western Uganda. It is about 8-9 hour's drive from Kampala to the park through Kabale and kisoro districts. Also, it is 6 hours from Kigali, Rwanda through Katuna or Cyanika boarders to the park.
Alternatively, you can access the park by air through Entebbe/Kajjansi airstrip to kisoro airstrip. From kisoro, you need to take a ride to the park. Note that the section between Kabale and kisoro is a mountainous drive on a murram that takes about 2 hours.