Pamoja Serengeti Luxury Camp
Pamoja Serengeti Luxury Camp
Pamoja Serengeti Luxury Camp is one of the best luxury tented lodges in Serengeti National Park. It's located at the centre of the vast Serengeti National Park, in Seronera – Karatu. It is an intimate, privately-owned wilderness camp offering comfort and exclusivity in the heart of one of Africa's most important wildlife habitat. Pamoja Serengeti Luxury Camp is made up of tented suites with a separate dining, lounge and bar area.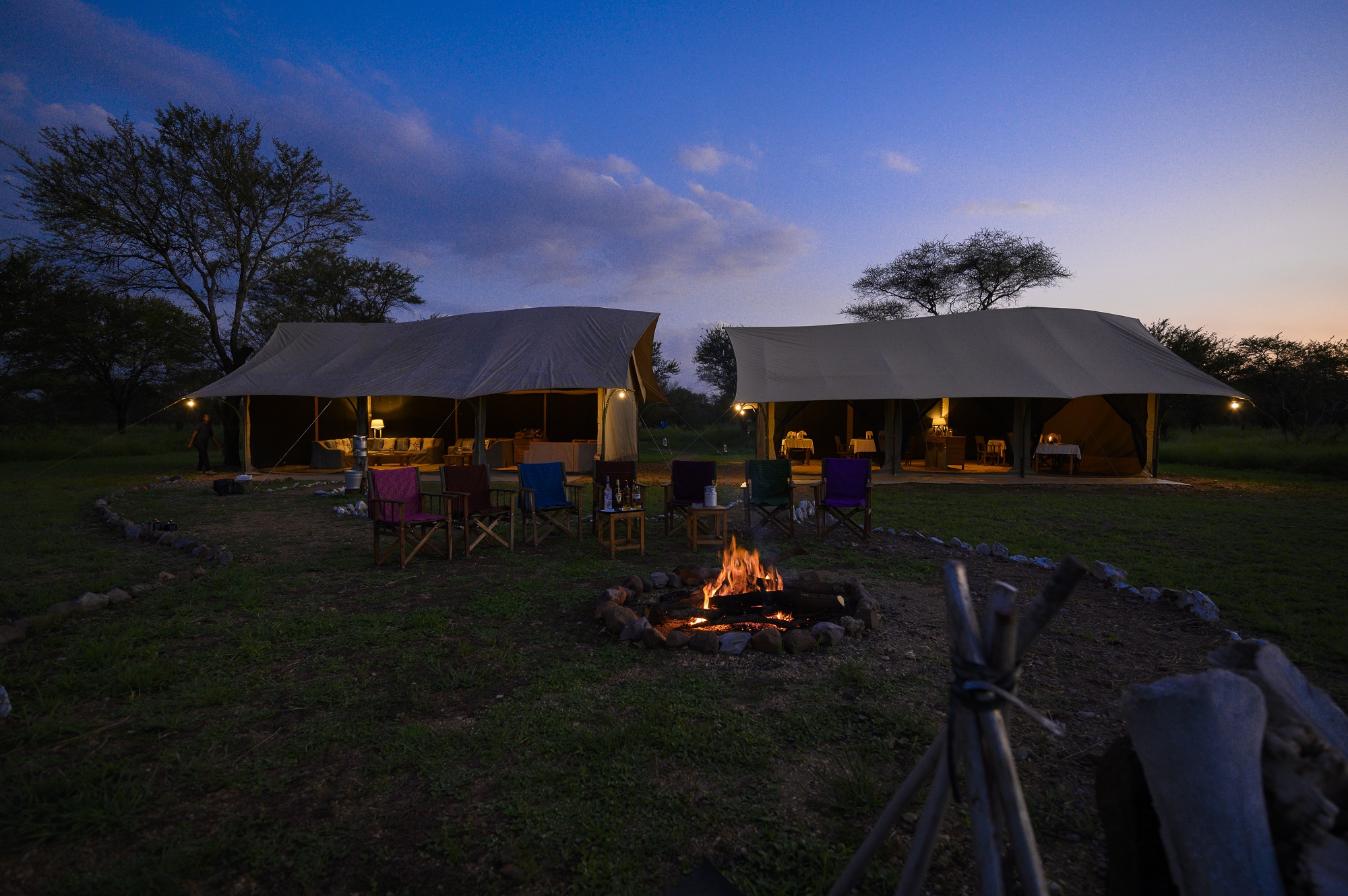 This Luxury Camp brings wildlife very closer to humans as you get to see animals while at the lodge. A unique aspect of the camp is the close proximity we achieve between camp and the surrounding habitat. A number of animals usaully walk within the camp boundaries, and this gives you a chance to enjoy your stay at the lodge assured of seeing some animals.
Pamoja Serengeti Luxury Camp is just a few minutes from the Seronera Airstrip, a short distance from the starting point of hot air balloons and strategically located on the great wildebeest migration route. Hot air balloon safaris are once in a life time experience where you get to explore the beautiful wildlife from above. The wildebeest migration in Serengeti  is the largest mammal migration on earth. Over 800 kilometer trek of the immense wildebeest herd within Serengeti and Masai Mara in Kenya in search for green grass. During this period (May or June), over 1.5 million wildebeest migrate in an enormous loop every year. This annual migration is globally known as one of the "Seven Wonders of the Natural World.
A lot of predators like lions are also in place to hunt for prey in these huge herds of wildebeests while on their migration.
Accommodation.
Pamoja Serengeti Luxury Camp has over 20 luxury rooms/tents, which come with private bathrooms. These tents are fitted in a nature environment and are strong enough to with stand all weather conditions. The tents/ rooms are big and spacious, clean and tidy offering you a comfortable stay as you visit Africa's best national park.
Facilities
This luxury camp offers a number of facilities to ensure that you get a comfortable stay while at the lodge. Among the facilities or services at the lodge include:
Private bathroom with a Shower, Towels and bathing detergents/ soap
Mosquito net
Toilet and Free toiletries
Cleaning products
Linen servies
Dining table
Children's high chair
Outdoor furniture
Outdoor dining area,
Entire unit wheelchair accessible and Baby safety gates
How to reach the lodge
There are two way to reach the lodge, you can either drive from Arusha or fly to the nearest airstrip at Seronera "Seronera Airstrip".
By road.
You drive for about 5½hours from Arusha to the lodge (301.8 km)
By Air
You can also fly from Arusha to the nearest airstrip to Pamoja Serengeti Luxury Camp, which is the Seronera Airstrip, and thereafter transfers to the camp.
Travelling to Serengeti National Park
While planning your safari to Serengeti National Park, always book with Pamoja Tours and Travel for an exclusive wildlife experience, while staying in affordable and very comfortable accommodation facilities.