Trekking and Hiking in Uganda.
Trekking and Hiking in Uganda. Few countries in Africa can combine trekking through jungle thickets, where light bounces off the dense shrubbery illuminating your path in a haze of green, with mountaineering to snow-capped peaks where icicles hang above the clouds and wildlife walks across savannah grasslands that stretch for miles – but Uganda can.
What are the trekking options in Uganda?
The short answer is you can find fantastic trekking routes of various difficulties almost everywhere in Uganda, certainly at all the most popular destinations.
We've broken down your options as follows:
Trekking and Hiking in Uganda
Gorilla Trekking in Uganda
Gorilla trekking is the flagship experience in Uganda. The two places you can trek gorillas in Uganda are Bwindi Impenetrable National Park and Mgahinga Gorilla National Park.
Bwindi is by far the most popular choice as the park contains more gorillas, has much better accommodation options, and fits nicely along a classic south-western circuit.
Uganda is arguably the best place in the world to see gorillas. It is also possible in neighbouring Rwanda, but gorilla permits are much cheaper in Uganda.
Trekking and Hiking in Uganda. The habituated Gorillas are shy and also docile, despite their strength.
Chimpanzee Trekking in Uganda
Gorillas aren't the only primates in Uganda's forests.
Unlike gorilla trekking, the chimp trekking terrain is not too challenging and so you don't have to be particularly fit or able to trek for long periods to track chimpanzees.
Standard tracking excursions last about three hours and include a maximum of one hour with the chimps, during which you can expect to get within 8-10 metres.
Permits are required to track the chimpanzees, and you will join a group (maximum of 8) led by Uganda Wildlife Authority Interpretive Rangers who will introduce you to the chimps and also their forest world.
Adult chimpanzee walking through Kibale Forest on Kibale habituation experience. Hanging out with the chimps on their turf is an unforgettable experience.
Rwenzori Mountains
Uganda's most challenging and spectacular trekking destination, the Rwenzori Mountains are an alpine wonderland within Central Africa. A place of exploration, where vegetation morphs to snow-capped peaks. Take aim at the glacial summits, step by ice-bound step.
Trails range for a day-taster trip to a 12 day, multi-peak, and also expedition.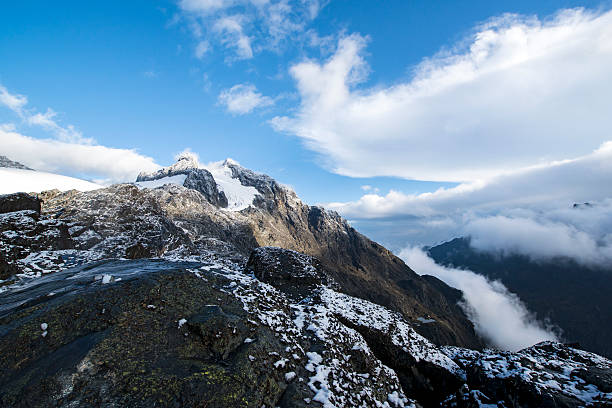 The Rwenzoris must be explored on foot, and you must be of above average fitness and used to endurance activities. It's no walk in the park!
Margherita Peak has recently been reclassified as a technical climb and although you don't need to be an expert climber in winter conditions, some experience is recommended.
Trekking and Hiking in UgandaHiking the snow-capped peaks of the Rwenzori Mountains.
Light Forest Walks
In Murchison Falls National Park
The churning waters of the Nile prevent boats from approaching close to the base of Murchison Falls. To experience the full force of the falls, disembark at the limit of the boat's approach and also hike through riverine woodland and along a cliff face to the summit of the falls.
Trekking and Hiking in Uganda
Lakes Mutanda and Bunyonyi
Lakes Mutanda and Bunyonyi are beautiful areas for relaxation, typically included after a hardy gorilla trek in the nearby Bwindi Forest.
The views by the lakes are stunning, and it is the perfect place for some light adventuring in a remote pocket of the country.
There are a number of walking trails that will take you deep into the surrounding countryside. If you like to maximise your adventure, it is also possible to hike and canoe from the airport in Kisoro to Nkuringo in the south of Bwindi Impenetrable National Park.
Scenic view of Lake Mutanda and also the Virunga Mountains.Lake Mutanda is surrounded by stunning natural beauty.
The Semliki Valley is a wonderfully remote park near the western border of Uganda.
There are three trails at Semliki. The longest is the 13 kilometre Kirumia Trail, which takes you through the heart of the forest to the Semuliki River. Expect to be out for 8 hours.
Slightly shorter at 11 kilometres, the Red Monkey Trail follows the park's eastern border to the Semliki River with the aim of sighting the rare deBrazza's monkey, which is often seen in this area.
The shortest trail is the 8 kilometre Sempaya Nature Trail. It introduces visitors to the forest's primates and also the hot springs. The hike lasts between 2 and 4 hours and also can take place in the morning or afternoon.
Trekking and Hiking in Uganda
Queen Elizabeth National Park
Queen Elizabeth National Park is Uganda's most bio-diverse national park and any trip here will include plenty of game drives and also boat safaris, but there is also ample opportunity for walking.
Queens is another popular chimpanzee trekking destination, and for birders and those who love walking far from the normal trails, the Maramagambo Forest is the perfect place to spend half or even a full day.
Sheltered from the hot sun by the dense canopy, you can explore the shadows, discovering species not seen on the open plains, stumble across hidden crater lakes and marvel at the sheer mass of life found within a bat cave.
Lake Mburo
At Lake Mburo National Park, the whole area is available to explore on foot, as long as you take a guide with you.
Favourite trails are to the salt lick at Rwonyo, the lake shorelines, Rubanga Forest and also viewpoint hill tops.
Walks are the most exciting way to discover the park because visibility is often restricted by the undergrowth, and it is difficult to see buffalo holding their ground or hyena loping back to their dens after a night out hunting.
Walks are also the best way for birders to track down the more elusive species.
Trekking and Hiking in Uganda
Kidepo Valley & The Ik Trek
Wildlife Walks
Most of the walking trails in the Kidepo Valley National Park take 2 to 3 hours and wind their way through the Narus Valley.
Birders will often patrol the fringes of the Narus and Namamukweny Valleys looking for the Abyssinian Roller, Purple Heron, Abyssinian Ground Hornbill and Clapperton's Francolin, which is found only in Kidepo.
For those looking for a greater challenge, a 15 kilometre route follows the ridge line into the hills.
While there are many possible trails, it is worth being aware that some may not have been  for a long time and will be temporarily close.
Trekking and Hiking in UgandaKidepo has over 50 Rothschild's giraffe, an internationally important population.
The Ik still live a marginal life in the Morungole Mountains. But they also  have recovered from what was obviously a nadir in their history.
They welcome guided treks made by visitors eager to explore the landscape. Also, they inhabit and to understand a little more about their unique way of life.
This is not voyeuristic tourism. It is a difficult trek, both physically and also due to the questions it raises about human rights, sustainable conservation and also human development.
But with fees from the trek going to Ik community initiatives and interest from the outside world. This is going some way to protecting the people from neighbourly threat, it is a compelling experience. It is also a beautiful trek.
Two different routes are available, depending on local weather conditions and your level of fitness.
Book one of our saafaris below for gorilla trekking and those for hiking:
https://africasafaritravellers.com/3-day-gorilla-tracking-lake-bunyonyi-relaxation/
https://africasafaritravellers.com/4-day_fly-in_gorilla_trekking_safari/
https://africasafaritravellers.com/5-days-uganda-gorilla-trekking-queen-elizabeth-safari/