Walking safaris in Uganda- Nature walk safaris in East Africa
Walking safaris in Uganda– Nature walk safaris in East Africa.
A safari is an overland journey to observe and photo graph the wild life. A walking safari is an adventurous activity where guests take low paced and guided walks with a main priority of exploring different wild life species along the bush. The small details that are under looked during game drives are elaborated here while walking and observing. These walking safaris are some of the most fun activities that have helped a lot of people in different ways. They are mainly two and also divided into two types which are the short guided bush walks and multi-day guided walking safaris.
Short guided bush walks:
These are usually called self-guided walks where tourists embark to walking for one to a maximum of five hours at a gentle pace. These walks are the best for those who wish to enjoy the hills and the mountains without much strenuous activity and at a much slower pace.
Multi day walking safaris
Here the tourists get to walk to and from their lodges, these take up much time up to like 6 hours.
Other walking safaris include; a hiking trail, getting out during a game drive, short walk from the lodge, morning or afternoon walk, full day walking safari.
Exploring the wild at their own pace and keeping a tourist physically fit at all the time since every tourist gets to move on their own except those with special needs. The tourists are also given very experienced and professional guides through a rich wild life area where guests get to get and authentic insight of the bush other than observing it which gives the tourists a chance to connect meaningfully with the world and the wild. Many tourists have embarked to going for guided walks in different forests and reserves with a primary objective to explore different wildlife species along the bush and the forests at a slower pace.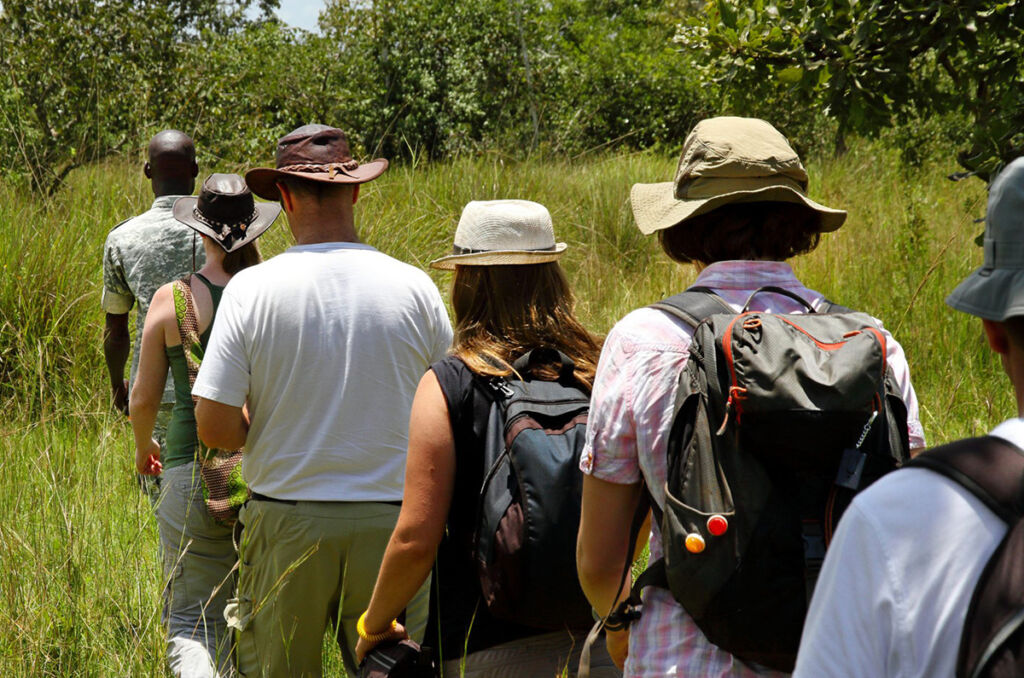 Best time
The best time to go for such walks and visits is in the dry season (June, July, August, September, and December) where there are more moderate temperatures. The animals too are usually collected around the water reserves giving you the best view for the rich wild life in Africa. Here the tourists are assured of the authentic insight of the wild other than observing it therefore, you are assured of –experiencing the world's best and satisfaction giving you the most exciting feeling.
Walking safaris in Uganda- Walking safari in East Africa
What to expect
Walking safaris are highly educational since a tourist gets to come face to face with a big game of the wild life, plant life and eco systems. These are also the most daring forms of exploring adventures because a tourist gets to discover a level of details from the small reptiles, insects to learning how guides get to track big game out of the bush.  You should also expect a wide range of wild life knowledge to attain.
You can also combine your gorilla trekking safaris on the walking safaris since one gets to walk in the forests and reserves like:
 In Uganda,
Bwindi Impenetrable national park, Budongo forest for Chimpanzee tracking
In Rwanda;
Volcanoes national park, mount karisimbi, mountain Bisoke, and also Nyungwe national park
Democratic republic of Congo;
Virunga forest, Virunga national park, Nyiragongo volcano hiking, and also Kahuzi Biega national park
In Kenya,
Mara Naboisho conservancy a pristine wild life territory, Amboseli national park, Kenyan coast, Laikipia, Meru national park
In Tanzania,
Serengeti camp offers a walking safari with interaction with local cultures like the Wakuria, Maasai, Jongomero camp in the southern part of Ruaha national park, Ikatavi national park, and Katavi national park
The wild life viewing experience where a tourist is to observe a number of animal species, birds, insects and also minor species.
Safety
There are the most secure and therefore probably the least dangerous than the other safaris. Besides, they tame the animals in these bushes  and also associate with vehicles and humans unless with the regular hunting or poaching. During this safari, the guides also have arms with heavy rifles powerful enough to even stop an elephant. The biggest safety asset is the knowledge of the guide and experience to avoid tricky situations.
Walking safaris in Uganda- Walking safari in East Africa
Distance covered
This usually depends on the type of walking safari one has embarked at where the hiking trail may cover up to 3 miles, short walk may take 3 miles, full day walking safari may take up to 4 miles as well as the multi day walking safari. The getting out on foot depends on the distance of animals from the vehicles.
What to carry
On such walking safaris, a tourist is to carry less in his/her daily park. The more you park, the heavier this is getting while tired. A tourist should however park the following
Clothing with a neutral/ dull colors
Warming clothes
Sun creams and a pair of sun glasses
Walking stick or practical equipment for walking
Day pack and also a water bottle
Binocular, camera
Pair of gaiters
Lighter
With all this and with the best trip planners like Pamoja tours and Travel Company, you should expect the most educative and amazing experience on walking safaris in east Africa all the year around.
Book your safari in Uganda, safari in Kenya, Tanzania, Rwanda, Congo and also Zanzibar now;