11 day Magical Uganda & Tanzania wildlife Safari
Overview
11 day Magical Uganda & Tanzania wildlife Safari starts from Uganda and ends in Tanzania and expect to spot lots of wildlife and bird species.
Detailed Itinerary
Day 1:  Arrival at Entebbe International Airport
On this day, you will be warmly welcomed at the airport by one of our professional tour guides. From the airport, you will be transferred to your hotel for check in.
Depending on your arrival time, you may go for a short city tour to see how Entebbe looks like and also buy some few locally made items like Ugandan branded Jerseys, huts and other items that you may love at the Entebbe craft market. You will later head back to the hotel in the evening to have dinner and overnight stay.
You may opt to have a night out in one of the clubs in Kampala to explore the night life in Enteebe town.
Accommodation: Via Via Hotel Entebbe
Meal plan: Lunch and Dinner plus drinking water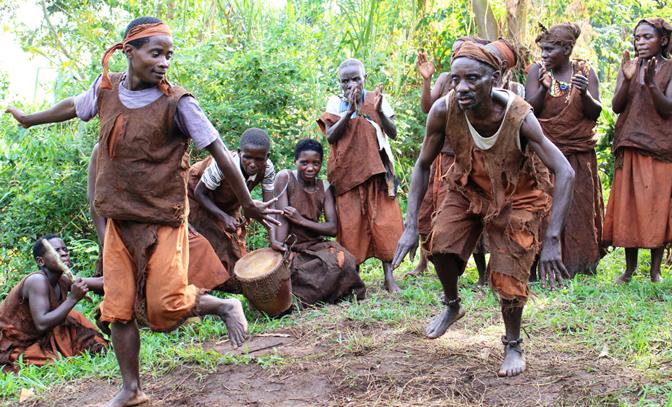 Day 2:  Transfer to Bwindi Impenetrable National Park and Batwa experience
Meet your guide and start off early from Entebbe for the journey to the home of the mountain gorillas, as you start of your Uganda & Tanzania safari. Be prepared for a long day in the car. Along the way you will make a stop by the equator for some photos and have lunch in Masaka or Mbarara depending on the time. Thereafter, continue to Bwindi Impenetrable National Park.
Later when you reach Bwindi, you will have a community visit to the Batwa group that are the first people to live in these forest and still reside there regardless of the many years of civilization. You will be amazed by their traditional dance, homes, dress-code and way of life. You will then return back to the lodge for dinner and rest till the following day as you await Gorilla Trekking.
Accommodation:
Luxury : Mahogany Springs Lodge/ Buhoma Lodge/ Nkuringo Bwindi Gorilla Lodge/ Silverback Lodge
Mid-range : Gorilla Mist Lodge/ Bakiga Lodge
Budget: Gorilla Closeup lodge/ Buhoma Community Rest Camp/ Broadbill Forest Camp
Meal plan: All meals and Drinking water

Day 3: Gorilla trekking and transfer to Queen Elizabeth National Park
On this adventurous day, you wake up on an early morning breakfast and report to Bwindi Park headquarters for a short briefing with the leader tracker/ ranger guide before you start on your day activity. From here you will head into the montane forest for an encounter with the mountain gorillas.
Always watch out for their voices and listen to them grumble and the young as they swing from tree to tree, and marvel at the sheer size of the dominant male; the silverback.
It is an extraordinary feeling sitting in the dense rain forest knowing you are with a few of the last remaining mountain gorillas. The beauty of this rain-forest is spectacular and it offers a dramatic steeply forested landscape which is incredibly dense, but crisscrossed by numerous animal trails allowing access to tourists.
You will look for these endangered species and finding them will depending on the last nesting location of the previous night. The time taken to track the gorillas can be range from 4 to 7 hours or beyond. Once you locate a gorilla group, you will be allowed only one hour in their presence. The thrill of spending time observing these gentle and endangered giants is an awesome, exciting and one in a life experience to be long savored.
Later, you will head back to the beginning point a begin your journey to Queen Elizabeth National Park. You will enter the park through the southern sector, Ishasha sector of Queen Elizabeth national park.
Accommodation: Topi Lodge
Meal plan: All meals and Drinking water

Day 4: Game drive Ishasha, Kazinga channel boat-cruise
We start the day with a warm breakfast before exploring Ishasha with a game-drive. The area is known for tree climbing lions and if lucky we could have some beautiful sightings. These lions are only found in two places on the African continent, Uganda's Ishasha and Lake Manyara National Park in Tanzania.
After the game-drive, you will start the journey northwards on the adventurous road leading through the park to the Kazinga Channel. Along this road you can be lucky to see elephants, monkeys and even big cats. Here you will reach earlier enough to relax, have lunch and in the afternoon you will go for boat safari along Kazinga channel.
While on the channel, expect to see water loving animals such as the water buffaloes, Elephants, hippos, crocodiles and bird species on the shores of the channel such as fish Eagle among others. Then after come back for dinner and an overnight stay.
Queen Elizabeth National Park is the most visited national park in Uganda with thousands of hippos that populate shorelines of Kazinga Channel. The open savannah dotted with Acacia and Euphorbia trees provide a habitat for elephants, lions, leopards, Uganda kobs and big herds of buffaloes.
We finish the day off with a game-drive out of the park en route to the lodge seeing what we can tick off before the sunsets.
Accommodation:
Luxury : Mweya Safari Lodge/ Elephant Plains Lodge
Mid-range : Twin Lakes Safari Lodge/ Buffalo Safari Lodge.
Budget: Irungu Forest Safari Lodge
Meal plan: All meals and Drinking water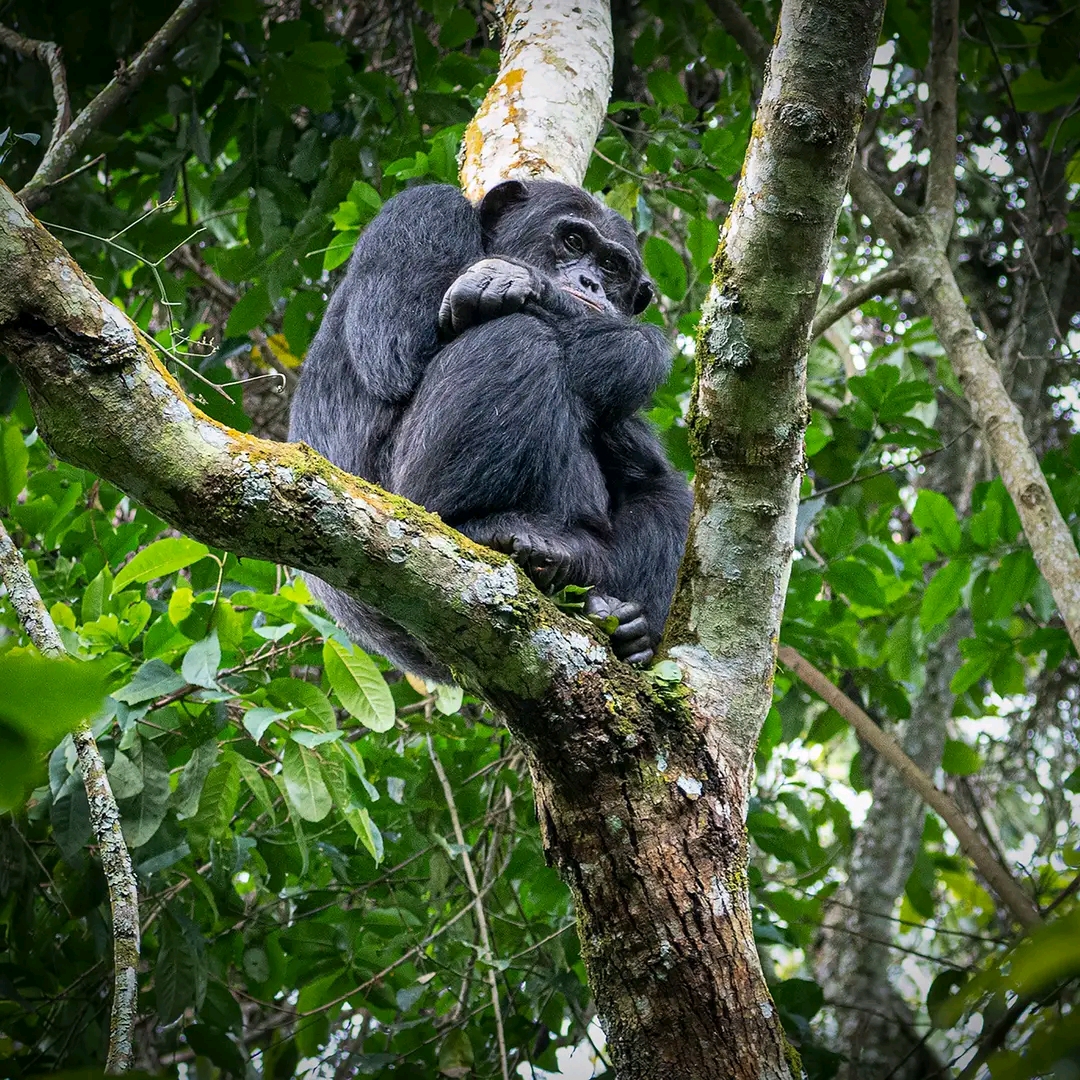 Day 5: Chimps in Kalinzu forest & guided community walk around Kyambura area
Start the fifth day of the Uganda & Tanzania safari with chimps trekking in Kalinzu forest. Here you go with a specialized guide into the forest to meet our close relatives the chimpanzees in their natural habitat. Enjoy the excitement of walking in the jungle and hopefully get great sightings. After the trek we relax for lunch at the lodge before starting an afternoon guided community walk. This walk takes you through the nearby village, walking through the plantations up to a beautiful crater lake.
Accommodation:
Luxury : Mweya Safari Lodge/ Elephant Plains Lodge
Mid-range : Twin Lakes Safari Lodge/ Buffalo Safari Lodge.
Budget: Irungu Forest Safari Lodge
Meal plan: All meals and Drinking water
Day 6: Transfer to Entebbe with possible guided walk around the botanical gardens
We start the day with a relaxed breakfast before starting the drive to Entebbe. With lunch stop on the way and getting some time to stretch the legs at the Equator. Time allowing we can have a guided nature walk along the Entebbe botanical garden for the different primates, birds and plant species. You are then taken to the guesthouse to enjoy your last night in Uganda during this Uganda & Tanzania safari.
Accommodation: Via Via Hotel Entebbe
Meal plan: All meals and Drinking water

Day 7: Regional flight to Kilimanjaro, Tanzania, in the morning – transfer to Karatu
After breakfast get ready for the air transfer to Kilimanjaro in Tanzania where your guide will pick you and proceed to Manyara to spend the night and get a good rest to be ready for the great wildlife experiences to come in the next few days as we have arrived in the second country of the Uganda & Tanzania safari.
Accommodation: Njake Hotel in Manyara
Meal plan: All meals and Drinking water
Day 8: Transfer to explore the Serengeti National Park
Today we enter the Serengeti National Park and you will marvel at the multitude of animal and bird life while journeying through this acacia-spotted savannah. Additionally, game sightings abound. We arrive at the park in time to enjoy a respite from the dirt roads and heat of the day and enjoy a hearty lunch. Later on in the afternoon, as the animal kingdom comes alive, continue your search for the "Big 5″ – lion, leopard, buffalo, elephant and rhino – while taking in the vastness of the Serengeti plains heading for the lodge as the sun sets on this magnificent animal kingdom.
Accommodation: Serengeti Mawe Camp
Meal plan: All meals and Drinking water

Day 9: Experience Serengeti National Park
After an early rise spend the morning exploring the vast Serengeti and we move from location to location in search of sometimes elusive game and visit a waterhole known for its Hippos and alligators. Visit the Masai Kopjes, airstrip area and then back to the heart of Serengeti.
Accommodation: Serengeti Mawe Camp
Meal plan: All meals and Drinking water

Day 10: Serengeti National Park-Ngorongoro crater
Today we head towards Ngorongoro Crater, cited as 'Africa's Eden' and the '8th Natural Wonder of the World', the last highlight of this Uganda & Tanzania safari. The Ngorongoro Crater is a breathtaking natural wonder referred to as the world's biggest wildlife zoo, due to its high density of resident game.
In the afternoon we descend to the crater floor where you will be amazed by the sheer number and diversity of animals and birdlife. Standing in our pop up safari vehicle the viewing opportunities are endless, just deciding which way to look and what to look at, the choices are unlimited.
The sheer excitement as we spot any of the big 5. Tonight as we relax we reflect on what has been a truly remarkable journey like no other experience and marvel in the wonders of the amazing wildlife East Africa has to offer hence the climax of the 11 day Magical Uganda & Tanzania wildlife Safari.
Accommodation : Rhino Lodge
Meal plan: All meals and Drinking water
Day 11: Transfer to Arusha/ Kilimanjaro & flight
In the morning we make the drive to Arusha or Kilimanjaro where you are dropped off as we have reached the end of your safari adventure. Here you can plan to catch a flight on to other adventures or back to your home country full of memories to marvel over for a long time after your 11 day Magical Uganda & Tanzania wildlife Safari.
End of your 11 day Magical Uganda & Tanzania
Includes:
Park fees (For non-residents)
All activities (Unless labeled as optional)
All accommodation (Unless listed as upgrade)
A professional driver/guide
All transportation (Unless labeled as optional)
All Taxes/VAT
Round-trip airport transfer
Meals (As specified in the day-by-day section)
Drinking water (On all days)
Domestic flight from Uganda -Tanzania
Excludes:
International flights (From/to home)
Additional accommodation before and at the end of the tour
Tips (Tipping guideline US$10.00 pp per day)
Personal items (Souvenirs, travel insurance, visa fees, etc)
Government imposed increase of taxes and/or park fees
Some meals (As specified in the day-by-day section)
Personal Items such as- Visas, Medical Insurance
Why you should travel with Pamoja tours and travel Uganda Limited?
5% of the profits go to Pamoja health Initiative. Pamoja gives back to the community through its 5% share of profits which goes Pamoja health initiative a project of Pamoja tours and travel aimed at providing free health services to Vulnerable communities in Uganda.
Comfortable safe mileage. Pamoja aims at providing the most comfortable safe mileage to its clients so as to meet their satisfaction.
Reliability and trustworthy. Pamoja is credited with trustworthy and reliable employees who are determined to work together with you to deliver quality services.
Affordable quality services. Pamoja exists to offer pocket friendly services which are of a good quality to suite your taste and preference.
Hospitable employees/ guides with a broader knowledge about Uganda. Meet our hospitable employees/ guides all determined to make it to your travel destination. The employees are fluent English speakers.
Thank you for choosing Pamoja Tours and Travel