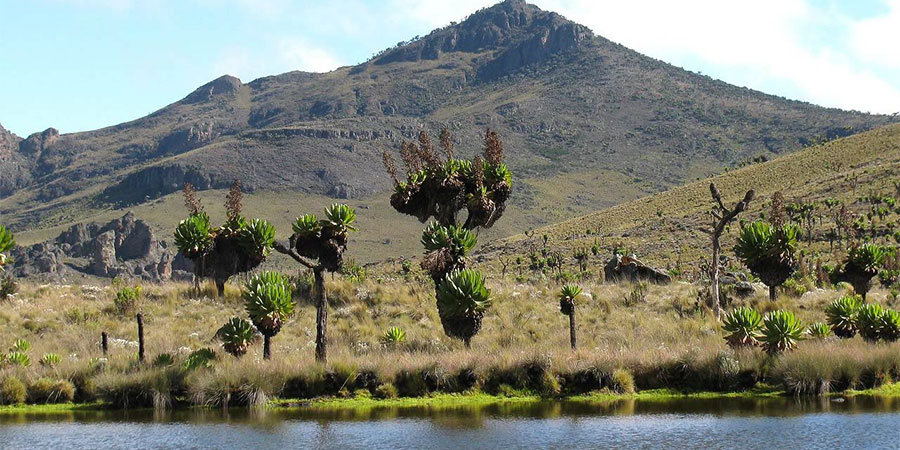 Mount Elgon National Park
Mount Elgon National Park is a national park 140 kilometres (87 mi) northeast of Lake Victoria. The park covers an area of 1,279 square kilometres (494 sq mi) and is bisected by the border of Kenya and Uganda. The Ugandan part of the park covers 1,110 km2 (430 sq mi) while the Kenyan part covers 169 km2 (65 sq mi). The Kenyan part of the park was gazetted in 1968,[3] the Ugandan part in 1992.
Location
Mount Elgon National Park is uniquely split down the middle by the Kenyan-Ugandan border. Mount Elgon is an important water catchment for the Nzoia River, which flows to Lake Victoria, and for the Turkwel River (known as the Suam River in Uganda), which flows into Lake Turkana.
Climate
The climate is moist to moderate dry. Annual rainfall is over 1,270 millimetres (50 in). The dry seasons run from June to August and from December to March, although it can rain at any time
Wildlife
Elephants and buffalo can be found on the lower slopes. The park is also home to a variety of small antelope and duiker, as well forest monkeys, including the black-and-white colobus and blue monkey. Red-tailed monkey are thought to be locally extinct. Both leopard and hyena exist there.
Birds
Mount Elgon is home to at least 144 bird species. Of particular interest are Jackson's spurfowl, the eastern bronze-naped pigeon, Hartlaub's turaco, the Tacazze sunbird and the endangered lammergeier, due to their restricted range.
Invertebrates
Maathai's longleg, an endangered dragonfly was discovered here in 2005 and named after Nobel Prize winner Wangari Maathai. Half of Uganda's butterfly species are in Mt. Elgon
Attractions
Together with the fauna and flora, the park has a variety of scenery; this includes cliffs, caves, waterfalls, gorges, mesas, calderas, hot springs, and the mountain peaks. The most popular areas are the four explorable, vast caves where frequent night visitors such as elephants and buffaloes come to lick the natural salt found on the cave walls. Kitum cave, with overhanging crystalline walls, enters 200 m into the side of Mt. Elgon.
At the Endebess Bluff there a panoramic view of the areas' escarpments, gorges, mesas, and rivers. The highest peak of Mt. Elgon on the Kenya side, Koitoboss, measures 4,155 m (13,632 ft), and you can reach easily by hiking in about two hours from the road's end.
Activities include
Vehicle circuits leading to animal viewing areas, the caves and Koitoboss peak.
Self-guided walking trails
Hiking to Endebess Bluff and Koitoboss Peak
Primate and bird watching
Cave explorations
Camping photography
Sipi falls walk
Getting there
By road: Eastern route-Jinja Mbale high way
By air: You can as well use charter planes services to access Mount Elgon National park available at Entebbe international airport or Kajjansi airfield. These can airlift you up to Soroti airfield in the Soroti district. This can work for visitors who don't like traveling long distances. From the airfield, you would travel by road for about 1 hour before reaching Mbale or Kapchorwa
Park Accommodation
Where to stay
Kapkwata Guesthouse (self-catering)
Forest Exploration Center Bandas, student hostel and campsite
Suam Guest House (UWA)
Masha Hotel
Noah's Ark Hotel
Savanna Guesthouse
Sipi River Lodge
The Crow's Nest Camp
Mbale Resort Hotel
Mt. Elgon Hotel