5 Best Places to see Gorillas in Africa
Where can I see gorillas or do gorilla trekking?
5 Best Places to see Gorillas in Africa. Gorilla encounters are the ultimate wildlife experience, whether they're mountain gorillas, Western lowland gorillas, or even the rare Grauer's gorilla. The sheer majesty of the silverbacks, the playfulness of the toddlers, and the tenderness of their mothers are just mesmerizing. So where are the best places to see gorillas?
How many countries have gorillas for trekking?
Most people want to track mountain gorillas and there's much debate as to which country offers the best mountain gorilla safari. They're found in only three countries: Rwanda, Uganda, and the Democratic Republic of Congo (DRC). Thankfully, their numbers are increasing – the latest census confirm that there are now over 1,000 a to 250 when conservation efforts some 50 years ago.
More than 100,000 western lowland gorillas live in the lush rainforests of west and central Africa. Classed as critically endangered, fewer groups are habituated for tracking because of their inaccessible homelands.
Choosing the best gorilla safari for you depends on your budget and your sense of adventure. Here are my suggestions for the best places to see gorillas in Africa.
Uganda
Mountain Gorillas in Uganda
The best mountain gorilla safaris in Uganda are in Bwindi Impenetrable Forest National Park, with 13 groups and around 400 gorillas. Mgahinga National Park, while just as beautiful, lies within the Virunga Massif neighboring DRC and Rwanda, and has only one habituated group which sometimes wanders over the borders.
As with Uganda, it's a very smooth operation, with excellent rangers and trackers, and local communities benefitting from fees. The hiking can be tough – there's a reason it's called impenetrable – but some groups are easier to reach than others. And the permits cost just US$700.
Bwindi also offers the Gorilla Habituation Experience where you spend up to four hours with a semi-habituated group. They're less predictable and not as docile as habituated groups, and it's a fascinating, intimate glimpse into how gorillas gradually get used to humans.
Uganda Gorilla Trekking Tours
https://africasafaritravellers.com/3-day-gorilla-tracking-lake-bunyonyi-relaxation/
https://africasafaritravellers.com/5-days-uganda-gorilla-trekking-queen-elizabeth-safari/
https://africasafaritravellers.com/7-days-uganda-safari-gorilla-and-chimpanzee-trekking/
https://africasafaritravellers.com/8-days-uganda-gorillas-chimps-and-wildlife-tour/
Rwanda
Mountain Gorillas in Rwanda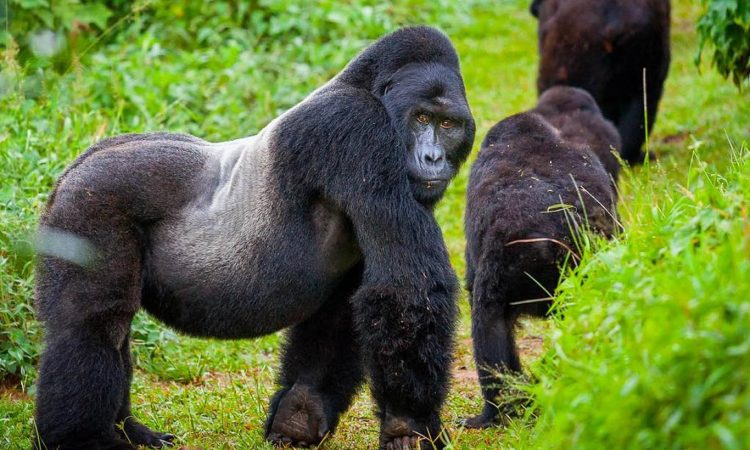 The Virunga Mountains spanning the borders of Uganda, DRC and Rwanda's Volcanoes National Park are home to over 600 mountain gorillas. Rwanda, known as the Land of a Thousand Hills, is one of the best places to see mountain gorillas. It has ten groups available for tracking, including the Susa group which lives high up on Mount Karisimbi and was studied by famous primatologist Dian Fossey. Other groups roam lower down the slopes and are easier to track, although being wild, they're constantly moving. In September, the annual naming ceremony of baby gorillas – Kwita Izina – attracts thousands of visitors to Musanze, the main town for gorilla safaris in Volcanoes National Park.
The downside is that Rwanda's permits are expensive at US$1500. With super-luxury accommodation now available in Musanze, Rwanda is becoming the 'Botswana' of gorilla tracking, offering great experiences but at high cost. Traveling around Rwanda is easy with good roads and also several tour operators run trips here.
Rwanda Gorilla Trekking Tours
https://africasafaritravellers.com/3-days-rwanda-gorilla-tracking/
https://africasafaritravellers.com/5-days-rwanda-primate-adventure/
https://africasafaritravellers.com/10-days-rwanda-wildlife-safari-with-gorillas/
Democratic Republic of Congo
Mountain Gorillas in Congo
DRC is the only country that has both lowland and mountain gorillas. Compared with Uganda and Rwanda, it's the least visited, most adventurous and also cheapest of the Virunga Mountains' three homelands, with permits costing US$400. Four groups of mountain gorillas live within DRC's Virunga National Park, which was closed recently after British tourists were kidnapped. It reopened in February 2019, with assurances that it was safe again.
Grauer's or eastern lowland gorillas are only in DRC. They are also around 5,000 and are the biggest of the species. The best place to see them is Kahuzi-Biega National Park, home to some 250 Grauer's gorillas, with the pretty lakeside town of Bukavu offering good accommodation in colonial mansions.
DRC is a volatile country, so keep an eye on the security situation. It's best to see the gorillas in Congo on an organized trip.
DR Congo Gorilla Trekking Tours:
https://africasafaritravellers.com/3-day-gorilla-trekking-safari-in-virunga-national-park/
Congo Brazzaville
Western Lowland Gorilla
Not to be confused with its more volatile neighbor DRC, the quieter and more peaceful Republic of Congo (also called Congo Brazzaville) is one of the best places to see western lowland gorillas. Odzala-Kokoua National Park in Congo's north-west has two habituated groups in this wild, tropical rainforest. Because of its remoteness, it's not a cheap destination but it also offers an exclusive experience, with groups of only four people and rustic luxury accommodation combined with some tough tracking. Neptune is a particularly charismatic silverback and seeing his group is especially rewarding.
Western lowland gorillas can also be in Nouabalé-Ndoki National Park around Mbeli Bai at a camp that's also often visit by a resident silverback. It's also best for intrepid travelers.
Central African Republic
Western Lowland Gorilla
Raw and wild, the Central African Republic (CAR) is the only other country aside from Congo that has habituated western lowland gorillas but it's not for the fainthearted. CAR's Dzanga-Sangha Special Reserve lies within the UNESCO World Heritage Site of Sangha Trinational Reserve and its tropical rainforest ecosystem also spans protected areas in Congo and also Cameroon.
It's home to the world's highest concentration of western lowland gorillas and forest elephants. Dzanga Bai is the best area to see them and Sangha Lodge is the place to stay. If you can cope with the hardship of travel in this country, you'll be highly reward, and you'll be helping the local Ba'aka people.
Note that CAR is a troubled country – check up-to-date travel advisories and also advice from the lodge before traveling here.
Also read about:
More safaris: