Best time to book your gorilla trekking safari in Uganda.
Uganda is an East African country located along the equator being one of the factors determining it's climate. It also has a variety of other natural factors determining the country's climate like water bodies, vegetation cover, altitude and many others. All these factors result into the rainy and dry season which Uganda experiences in different months of the year.
The southwestern parts of Uganda where Bwindi impenetrable national park and Mgahinga national park are located receive tropical type of climate. Bwindi receives an annual rainfall of about 2390mm with an average temperature ranging from 7-20 degrees Celsius to a maximum of 20-27 degrees Celsius.

Bwindi Impenetrable Forest and Mgahinga Forest National Parks.
This is where the gorilla trekking safaris in Uganda take place. When booking your gorilla safari, first you need to get a gorilla trekking permit. In order to know the cost of your gorilla trekking safari, you need to contact Pamoja Tours and Travel so that bookings can be made early enough to avoid any inconveniences.
Gorillas in Uganda can be trekked in both Bwindi and Mgahinga during your African safari. However, there are clients who will also prefer to do a gorilla safari in only one park. One can decide to do only gorillas in Uganda and another may want to do both gorillas and other wildlife, or culture on their Uganda safari. Gorilla safaris in Uganda include the following:
https://africasafaritravellers.com/3-day-gorilla-tracking-lake-bunyonyi-relaxation/
https://www.pamojatoursandtravel.com/8-days-uganda-gorillas-chimps-and-wildlife-safari/
https://www.pamojatoursandtravel.com/14-days-uganda-big-5-safari/
The climate in Bwindi Impenetrable Forest National Park
The climate in Bwindi is generally mild and wet. The Bwindi region is also in an area with a high altitude ranging from 1160m to 2607m above see levels resulting into cold conditions within Bwindi. The cold conditions require one to put on warm clothing especially in the morning and night.
When planning for a gorilla safari in Uganda, you have to consider Uganda's climate in order for you to enjoy the gorilla safari in the pearl of Africa because gorilla trekking is a year round activity.
Uganda has two dry seasons and two rainy seasons with each season having both advantages and disadvantages when it comes to gorilla trekking and wildlife safaris in both Uganda and Rwanda.
Best time to book your gorilla trekking safari in Uganda
Dry season
This is the best season to go for gorilla trekking because the trekking conditions are favorable hence making it the peak season.
Under the dry season, we have the long and the short dry season.
Short dry season-December-January-February
Long dry season-June-July-August-September
Wet season/low season
Mountain gorilla trekking is a year round activity and it is also possible in the wet season. Those interested in doing gorilla trekking in rainy season should be prepared for the hard conditions. This is especially during the gorilla trekking experience. The number of people doing gorilla trekking in this season is always low. Hence calling it the low season
Short wet season-March-May.
Long wet season-September-November
When planning for a gorilla trekking experience in Uganda, you have to consider both the advantages and disadvantages of each season. This is before you make a final decision. Because it's possible to enjoy the gorilla trekking experience both in dry and wet season.
Each season has factors you have to consider when planning for a gorilla safari before you make a final decision.
Dry season/peak season
In this season, Bwindi impenetrable national park receives less rain. The skies are always open most of the time and there's more sunshine hence making it the best time for gorilla trekking.
What you should know when planning for a gorilla safari in a dry season
Gorilla permits have to be booked very early so that you get yourself a gorilla permit. There's always too much competition for gorilla permits with other Tour operators. This happens during the peak season. Therefore, this requires you to send us your money so that we buy for you a gorilla permit from Uganda Wildlife Authority in advance.
Safari lodges also hike their rates during the peak season because of the high demand for accommodation. Therefore we advise you to send your accommodation money very far in advance. This is so that we secure you accommodation from good safari lodges.
Easiest trekking conditions
Dry season has the easiest trekking conditions. The ground is dry,with less underground growth within the forest making it easy to hike, see the mountain gorillas, take photos, low chances of raining, passable forest trails and also the weather is warm.
The national parks do not get so crowded even though it's a peak season from June to September.
The dry season is also good for game viewing in our savannah parks like Queen Elizabeth national park, Murchison Falls national park, Lake Mburo national park and many others. This is because animals gather around water sources to drink water and cool their body temperatures.
The roads linking to the national parks and the trails within the park are always in good conditions during the dry season because of less rain. This makes the movement of the car easy hence saving time for travel.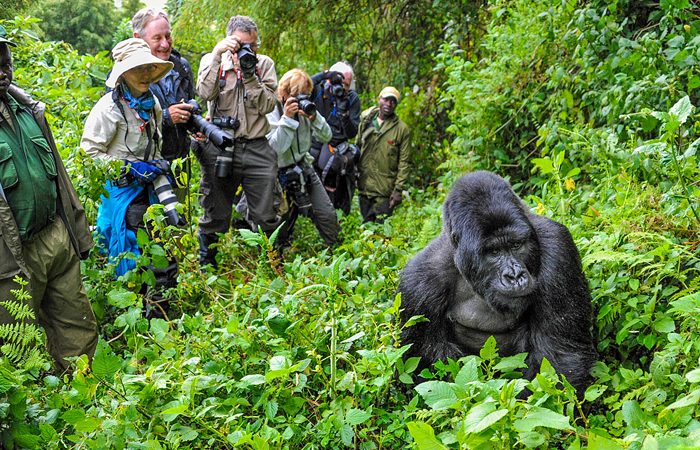 Wet season/low season
This season has unfavorable conditions for mountain gorilla trekking hence making it a challenge. The number of tourists in the wet season is low because of the bad trekking conditions like heavy rains but also the sun comes out immediately it stops to rain and the activities go on well.
Although most tourists don't travel to see these elusive mountain gorillas in the wet season, the experience is more the same as that one can get when he or she does mountain gorilla trekking in the dry season.
What you should know when planning for a gorilla safari in a wet season
Most safari lodges lower their rates in this season to encourage tourists to book with them and this makes visiting cheap in the wet season.
National parks have less congestion during the wet season. The lodges are not fully booked as high season especially in the months of February and September.
November and April are the best months for bird watching because migrant birds are available in Uganda.
Roads get into bad conditions by getting pot holes and muddy. This causes vehicles to get stuck hence causing delays. The forest trails also become muddy and slippery and this calls for water proof hiking boots.
There is no changing of a gorilla permit in case it rains heavily on the trekking date. This is because the gorilla permit is valid for only one day.
The vegetation cover is green and thick making spotting of the mountain gorillas difficult.
Mountain gorillas do move to the warm lower slopes of the mountain to get warmth. Also, there is plenty of food during the wet season and this makes your trek shorter.
Best time to book your gorilla trekking safari in Uganda: