Essentials for beginner bird watchers
Bird watching essentials
Birdwatching is a relaxing recreational activity that involves observing, and identifying bird species. Essentials for beginner bird watchers are listed in this article. It is also a challenging hobby whose popularity is constantly expanding. It can be awe-inspiring and somewhat mesmerizing and involve family members of all ages. Everyone can pick their own favorite species or vocals from different birds.
The hunt to locate, identify, watch, and hear or record the vocal of a species is a captivating endeavor. Just think! Birds have been on our planet since the age of the dinosaurs. Their spectacular range of colors, sizes, vocals, and beauty of flight have evolved for millions of years. Tell the kids that they are going out to watch dinosaurs, and see the curiosity begin!
How it can be done
Birdwatching can be done as a simple leisure pursuit from your own kitchen table while watching a variety of birds at your backyard bird feeder or in growing increments of complexity in ornithology (the science of birds). In the simplest forms, the beginner needs only their eyes and ears to enjoy birdwatching. This back-to-nature hobby often evolves into the enthusiast wanting to identify specific birds by spotting them or hearing their songs.
Becoming involved in birdwatching has many benefits. It is a healthy venture that connects people back to nature. People can watch birds almost anywhere. From backyards to exotic aviaries, to local parks, or far-off locations, birdwatching is plain fun! The very nature of the hobby tends to calm stress; plus, it gets you up and moving.
Birdwatchers often explore new areas and make new birdwatching friends in the field or in groups online or even in local societies. Whether a solitary quest or a social venture, the mental and physical benefits abound. Bird-watching can be done year-round. It can be surprising and challenging.
For sure, birdwatching is a hobby that will never be dull. The allure of following migration cycles and the vast number of birds that exist make this an exciting and ever-changing hobby. "Watchers" learn that patience is a necessary trait, but the benefits are also so worth it when the "ah-ha" moment finally arrives!
Equipment Essentials for the Newbie Birdwatchers:
Backpack
Birdwatchers will benefit from a comfortable backpack that allows hands-free viewing while having the capacity to stow everything you need on your birdwatching adventure. When packing, remember that your destination and planned time in the field sets the requirements for what you need to put in your backpack. You will want to include items such as basic first aid supplies including ointment and band-aids. Also there is sunscreen, bug spray, a camera, lens cleaning cloths, a headlamp, a drink, and a snack.
The Osprey Daylite Plus pack is a great beginners' choice. This backpack is constructed of sturdy material that can survive the outdoors.
Binoculars
Binoculars are an essential tool for new and old birdwatching enthusiasts. The focal point of the hobby is viewing the bird, without disturbing it, and the better the binoculars, the better the experience.
The Nikon Monarch 7 is one of the best birding binoculars on the market. It has quality glass with a waterproof and fog-proof construction that makes them perfect for the job. The basic construction is durable, but it also has the ability to change the magnification and viewing diameter. This allows you to enjoy your subject and keep it in view.
Another recommended set of binoculars for beginning or even young birdwatchers is the Leupold BX-1 Yosemite. These economical binoculars are compact and adjust easily to fit most people and sport 8X magnification with a good field of view. They are constructed for clarity and precision with waterproofing and a sturdy armor coating on the exterior.
Binocular Harness
Binocular harnesses are highly suggested. The harnesses allow you to carry your binoculars in comfort. Different models offer different advantages from the super basic to enclosed pounces. A decent binocular harness is the Tenzing TZ OSS15. The harness is made from a sturdy nylon fabric with an adjustable padded shoulder strap. Additionally, the straps have elastic for comfort.
Waterproof Notebook and Pen
Being able to jot down your notes and observations while birdwatching is essential. Keeping a waterproof notebook with a handy pencil or waterproof pen will provide you a lightweight invaluable tool. An inexpensive example is the Rite in the Rain all-weather side-spiral notebook (4 5/8" X 7") accompanied by a standard #2 Ticonderoga pencil or an all-weather pen such as the Rite in the Rain weatherproof metal pen.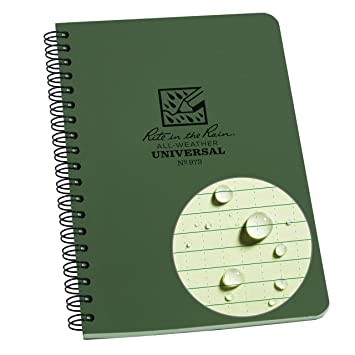 This notebook comes in a variety of colors and contains 64 pages. It is also water-repellent and will resist such things as sweat, mud, and spills. It has a side wire binding and will retain its shape when stowed away in your backpack.
Field Guide
Part of the enjoyment of birdwatching is being able to identify your subject.
This is a solid reference that contains colorful illustrations, detailed descriptions, and basic facts on all African birds as well as those found in all Ugandan birding spots. This field guide also acts as a basic birding source for some species located in Tanzania, Rwanda, and Kenya. Simply, it is a must-have birding resource!
Apps
Birdwatching apps are the current trend for field birding enthusiasts.  They are also Essentials for beginner bird watchers. They provide much of the same information as traditional field guides. There are also numerous apps to pick from. A superior and always current selection is the Audubon Birds Guide App. Just think, it's also one less thing to put in your backpack!
Smart Phones
Don't leave home without it! Seriously, your smartphone is one of the most essential tools you'll need for birdwatching. In reality, it's the mini-computer you take with you. Using your smartphone gives you access to a vast variety of indispensable birdwatching tools. These include apps, gives you internet access, and also double as a quality camera and recording device. The picture quality can be amazing! You can also share your discoveries with friends.
Camera
The Canon EOS Rebel T5 is a super camera for birdwatchers. It is easy to use and also captures images with clarity, fantastic color, and precision. It has a substantial 3.0-inch LCD screen for live viewing and recording. You will be able to capture your birdwatching subjects for sharing and documenting your adventures.
Birding Associations
One of the key elements and essential tools needed in this hobby is information and education. Birdwatching associations provide a sharing community filled with educational opportunities. Also, there are gear recommendations and identification tips. There are numerous national, regional, and local birding groups.
Websites
Websites on birds and birding are just a Google search away and are Essentials for beginner bird watchers.
Newbie birdwatchers will also find The Cornell Lab of Ornithology website to be an essential tool. This website offers a terrific amount of information about birds and really aims at inspiring lifelong learning about them. The resources abound with ID apps, bird cams, and nest watch monitors. Also, offer opportunities for birdwatchers to learn from the beginning stages to the advanced stages of birdwatching. You will also find inspiration for birdwatching on this website.
Remember that once a birdwatcher; always a birdwatcher! Whether watching birds at a feeder in your own yard or while venturing to see puffins nesting on the rocky cliffs of Iceland, birdwatching can be addictive. Birding, like any enjoyable hobby or activity, can relax us, provide knowledge of nature, insight into our world, and often humor, which is always good for the soul. So, it's time to get yourself in motion. Get off the couch, gather your Essentials for beginner bird watchers, and get moving!
Book your birding safari with Pamoja Tours and Travel.