Ngamba Island
NGAMBA ISLAND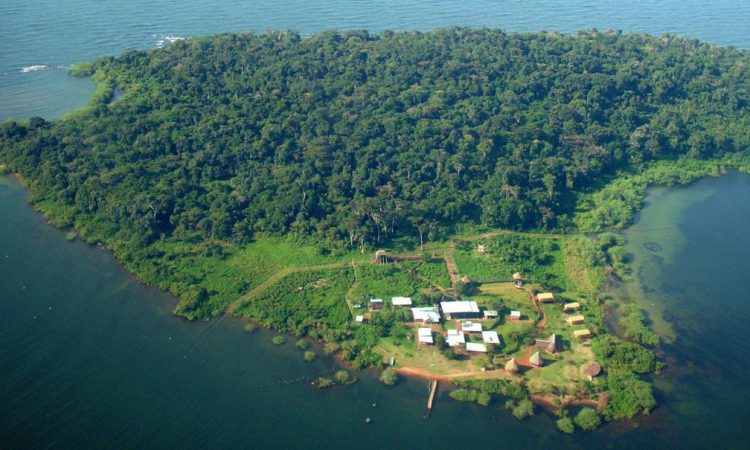 Ngamba Island is 100 acres (40 ha) of rain-forest on Lake Victoria, approximately 27 kilometers (17 mi). It is south-east of the city of Entebbe, near the Equator in Lake Victoria, Uganda. The island supports a rich diversity of natural wildlife and provides a variety of natural foods for the chimpanzees. It is set up as an eco-friendly project with compost toilets, rainwater collection, proper waste management practices and solar energy plus hot water.
Ngamba Island is part of the Koome group of islands on Lake Victoria, which also includes Kiimi, Nsazi, Koome, Bulago and Damba Islands. The sanctuary's dedication is to take care of the orphaned chimpanzees, that have been rescued by the Uganda Wildlife Authority.
Chimpanzee life
Ngamba Island is currently holding 52 orphaned and confiscated chimps that were rescued from the illegal pet and bush meat trade. Despite their initial trauma, the chimps living at Ngamba have a safe and semi-natural environment in which to recover. This helps them to eventually thrive over their long lives and live up to 60 years.
The chimpanzee diet is supplemented multiple times per day much to the delight of visiting tourists who are able to observe the feeding from a viewing platform. They also have the freedom to stay in the forest at night or return to nighttime enclosures where they can build nests and receive an evening meal.
Background
Ngamba Island was gazetted in October 1998 to care for orphaned chimpanzees that are rescued from various parts of East Africa. These are mainly got from poachers and are unlikely to survive if they are reintroduced to the wild again.
The island covers 100 acres, of which 95 acres is forested and separated from the human camp by an electric fence. The northern part of the island is generally flat, rising gently to an altitude of approximately 3800 feet above sea level to the south. The island is largely forested with gaps of grassland covering approximately 10% of the island.
Ngamba Island provides an excellent secondary forest habitat for the chimpanzees and other wildlife species including fruit bats, spiders, fish eagles, otters, and monitor lizards.
The goals of the sanctuary are to:
Provide a safe home for rescued chimpanzees while also caring for the environment & other wildlife on the island;
Provide a high-quality educational experience for visitors
Benefit local communities.
Caring for the chimps is a 24/7, year-round commitment provided by a dedicated team of more than 22 care givers, veterinarians, volunteers and island staff.
Why visit Ngamba Island?
When you take a trip to Ngamba island chimpanzee sanctuary, you get to see how much food they eat, meet the team who care for them and watch chimpanzee social behavior up close from a viewing platform that overlooks the forest.
You will also learn about chimpanzee conservation efforts in the wild. You get to know the greatest threats facing their extinction such as habitat encroachment, poaching and the illegal pet trade. If you're interested in staying for longer than a day, there are cottages for a sleep over at a cost.
NGAMBA ISLAND ACTIVITIES
At Ngamba Island, not only do you experience what it's like to see chimpanzees up close, but you also get a range of activities to do, to create a rich and memorable visit. These activities are also essential in helping fund the ongoing costs of feeding, housing and caring for the residents. Pamoja tours and travel offers exceptional packages to Ngamba island
Did you know the chimps eat over 30,000 kilograms of fruit & vegetables every year?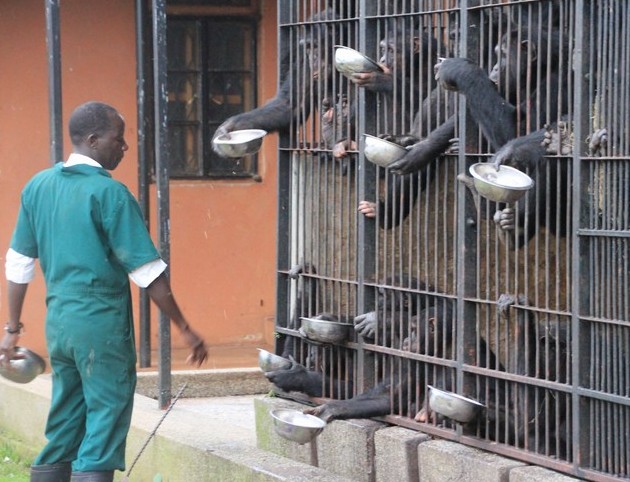 Overnight Excursion
Stay from 1 to 3 nights and experience iconic East African luxury tent accommodations while enjoying several chimpanzee feedings and other island activities.
Sunset cruises
The sanctuary offers exclusive sunset cruises for overnight guests. Enjoy the unique view of fishermen casting their nets and the fishing villages as they wind down the day. The thrill comes from knowing that you are crossing the globe from the southern to the northern hemisphere on the equator as you sip away on cold drinks.
Fishing
You can do half or full day fishing excursions on Lake Victoria with certified fishing guides. If you love to fish, you won't want to miss the opportunity to catch a Nile Perch on this iconic lake, one of the largest in the world.
Volunteer Programs
The sanctuary currently offers a one week and four weeks volunteer program. By participating in this program, you will join a dedicated team devoted to the ongoing health and welfare of Ngamba Island's residents. In turn, this help the sanctuary achieve its mission to educate the public about the importance of chimpanzees.
Accommodation
Ngamba Eco-Lodge
Treat yourself to an East African luxurious experience at Ngamba Eco-lodge. It is nestled just above the water's edge and overlooking the beautiful Lake Victoria. Ngamba  Eco-lodge comes with full amenities including electricity, bathrooms, hot water showers and a private deck. The hospitality staff has been internationally trained at Disney resorts in Florida and expect the same level of attention & care to your stay.
After an evening campfire where your entertained with the rich Ugandan culture of music and dancing, you will fall asleep to the sounds of water lapping and occasionally the lively pant hoots of the chimps. Nothing can quite capture the 'Out of Africa' feel of staying the night at Ngamba Eco-lodge and waking up to the unparalleled beauty of island life.
Eco friendly
And of course, this is no ordinary island because you'll be 'staying' with the 49 resident chimps, which is a truly magical experience. Pamoja tours and travel can secure your accommodation upon booking for your trip at Ngamba island.
Restaurant
You'll also enjoy freshly prepared meals provided by friendly camp staff in either the relaxed covered dining area or open dining area beside the lake. Expect multiple course dinners and local specials, such as fish, whenever possible. Hot beverages including tea and coffee are available at all times on a self-serve basis.  Cold drinks are available on a cash sale basis and include water, soda and beer.  A basic selection of wines and spirits are also available from the cash bar. Guests are also welcome to bring their own beverages.
Accommodation capacity
4 permanent luxury cottages, double rooming
10 standard camping tents, double rooming
5 standard camping tents, single rooming
How to get to the island?
Pamoja tours and travel will arrange and manage all your transportation for your trip to Ngamba  island. There are different types of boats catering to various groups and budgets.
Speedboat travel from the dock in Entebbe to Ngamba Island for approximately 45-50 minutes. Traveling by traditional motorized canoe takes approximately 90 minutes and by air it takes approximately 20 minutes from Entebbe Airport or Kajjansi Air strip.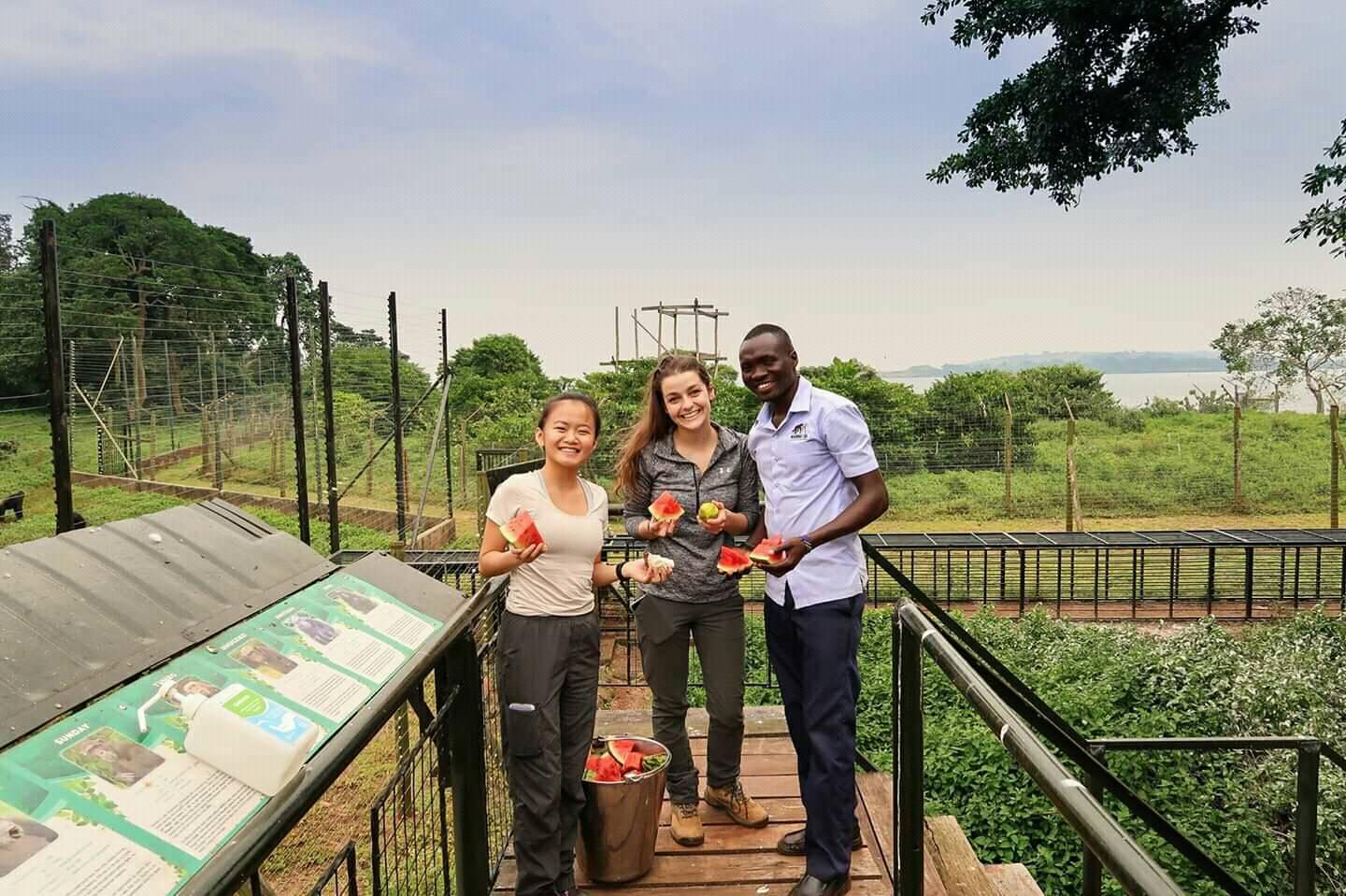 Why you should visit Ngamba Island?
Ngamba Island surely offers the best opportunity anywhere in Africa to observe chimpanzee behavior and interaction very close. And also more than 95 per cent of the island is set aside as a forest for the chimps.
People also ask!
How do I get to Ngamba Island?
Where is chimp island?
Why are chimpanzee endangered?
Do chimpanzees eat meat?
Which country has the most chimpanzees?
How do I get to Ngamba Island?
What is Ngamba island famous for?
Where is Ngamba Island?
Where is chimpanzee island?
Who owns Monkey Island now?
What island is full of monkeys?
Why is it called a Monkey Island?
What happens in Monkey Island?
Can I visit Monkey Island?
How did Monkey Island get monkeys?
Who created Monkey Island?
Does Monkey Island still exist?