Pakuba Safari Lodge
Introduction
Pakuba Safari Lodge-Midrange in Murchison Falls NP: First of all, Pakuba lodge is one of the mid-range options for tourists visiting Murchison Falls National Park. This facility is located on the East bank of the Albert Nile. Interestingly, the lodge also is a modern incarnation of the former state lodge that was previously visited by Idi Amin and its ruins can still be viewed. Pakuba is also a short distance from the Tangi Gate of Murchison Falls National Park.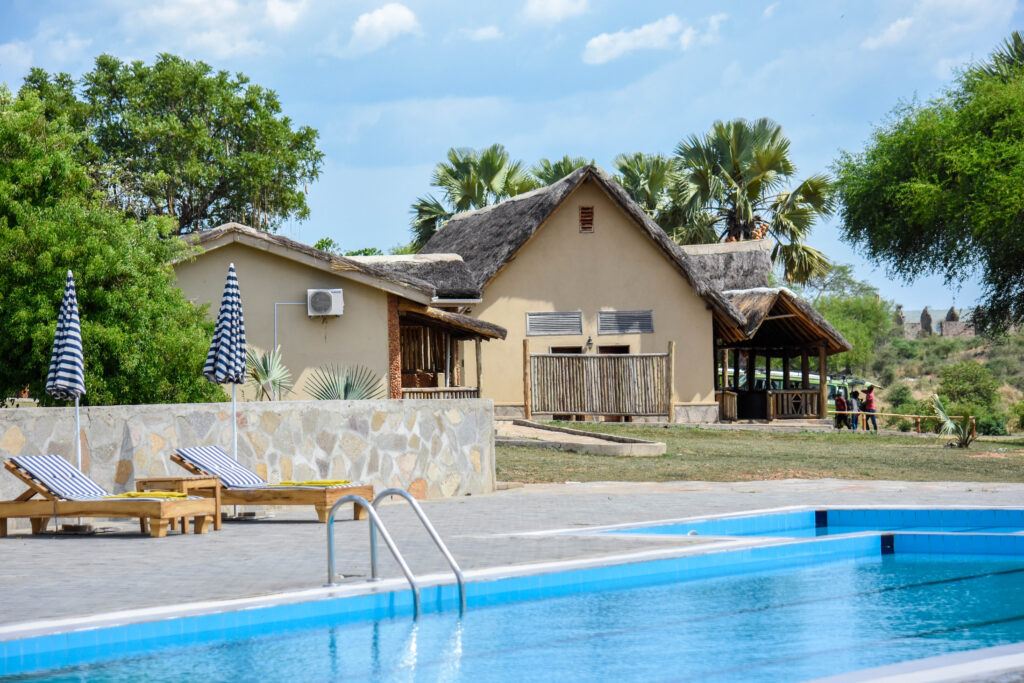 The ultimate relaxation experience
After a tiresome day at the park, you can cool off in its outdoor pool or sip your favourite drink at the lodge's fully stocked bar. Alternatively, you may also prefer to sit at your window and take in the stunning views of wilderness. Fortunate guests may get a chance to see beautiful animals such as leopard and also giraffes.
Accommodation
All rooms have excellent views of the Albert Nile and receive a refreshing evening breeze from the river. The lodge also offers great value for money with its 32 Double/Twin rooms and 4 Family rooms. All the rooms are spacious and also furnished.
The family rooms include two separate rooms which share an interconnecting door, making them perfect for families with children.
All rooms include complimentary Wi-Fi and room service, several charging points, a reading corner, mosquito nets and also a closet.
Outstanding qualities of the lodge
Pakuba Safari Lodge offers a wide range of exciting excursions. Tourists are free to choose between a morning, afternoon, or nocturnal game drive in Murchison Falls National Park.
The lodge also offers a complimentary English breakfast that fuels you for a day of activities.
The Conference Room is also a perfect location for team meetings or team-building exercises.
The outdoor pool offers outstanding views of the meandering Nile and also gives one a refreshing feeling after a long day of activities.
All rooms have a private veranda with excellent views of the Albert Nile and also a refreshing evening breeze.
Facilities
The swimming pool is the perfect place to cool off especially in the hotter months.
The restaurant is run by experienced chefs and friendly waiters who provide excellent service. Adventurers who wish to sample an authentic dining experience should try the bush lunch or dinner. Our favorite is the bush dinner.
Feasting on delicately seasoned meats as you watch the beautiful sunset is an unforgettable experience.
Conclusion
If you are interested in booking a safari to Murchison Falls National Park, kindly contact Pamoja Tours and Travel. We will turn your dreams into a reality! Pakuba Safari Lodge-Midrange in Murchison Falls NP is your dream destination.
Read about:
Book a safari to Murchison Falls National Park and get a chance to sleep at this lodge:
Also read about: