Safaris in East Africa | Kenya Safaris | Masai Mara Safaris | Wildebeest Migration.
Safaris in East Africa | Kenya Safaris | Masai Mara Safaris | Wildebeest Migration.
Embarking on a safari in East Africa is a dream come true for wildlife enthusiasts and adventure seekers alike. Among the myriad of thrilling safari destinations in this region, Kenya stands out as a prime choice, especially with its renowned Masai Mara National Reserve and the awe-inspiring Wildebeest Migration. In this detailed blog, we will take you on a virtual journey to Kenya, delving into the wonders of East African safaris, the unique experience of Masai Mara safaris, and the breathtaking spectacle of the wildebeest migration.
East African Safaris – A Journey of a Lifetime
East Africa, known for its rich biodiversity and stunning landscapes, has been a mecca for safari enthusiasts for decades. The region encompasses several countries, including Kenya, Tanzania, Uganda, Rwanda, and more. Here's what makes East African safaris so special:
Diverse Ecosystems
East Africa boasts an astonishing range of ecosystems, from savannas and grasslands to forests and mountains. This diversity means that you can encounter a wide variety of wildlife, each adapted to its unique habitat.
The Big Five
East Africa is home to the Big Five – the lion, elephant, buffalo, leopard, and rhinoceros. Spotting these majestic creatures in their natural habitat is a bucket-list experience for many.
Cultural Richness
In addition to its natural wonders, East Africa is steeped in culture and history. The indigenous tribes, such as the Maasai, offer a chance to learn about their traditions, crafts, and way of life.
Safaris in East Africa | Kenya Safaris | Masai Mara Safaris | Wildebeest Migration.
Kenya Safaris – The Gateway to East African Adventure
Kenya Safaris offer an unparalleled adventure into the heart of Africa's untamed wilderness, captivating travelers with its breathtaking landscapes, abundant wildlife, and rich cultural diversity. Nestled within the Great Rift Valley, Kenya boasts a stunning array of ecosystems, from the iconic savannahs of the Maasai Mara and Amboseli National Park, where the Big Five roam freely, to the pristine shores of the Indian Ocean, home to vibrant coral reefs and idyllic beach fronts. These safaris provide an immersive experience, allowing visitors to witness the Great Migration of wildebeests, interact with Maasai tribes, and embark on thrilling game drives that unveil the wonders of the animal kingdom. Whether it's gazing at majestic elephants against the backdrop of Mount Kilimanjaro or exploring the arid beauty of Samburu, Kenya Safaris promise unforgettable encounters with nature and a deeper understanding of this captivating country's cultural tapestry.
Masai Mara Safaris
The Masai Mara National Reserve is one of Kenya's most iconic safari destinations. Nestled in the southwestern part of the country, it's renowned for its vast plains, rolling hills, and abundant wildlife.
A Masai Mara safari is an exhilarating journey into one of Africa's most iconic and breathtaking natural wonders. Located in southwestern Kenya, the Masai Mara National Reserve is renowned for its vast, undulating grasslands, teeming with an astonishing array of wildlife. This pristine wilderness offers a front-row seat to the world-famous Great Migration, where millions of wildebeest, zebras, and other herbivores traverse the savannah in search of greener pastures, followed closely by predators like lions, cheetahs, and hyenas.
The Masai Mara's diverse ecosystems, from rolling plains to meandering rivers, provide an enchanting backdrop for game drives, hot air balloon safaris, and guided walks, allowing visitors to witness the circle of life unfold amidst stunning landscapes. Beyond the wildlife spectacle, the Masai Mara also invites cultural immersion, as it is home to the resilient and colorful Maasai people, known for their distinctive customs and traditions. Whether seeking the thrill of the Big Five or the serenity of a sunset over the savannah, a Masai Mara safari promises an unforgettable adventure in the heart of Africa's untamed beauty.
Safaris in East Africa | Kenya Safaris | Masai Mara Safaris | Wildebeest Migration.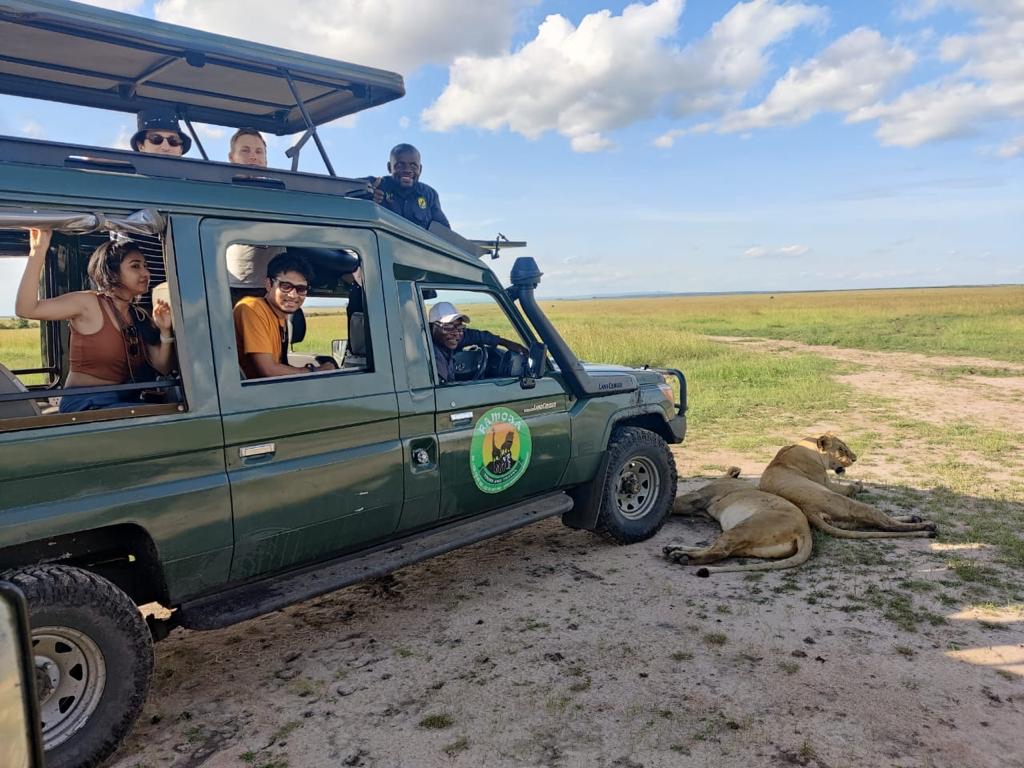 Kenya offers fantastic opportunities to spot the Big Five. Lions, elephants, and buffalo are commonly seen in the Masai Mara, while leopards and rhinoceroses require a bit more luck.
The Maasai People
The Maasai people, who call this region home, add a unique cultural dimension to your safari. You can visit Maasai villages, witness traditional dances, and even purchase their distinctive bead work.
The Spectacle of the Wildebeest Migration
The Great Wildebeest Migration, often regarded as one of the most spectacular wildlife phenomena on Earth, is a mesmerizing natural event that unfolds annually in the vast savannas of East Africa. This epic journey involves millions of wildebeests, zebras, and other herbivores as they traverse the Serengeti ecosystem in Tanzania and the Maasai Mara in Kenya. The migration is driven by the search for fresh grazing lands and water sources, and it unfolds in a continuous cycle as the animals follow the seasonal rains. The sheer numbers and synchronized movements of these animals make for an awe-inspiring spectacle, drawing in wildlife enthusiasts and photographers from around the globe. It's a powerful reminder of the breathtaking beauty and complexity of the natural world, and a testament to the resilience and adaptability of these magnificent creatures in the face of formidable challenges posed by their environment.
The Migration Route
The migration is a circular journey that spans Kenya and Tanzania. Over two million wildebeest, along with hundreds of thousands of zebras and gazelles, traverse the Serengeti and the Masai Mara in search of fresh grazing grounds.
Timing the Migration
The timing of your safari is crucial if you want to witness the migration. Generally, the wildebeest move north from the Serengeti to the Masai Mara between July and October.
Witnessing the Crossing
The river crossings, where wildebeest brave crocodile-infested waters, are the highlight of the migration. Safaris in the Masai Mara often focus on these moments, providing a front-row seat to the drama.
Safaris in East Africa | Kenya Safaris | Masai Mara Safaris | Wildebeest Migration.
Planning Your East African Safari
Before embarking on your East African adventure, careful planning is essential to ensure a memorable and safe experience.
Choosing a Reputable Tour Operator
Research and select a reputable tour operator with experienced guides who know the region and its wildlife intimately.
Packing Essentials
Pack appropriate clothing for both warm days and cooler nights. Don't forget your binoculars, camera, and a good pair of walking shoes.
Health and Safety
Consult your healthcare provider for necessary vaccinations and medications. Also, be aware of safety precautions during game drives and interactions with wildlife.
Safaris in East Africa | Kenya Safaris | Masai Mara Safaris | Wildebeest Migration.
Conclusion: An East African Safari Adventure
Embarking on a safari in East Africa, particularly Kenya's Masai Mara during the wildebeest migration, is a dream come true. For wildlife enthusiasts and nature lovers, East Africa is the perfect place. It's a journey that not only allows you to witness incredible wildlife but also exposes you to the rich cultural heritage. So, whether you're an experienced safari-goer or a first-time adventurer, Kenya's Masai Mara and the Great Wildebeest Migration promise an unforgettable and awe-inspiring experience in the heart of East Africa.