Honeymoon in Uganda
Uganda-A fun and romantic destination for honeymooners. Honeymoon in Uganda. Uganda is a very diverse country and offers a variety of experiences. They include Gorilla trekking, white water rafting, and volcano hiking to birdwatching. As such, it is a country that is becoming more popular as a honeymoon destination. As there are so many options, we have put together a little summary of how you can get your luxury Uganda honeymoon started.
Where to go
There is a variety of destinations, cities, national parks, and landscapes that Uganda homes so there is plenty of choices. There are particular routes around Uganda that work well in terms of logistics that are good places to start for honeymooners. The first is the southern route which includes Entebbe, Kibale Forest (chimpanzee trekking), Queen Elizabeth National Park (safari) and Bwindi National Park (gorilla trekking). This is a good option for honeymooners with a budget and time in mind.
The second option is an extension of the southern itinerary but just adding in additional parks. Murchison Falls National Park is a good choice for those who want more of a safari experience as it offers game drives, boat safaris, and good bird life.
A final park considered in the Uganda itinerary would be Kidepo Valley National Park which is located in the very northern tip of the country. This park borders South Sudan and represents more of a dry, savannah landscape. Combining this park involves a lot more logistics as you have to fly up to this area and then back down to either Murchison Falls or further south in Bwindi National Park.
Budget
A luxury Uganda honeymoon can be expensive, but generally, your budget stretches well in Uganda. With most African safari, there are park fees and permits that you must pay and you can not avoid. The money that goes into park fees is used to help conserve and protect the parks, often in the form of education projects and training.
If you are keen to see primates in Uganda then permits need to be paid for and issued before you travel. For mountain gorillas, this is currently $700 per person per trek. For chimpanzees, the permit ranges from $50 to $1500 per person per trek, depending on the forest you go to see the chimps. On safari, in either Murchison Falls, Kidepo Valley or Queen Elizabeth Park, park fees are also applied to bookings.
Where to start
A good way to start planning your Uganda honeymoon would be to let us know a rough budget and then we can go from there. We can recommend the itinerary that suits you based on the type of animal and activity you are wanting to see and do respectively, or we can put together an example itinerary that either past clients have done or one that we would recommend looking at initially. From there, it will be a case of tweaking certain properties and details. As Pamoja Tours and Travel, we would recommend you start with your safari and later relax in beautiful places.
Uganda-A fun and romantic destination for honeymooners
The best regions for Uganda Honeymoon:
Bwindi Impenetrable National Park
In the southwestern corner of Uganda sits the most biologically diverse forests in Africa – Bwindi Impenetrable National Park. The forest is part of the Rift Valley Mountains that stretch over three countries – Uganda, Rwanda and the Democratic Republic of Congo – and the most famous reason to visit these is the Mountain gorillas.
Entebbe
During the early years of the British protectorate, the city of Entebbe was the capital of Uganda. Kampala has now taken its place as capital but that isn't to say that Entebbe is not worth a visit, especially as it works well logistically, passing from one destination to another.
Jinja
Jinja is most renowned for being the source of the River Nile – a major north-flowing river in north eastern Africa and at a length of approximately 6,850 kilometers, it is longest river in the world! For that reason alone, thousands of tourists include make a visit to Jinja to see the source of the Nile.

Kibale Forest National Park
Uganda has several forests and national parks where can find chimpanzees. The park you visit will depend on the experience you want. Whether that is a chimpanzee tracking experience or a chimpanzee habituation experience. Chimpanzee tracking, you have one hour with the chimps. But for chimpanzee habituation, you have 4 hours with them.
Kidepo Valley National Park
Located in the northern tip of Uganda, Kidepo Valley National Park is a vast wilderness in the remote Karamoja region. It is on the border of South Sudan. The landscape has spacious grasslands, seasonal rivers and mountains ranges leading up through Uganda, Kenya and South Sudan.
Murchison Falls National Park
Locating in the northern region of Uganda, Murchison Falls is a waterfall on the course of the great Nile. This is where the Nile squeezes through a narrow 8-metre gorge. Then cascades down to become a placid river and often a trademark rainbow.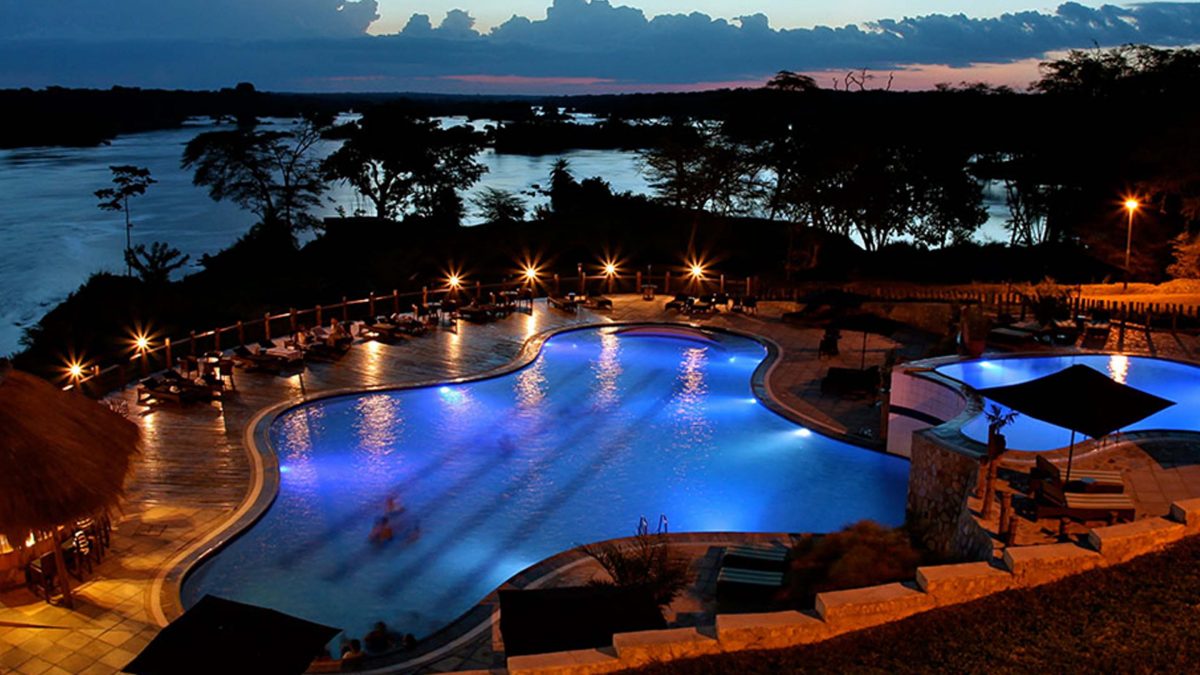 Queen Elizabeth National Park
Founded in 1952, the Queen Elizabeth National Park is located in western Uganda. It has a variety of ecosystems home to just under 100 mammal species and over 600 bird species. As a result, for obvious reasons, is often included in a Uganda itinerary. Vast savannahs, lush forests, glistening lakes and fertile wetlands make it the perfect home. This is for elephants, buffalo, lions, chimpanzees, and hippos in particular.
Also book one of these as a couple: