Ihamba Residence
Ihamba Residence is amidst the enchanting Bwindi Impenetrable Forest, in southwestern Uganda. This luxurious lodge offers an extraordinary experience that seamlessly blends comfort, tranquility, and breathtaking wildlife encounters. The lodge stands as an idyllic retreat for nature enthusiasts and adventure seekers alike.
Location:
Situated in the heart of Bwindi, Ihamba Residence provides an unrivaled gateway to the renowned gorilla trekking destination. Located approximately 550 kilometers from Kampala, the lodge is easily accessible by road or air, making it an ideal choice for those seeking a remarkable African safari experience.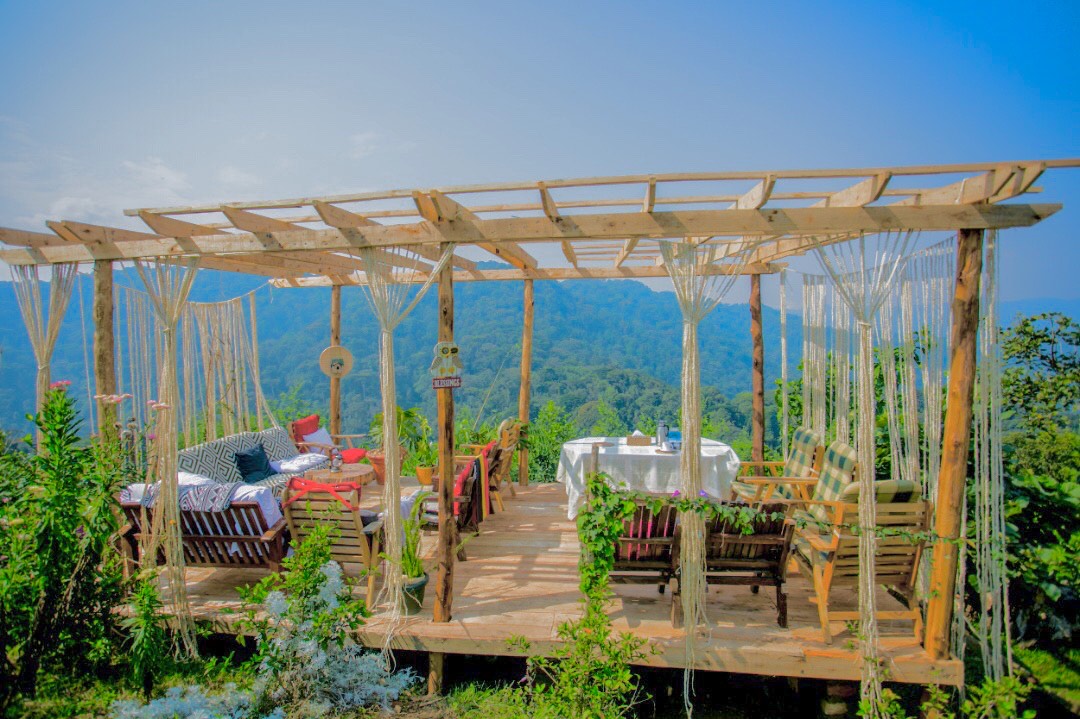 Room Types:
Ihamba Residence has a number of room types that offer you a wonderful stay while visiting Bwindi Impenetrable National Park. These include, Single rooms, Twin rooms, Deluxe rooms and Family rooms.
The rooms have modern and captivating views, and every room offers a conformable stay with all the amenities in it, these include :
Plush furnishings
Private balconies
Elegant en-suite bathrooms
Wi-Fi.
Other Services:
Beyond its superb accommodations and amenities, Ihamba Residence offers a host of additional services to ensure an unforgettable stay. The lodge provides services like:
Airport transfers
laundry services
24-hour room service
All this ensues to meet the needs of the guests with utmost convenience and efficiency.
Activities to enjoy while residing at the lodge:
Ihamba Residence serves as a gateway to an abundance of captivating activities for nature enthusiasts like:
In partnership with different Tour operators, the residence can secure you gorilla permits at your expense that will enable you to go trek the mighty beasts which only live in Uganda, Rwanda and the Democratic Republic of Congo.
Visit The Batwa Heritage Center.
The Batwa were for thousands of years hunter-gatherers living inside the forest. They were displaced when the forest was gazetted as a national park they now live on the fringes of the Forest. Change a life launched a heritage center to showcase the history of the Batwa.
Cultural Tours.
Understanding local culture can be extended to the local Bakiga community within which the resident lies. They are mainly subsistence farmers and the hilly area is covered with tea plantations.
Bird watching
Bird watching in Bwindi Impenetrable Forest is an incredible experience due to the rich avian diversity found in this UNESCO World Heritage Site located in southwestern Uganda. While Bwindi is famous for its population of endangered mountain gorillas, it is also home to over 350 species of birds, including 23 endemic to the Albertine Rift region. Among these birds species, there are the African Green Broadbill, Grauer's Swamp Warbler, African Emerald Cuckoo, Handsome Francolin, Rwenzori Batis, and many more.
Hiking
While at the lodge, you get to have a 6-hour hiking experience through the Bwindi Impenetrable Forest at an extra cost. Ushs 30,000 for East African citizens and $70 for foreign nationals. With the help of Uganda Wildlife Authority guides/rangers, Ihamba residence get this extra amazing activity. The nature walk takes you through the marvel that is Bwindi from maneuvering thickets and dense undergrowth to scaling forested hills over and over again.
The dry seasons of December to February and June to September are generally the best times to visit Uganda for gorilla trekking. During these months, the trails are more accessible, and the weather is relatively dry, which makes hiking in the forest a bit easier. However, it's important to note that gorilla trekking in Uganda can be done year-round, and sightings are possible in any month.
Conclusion:
Ihamba Residence in Bwindi invites you to immerse yourself in the untouched beauty of Uganda's wilderness while enjoying the epitome of comfort and luxury. With its idyllic location, well-appointed rooms, exquisite amenities, and a myriad of thrilling activities, this exceptional lodge promises an extraordinary adventure that will leave you with memories to cherish for a lifetime.