Mto Wa Mbu Village
Mto Wa Mbu Village is the busy gateway to Lake Manyara National Park and Tarangire National Park in the Great Rift Valley. The village is surrounded by magnificent scenery and is situated on the main road which leads to the Serengeti National Park and the Ngorongoro Crater. The town is fed by the 'River of Mosquitoes', a direct translation for the name of the town. However, do not be alarmed as there really are not as many mosquitos as the name might imply.
Home to many tribal groups
Over the years, this diverse place now hosts representatives of all of Tanzania's 120 tribal groups making it a real melting pot of cultures. Mto Wa Mbu has evolved into something of a travelers' center with plenty of lodges, campsites, hole-in-the-wall eateries, petrol stations, money changers, souvenir stalls, and just about anything else that could tempt a passing safari vehicle to stop and indulge. The bustling farming community of Mto Wa Mbu is home to around 18,000 people. You'll find authentic cultural interaction, great tours, and Lake Manyara National Park on your doorstep.
Some of the things you can do while at Mto Wa Mbu include the following:
Village walk in 'Mto wa Mbu'
The bustling farming community of Mto Wa Mbu is home to around 18,000 people. On this walk you'll discover a side of Tanzania many visitors miss out on.
A melting pot of cultures;
Mto Wa Mbu is one of the only places in Tanzania where there are representatives from all 120 tribes living happily side by side. During your visit, you'll get a good feel for the social side of the village – the farms and the milling machines, the schools, markets, and churches. You'll likely visit the village banana plantation as well as a youth art project. Also, there is a wood workshop where you can watch skilled Makonde tribe members carve intricate figurines, masks, and household objects.
Visit a local bar
Maybe you also like to visit a local 'bar' in Mto Wa Mbu Village so you can try mbege. This is the traditional banana and millet beer that they brew and drink mainly by the Chagga tribe.
Of course, you also need to visit the bustling local market. Here you can wander around stalls selling fruit and vegetable stalls, spices, and meat. A real treat for the senses! Your guide is from the village so you will have a unique opportunity to see the community through his eyes and ask many questions. The length of the tour is very flexible but generally last around 2–3 hours. After the village walk, you have a delicious local Swahili meal which you (can) prepare together with the cook of the day.
Tuk Tuk village ride
A Tuk Tuk is a light, small, and easy-to-ride vehicle in which up to 3 passengers can sit on a bench seat behind the driver and guide. The sides of the vehicle are open so you can still have a great feeling of being outside and connected with the people and places.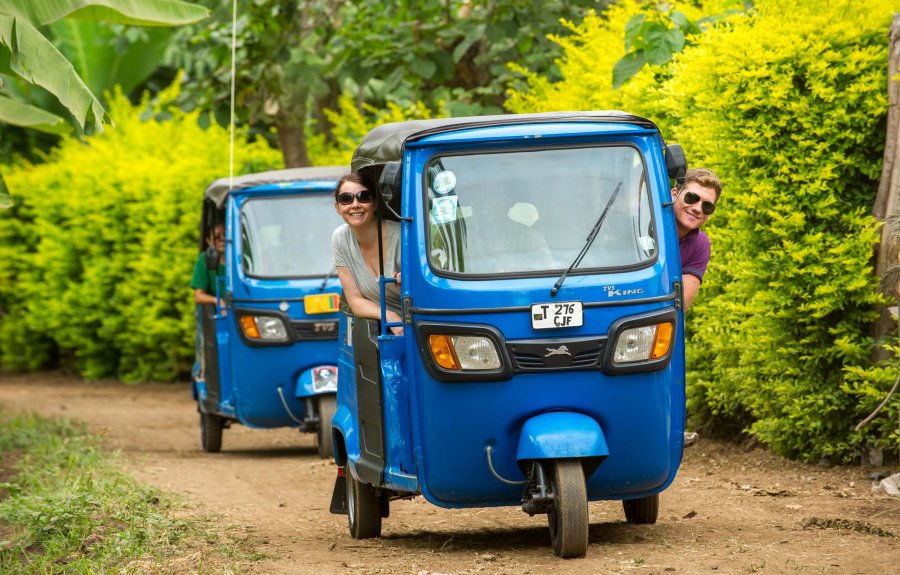 The village tour will last around 2 hours. It takes you to farms, local houses, schools, milling machines, churches, and much more. And who knows which fun encounters you will experience in this lively and colorful environment on this excursion.
Cycling tour
If you prefer to see the surrounding countryside with the flexibility of being on two wheels, then a bike tour is what you need. Guided by a guide you will cycle through the green surroundings of Mto wa Mbu during this 2-3 hour excursion. You drive through the village, banana plantations, and rice fields. Also, stop at the shore of Lake Manyara National Park. This is where flamingos and wildebeest often mingle on the shore.
Some safaris to do and get a chance to see Mto Wa Mbu village: