Ziwa Rhino Sanctuary in Uganda
Ziwa Rhino Sanctuary in Uganda. Breath held, adrenaline coursing through veins,creeping through dense acacia forest careful not to snap a twig Your eyes meet the most majestic of creatures partially hidden in the shade of a tree. The southern white rhino swings her head to catch your scent.
Introduction to Ziwa Rhino Reserve
Uganda's wild rhinos became extinct in the early 1980s after human encroachment, poaching and conflict wiped them out.
However, 20 years later, in 2005, six rhinos were reintroduced to Uganda at Ziwa Rhino Reserve, a 70-sq-km private non-profit sanctuary set up with the long-term goal of getting the rhino back into the Murchison Falls National Park.
There are now 22 southern white rhinos, including nine baby rhinos, the first in almost 30 years.
Located halfway between Kampala and Murchison Falls National Park, Ziwa is a worthwhile overnight stay if you wish to see all the Big Five but also works as a stop-off en route to Murchison.
What to Expect
Ziwa Rhino sanctuary allows you to experience the majesty of these creatures up-close with a rhino trek, where an experienced ranger will lead you on foot to see them at a safe distance (6-7 meters away).
Ziwa is also home to almost 40 other mammal species, including crocodiles, hippos, leopards, oribis, bushbuck, and approximately 300 species of bird, which can be observed with a game drive, canoe trip, or night walk.
Things to Do
Rhino Tracking
Free to roam across the savannah, acacia woodlands and cool muddy swamps, Uganda's only rhinos spend their day grazing on the thick shrubbery or resting under the shade of tall trees.
An experienced and knowledgeable ranger will guide you to them, and educate you on their habits and behaviors in their natural habitat.
You will also be positioned a safe six to seven meters away, and there will be plenty of photo opportunities.
Depending on their location in the park, you may need to drive to where they are, and then trek the remaining distance on foot.
Although you can choose to do a rhino trek at any time of the day, the best time to go is between 8 am and 10 am and 4 pm and 6 pm. Make sure you wear comfortable closed shoes, long trousers, and bring plenty of water.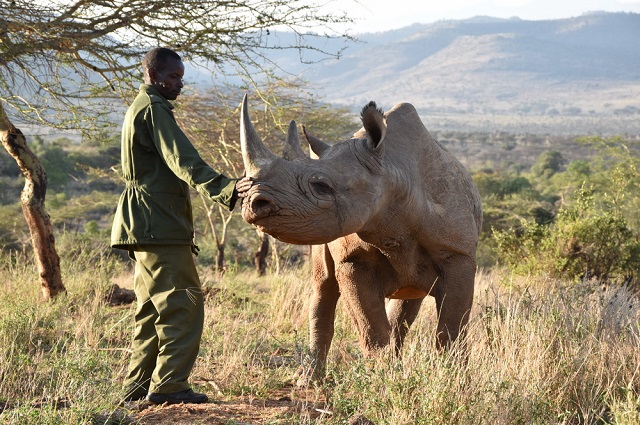 Shoebill Stork and Canoe ride
At first glance, shoebill stalks have a goofy charm due to their Dutch Clog-esque foot-long bill.
Despite first impressions, this stork is an unassuming predator known to feast on baby crocodiles, big fish like tilapia and Nile monitor lizards.
Head out on an early morning canoe ride in the adjacent swamp, to see this prehistoric-looking bird and enjoy a beautiful sunrise over the Lugogo Swamp.
Ziwa is also one of the few places in Uganda where you are almost guaranteed to see this endangered bird.
Alongside rhino trekking, Ziwa Rhino Reserve also offers a number of other walks.
For those keen on birdwatching, there are four different trails to choose from which take you across the savannah, woodlands, or swamps, each a habitat to the various species of bird that live here.
The best time to go birding is in the early morning between 6 am and 8 am or the early evening between 4 pm and 6 pm
Nocturnal Walks
Ziwa is home to many nocturnal animals and the best way to catch a glimpse of them is with a night walk between 8 pm and 11 pm.
During these nature walks you will be accompanied by a ranger, who will ensure your safety and are also knowledgeable about the flora and fauna present in the sanctuary.
Nature walks often take between one and three hours and can be quite physically demanding. Make sure you have comfortable walking shoes, long trousers, insect repellent, a torch, and bottled water.
Where to stay
Ziwa Rhino Reserve
Situated near the headquarters of the reserve, Ziwa Rhino Sanctuary offers a wonderful location with beautiful surroundings. They pride themselves on creating a tranquil atmosphere for their guests to unwind.
They have a range of different accommodations to suit every budget, guests can choose from large family bandas, smaller bandas with shared facilities, or staying in a tent.
The on-site restaurant serves a great selection of food, both international and local dishes, and has a fully stocked bar.
Amuka Safari Lodge
Nestled in a small woodland in the heart of the reserve, Amuka Safari lodge offers its guests a luxury experience.
There are secluded unfenced chalets, named after the rhinos in the park. Also, to a fantastic restaurant serving safari cuisine, a swimming pool, and exquisite views. Staying here will guarantee the serene feeling that only the African Savannah can provide.
When To Go
The best time to visit is during the dry season which takes place from December to February. Then late June to October. This is also the best time for general wildlife viewing. The animals will be drawing to watering holes, making them easier to find.
In the dry season, there is a smaller chance for rain to spoil your planned activities. With most of the activities at Ziwa Rhino Reserve being outside, this is an important consideration. However, in the wetter months from September to November and March to May, the reserve is beautifully green and is a great time for birdwatching.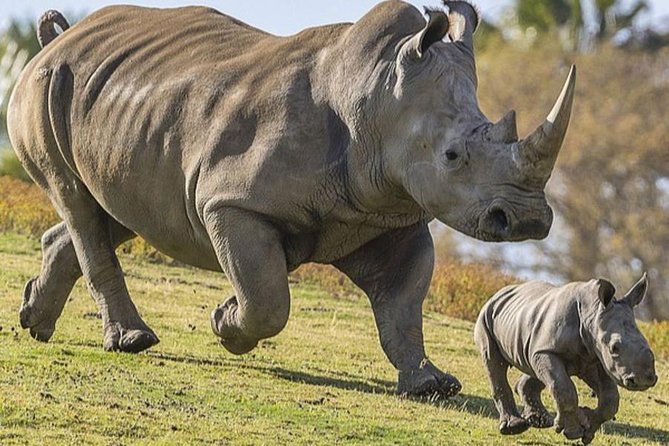 How To Get There
It is a 3-hour drive (176 km/100mi) from Kampala to Ziwa Rhino Reserve.
It is also conveniently located in Nakitoma on the Gulu highway towards Murchison Falls. This makes the perfect stopover, either to or from the Murchison Falls National Park.
Some of the top most rated safaris that have Ziwa rhino sanctuary: